Residents of Leyburn in North Yorkshire have received some extra special Christmas cards this year, courtesy of 11-year-old Zara, who designed her own.
Zara was inspired to raise money for The Fire Fighters Charity after seeing the support we offered her dad, retained firefighter Jonathan Sunter, when a mystery condition left him with functional weakness and chronic pain.
"It was scary, not knowing what was happening, especially when my leg stopped working," says Jonathan. "It took a real toll on me, not knowing if or when it would ever end."
Having seen his father and grandparents – also firefighters – supported by the Charity, Jonathan approached us to ask for help, and was referred to Jubilee House, our centre in Penrith, Cumbria.
"It took a real toll on me, not knowing if or when it would ever end."

Jonathan Sunter
"The team was really good, and it felt like a bit of a breakthrough," he says. "It was frustrating not knowing what the problem was, but the physical and psychological support I received really helped. I was coming to terms with the fact that it might never end, which I wasn't prepared to happen."
Jonathan was eventually diagnosed with chronic bacterial prostatitis, a rare condition that he can now treat with antibiotics. To raise money for the Charity as a way of saying thank you for helping him during this time, he took part in a charity cycle ride earlier this summer, covering the 57 miles from Leyburn to Penrith and back in just two days. And this Christmas, Zara decided it was her turn.
"It was rubbish seeing him so poorly," says Zara. "I designed the cards on a computer as part of a project at school and then printed them out. They feature cheesy Christmas jokes and I've sold 67 of them at a pound each. I hope the money raised helps people like my dad who are ill or need help."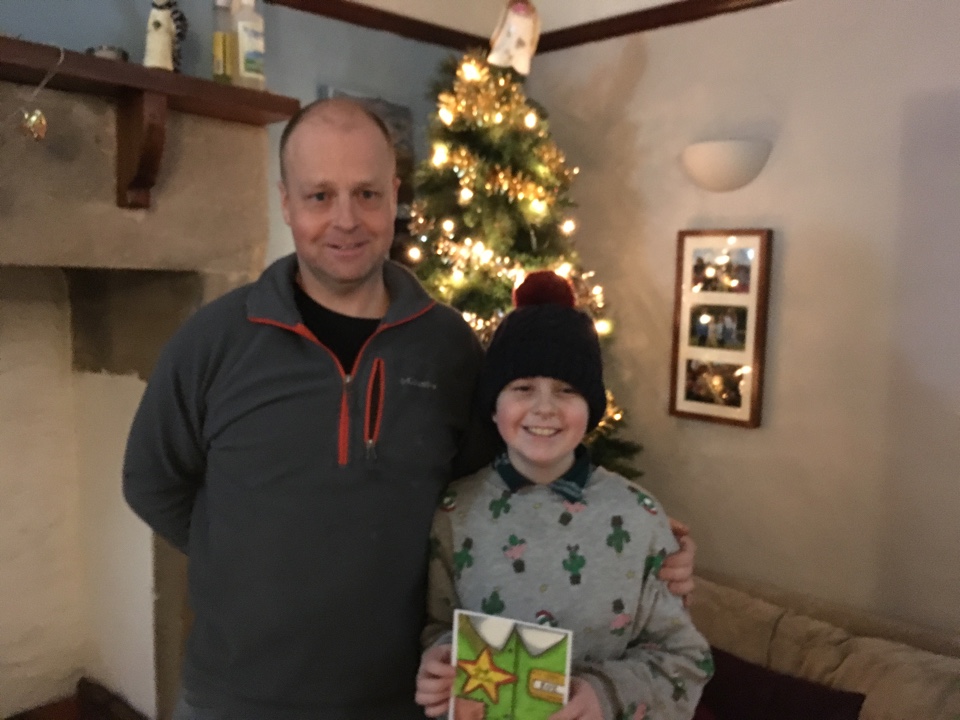 "I'm really proud of her," says Jonathan. "My illness made a real impact on our our lives, not able to get out of bed for the pain, so I couldn't do things with her. So I'm pleased she's decided to do this for the Charity. And once she sets her mind on something, there's no stopping her!"