Our Trustees are a body of volunteers who bring a wide range of knowledge, experience and expertise to the Charity. The Trustees approve The Fire Fighters Charity's strategic and business plans and annual budget. They must ensure that everything done by the Charity is genuinely and solely in pursuit of its objectives. The Fire Fighters Charity has 15 Trustees who are appointed by the Charity's company members.
Andrew Lynch, Chair
Joined the Board of Trustees in December 2011
Andrew was appointed Chair in November 2016, having previously been Deputy Chair and having first joined the Board in 2011. Andrew has been involved in the fire sector since 1998 when he joined the Fire Group of publications and events at DMG World Media. Andrew has been Editor of FIRE magazine since 2000 and is the Managing Editor of the Fire Group at Pavilion Publishing. He is also Editor of International Fire Professional on behalf of the Institution of Fire Engineers and is the founder and organiser of events such as the Fire Congresses and the Excellence in Fire & Emergency Awards. His other volunteer roles include being Vice Chair of the Fire Sector Federation and Parliamentary Liaison Officer for the All Party Parliamentary Fire Safety and Rescue Group. Through his work on FIRE magazine and the wider fire sector, Andrew has had close links with The Fire Fighters Charity since 1998.
Peter Davies, Deputy Chair
Joined the Board of Trustees in November
Peter was appointed Deputy Chair in November 2016, he joined Kent Fire & Rescue Service in 1979 and became a leading member of its Health & Safety Accident Investigation Board. As an operational officer he was part of the Service's specialist Marine Firefighting and Rope Rescue teams. He retired after 31 years of service.
Peter has been a continuous volunteer for the Charity since 1980, holding positions of Station Representative, Brigade and Group Secretary, Group Secretary and Regional Coordinator for the South-East and London.  As well as being in his second term of office as a Trustee he is a Director of the Fire Fighters Trading Company and Chair of the Finance & Audit Sub-committee. Peter is MD and owner of a security installation company and is a keen squash and tennis player. He lives in Broadstairs, Kent, and has been married to Jenny for 35 years. They have two grown up children, Katy and James.
Paul Fuller, Member of the Board of Trustees
Joined the Board of Trustees in December
Paul Fuller has been the Chief Fire Officer for Bedfordshire and Luton Fire and Rescue Service since 2002. He joined the Fire Service in 1978 and worked for West Midlands, West Sussex, Staffordshire and Wiltshire in Operations, Staff, Fire Prevention, Training and Command functions. He is a Fellow of the Institute of Fire Engineers, has a MsC in Human Resources Management and a BsC in Fire Safety Technology and Management. Paul is the Chair of CFOA Services Limited, deputy of Fire Sector Federation and a trustee for the Children's Burns Trust. He is a regular fundraiser for the Charity, recently completing the British Gas Great East 1 Mile Open Water Swim and the Great London 1 Mile Open Water Swim for us. Paul is married to Helen, and has three children.
Andrew Best, Member of the Board of Trustees
Joined the Board of Trustees in 
Andrew Best joined the Board of Trustees in November 2013. Andrew is a former Chief Fire Officer and long-time Charity supporter. Andrew has been a Company Member of the Charity for more than 15 years and has served as a Regional Coordinator for the North West since 2008, as well as our interim Volunteer Manager in 2011-12. He is also a Life Patron of the Charity – an award given at the 2008 Spirit of Fire Awards.
Chris Wilson, Member of the Board of Trustees
Joined the Board of Trustees in November
Chris is a Station Manager with Oxfordshire Fire and Rescue Service. He has been involved with the Charity since joining Charlbury Fire Station as a retained firefighter in 1993. Now in his 25th year of service, Chris is a Senior Fire Safety Inspector and has responsibility for training new fire safety inspectors within the fire service locally. Chris and his teams have previously won highest individual fundraiser, best Station, and best team awards for Oxfordshire, and also Regional and National highest fundraiser awards culminating in Brigade of the Year in 2011.
Chris is a 5th degree black belt in Shotokan Karate, and has more than 30 years experience in martial arts. A married dad of two, Chris is still actively involved in local fundraising events in Oxfordshire and Northamptonshire as well as assisting in other charity work in and around his home area. Chris also runs his own safety consultancy.
Jane Nicklin MSc, MCSP, Member of the Board of Trustees
Joined the Board of Trustees in November 
Jane is a qualified physiotherapist who has worked extensively in healthcare specialising in neurological conditions such as acquired brain injury and multiple sclerosis. She has managed a range of rehabilitation services, developed education courses and written for clinical textbooks. Jane has two adult children and lives in Somerset with chickens, ducks and cats. She enjoys swimming, travelling and is a silversmith.
Andy Hickmott, Member of the Board of Trustees
Joined the Board of Trustees in N
Andy Hickmott retired as Chief Fire Officer of Warwickshire Fire and Rescue Service in 2019. He is a member of the Institution of Fire Engineers and CFOA, sitting on the latter's Members Sounding Board. He began his career in London Fire Brigade, rising to Group Commander and later becoming Assistant Chief Fire Officer at Buckinghamshire Fire and Rescue Service. He later worked as an Assistant Commissioner within London Fire Brigade, responsible for operational service delivery across South London. He is a keen golfer and is married with four children.
Dr Rowena Hill, Member of the Board of Trustees
Joined the Board of Trustees in November 2017
Dr. Rowena Hill is a psychologist who works at a Nottingham Trent University. Within her work as an academic she has dedicated her career to researching the health and wellbeing of the UK Fire and Rescue Service. She chairs and contributes to conferences related to fire research, is a member of the Institute of Fire Engineers, taught at the Fire Service College for a number of years as a visiting lecturer and has a number of peer reviewed publications, commissioned reports and conference presentations on the topic of firefighter health and wellbeing. Through her professional activities she has seen the benefits that the Charity provides to the fire community.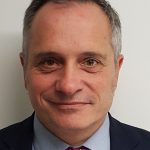 Harvey Grenville, Member of the Board of Trustees
Joined the Board of Trustees in November 2017
Harvey is Head of Investigations and Enforcement at the Charity Commission, the regulator for charities in England and Wales. As a member of the Commission's senior leadership team, he is responsible for the conduct and effective delivery of the Commission's statutory inquiries which investigate and tackle serious abuse or mismanagement in charities. He qualified as an Accredited Counter Fraud Specialist in 2015.
Harvey has extensive experience in the military charity sector. He was the Commission's technical and operational lead for military charities from 2005 to 2013 during a period of significant change for the sector. He has been a trustee of a regimental museum since 2011, and has also served as a volunteer welfare case worker for a large military charity and a regimental association.
Harvey joined the Commission in 2002 shortly after gaining an Executive MSc from Cranfield University. Prior to joining the Commission he had a successful career in the private sector in UK and Europe latterly as a Business Unit Director for FTSE 100 companies managing complex retail supply chain and logistics operations .He has previously served in the TA and completed around 5 years with Hampshire and Royal Berkshire Fire and Rescue Services latterly as a retained Leading Fire Fighter.
Neil Gibbins, Member of the Board of Trustees
Joined the Board of Trustees in November 2018
Neil's 37-year operational fire service career includes 20 spent in senior management. He became Deputy Chief Fire Officer for Devon and Somerset Fire and Rescue Service after co-directing the merger of the two services.
Neil was lead officer for fire protection within the UK Chief Fire Officers Association from 2007 to 2013, and before this chaired the working group that managed the implementation of the Fire Safety Order by English and Welsh fire services.
As well as being the Managing Director of GIB Fire Risk Services Ltd, Neil chairs a national working group established to improve product safety recalls.
Neil is a Fellow of the Institution of Fire Engineers, where he used to be President as well as its CEO from 2015 to 2018. He has been awarded the Queen's Fire Service Medal and has been an active member of the Charity for his whole career, from early involvement with Harcombe House in the 1980s to being a company member for the last six years.
John Baines, Member of the Board of Trustees
Joined the Board of Trustees in November 2018
John has served with Tyne and Wear Fire and Rescue Service since joining as a fire fighter in 1990 and is currently responsible for leading the Organisational Development Group. Previously as Assistant Chief, John led the Community Safety Group, delivering emergency response information to the public of Tyne and Wear. He has also contributed to a number of national fire service strategic policy groups.
In 2015, John led the creation of Impeller, a social enterprise working in collaboration with his FRS to deliver global expertise in safety, resilience, emergency response and business performance.
John is also Vice Chair of the National Fire Chief's Council's National Operational Effectiveness working group, a member of the Common Purpose Advisory Board. In the past he also been Chair of the British American Project, Chair of Northumbria Local Resilience Forum and Chair of Governors at Fellside Community Primary School.
Simon Routh-Jones, Member of the Board of Trustees
Joined the Board of Trustees in November 2018
Simon served as a fire officer for over 37 years and retired from his post of Chief Fire Officer and Chief Executive of Wiltshire Fire and Rescue Service in April 2016. He was instrumental in Wiltshire's merger to become Dorset and Wiltshire Fire and Rescue Service.
He implemented a Juvenile Firesetters programme, intervening and educating young people in partnership with Youth Offending teams and Police, Education and Social Services. Having started in the South West, this developed to form part of the national approach to youth education in fire prevention.
He joined HM Fire Service Inspectorate for Scotland in September 2016 as an Assistant Inspector. In June 2018, he was appointed HM Chief Inspector for the Scottish Fire and Rescue Service. Simon is a Fellow of the Institution of Fire Engineers and a Fellow of the Institute of Leadership and Management. In 2016 he was awarded for Queen's Fire Service Medal for services to the Fire and Rescue Service.
George Wood, Member of the Board of Trustees
Joined the Board of Trustees in November 2018
George is a Chartered Accountant and a graduate of Heriot-Watt University. Although new to the fire sector, he has considerable experience of the not-for-profit sector, having worked in a variety of senior FD/CFO roles over the course of the last twenty years. This includes working for charities, professional membership bodies and benevolent funds. He also has extensive experience of working with Trustee Boards and Finance/Audit sub-committees.
The earlier part of his career was spent in the private sector, starting in the profession, then moving through management consultancy and internal audit into financial services. George lives in Surrey and is married with two adult children.