Awarded to the member of control staff who has demonstrated outstanding support of The Fire Fighters Charity during our nomination period, who has gone over and above the call of duty in the name of The Fire Fighters Charity, doing something truly exceptional and showing incredible dedication in the process.
Our nominees are as follows:
Nikki Haxton-Jones, Control Room, Kent FRS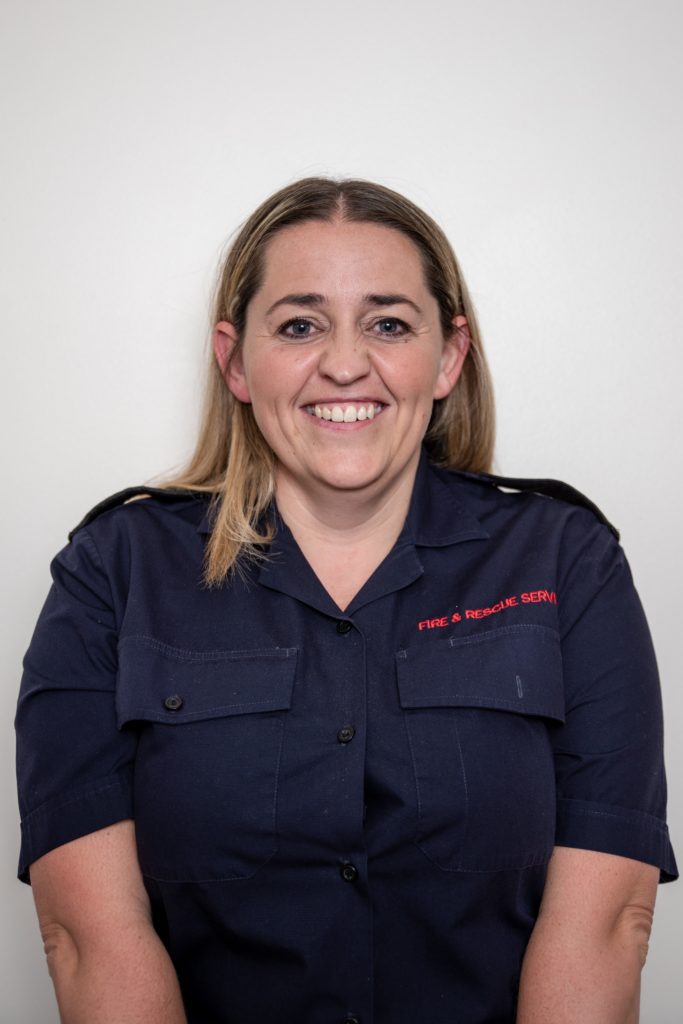 Nikki Haxton-Jones firefighter husband, Danny, passed away unexpectedly before his shift in July 2017, leaving behind his wife and two young children, Olivia and Harry.
Since Danny's passing, Nikki has thrown herself into honouring his memory, showing her children how to be positive and still achieve things in the face of grief and adversity. She has raised thousands of pounds for charities that mattered to Danny, including The Fire Fighters Charity.
She has even had a career change, joining Kent's Control Team, where she is now a valued member of the team.
Nikki has taken part in numerous fundraising challenges, including the Great North Run, the London Vitality 10k, a Charity abseil and the London Marathon, as well as arranging an annual cricket day.
Not only is she raising funds for the Charity, but she also does all she can to raise awareness of the Charity's services and how our support is there for anyone who needs it within the fire services community.
Nikki became a widow unexpectedly, something many of us could not imagine ever having to deal with, yet all who meet her are struck by her smile and positivity. Her efforts to keep Danny's memory alive for her children and his colleagues, as well as her work to promote the Charity's services, make her a worthy nominee for this award.
Linda Coughlan, Control Watch Manager, Scottish FRS
Born in a Glaswegian fire service house in 1957, Linda Coughlan has spent her entire life supporting The Fire Fighters Charity. Since being taken out when just a few days old by her firefighter father with a Christmas collection tin in her pram, she has worked tirelessly throughout her career and spare time to support, fundraiser and volunteer.
Linda began her career in the Scottish Fire and Rescue Service in September 1976, working through the ranks to become Fire Control Officer / Watch Manager and later the Officer in Charge of a Watch at Johnstone Control.
When it comes to ways she has supported the Charity, it is perhaps easier to list the things she does not do than the things she does. Whether it's arranging collections and acting as a liaison between the Charity and her service, organising and delivering fundraising materials, contributing to raffles, attending as many events as she can (and bringing friends and family with her), volunteering as a home visitor, organising regional meetings, or extending the reach of Charity support to Scottish beneficiaries, there is not much Linda can't accomplish when she puts her mind to it.
She is a stalwart for the Charity's presence in Scotland, known for her trust and empathy, someone who means a great deal to the people she encounters. She is a loyal, positive and utterly committed supporter of the Charity.
Paul Watts, Watch Manager Control, Royal Berkshire FRS
Paul Watts is something of a hero in Berkshire FRS, having spent over 20 years supporting the Charity through his roles as an operational firefighter and later Control Room Watch Manager.
As well as acting as an advocate for the Charity and signposting colleagues to our services, he has also created not one, but two tuck shops in Berkshire HQ, with all proceeds coming our way.
Paul runs and manages the shops, purchasing and arranging all stock, coming in on days off to tidy or replenish, as well as banking donations to the Charity. All of this he does in his spare time, alongside his roles as Watch Manager, husband, and father to four young children.
As well as providing much-needed snacks, the tuck shops have also become a focal point of the building, with staff often meeting on breaks, contributing spare change to collection boxes, or seeking out Paul's trusted ear to discuss how the Charity could support them.
He epitomises what a difference one person can make to their community, both in his immediate vicinity, and through the support the Charity can provide, thanks to his efforts.
One of his nominators said: "He is so modest, he would never tell people how much of a champion he is. But he is a champion to us, as well as to the Charity. If you saw what he does every day, he would win this award ten times over."
Kat Frost, Control Operator, Shropshire FRS
Shropshire Control Room Operator Kat Frost has made quite the name for herself, taking part in several high-profile fundraising events in aid of The Fire Fighters Charity.
She ran the London Marathon for us in 2018, smashing her fundraising target and holding numerous smaller events in the build up. Kat was also the major organiser of a Charity ball in Shropshire, organising the venue, catering and entertainment for the evening, giving up much family time to organise the event, which was a huge success.
She also played an integral part in the production of The Fire Tones' single, which made a valiant effort for the elusive Christmas Number One spot, and raised thousands of pounds for our Charity, not to mention the national interest their campaign acquired.
Kat herself helped to recruit singers and musicians for the single, as well as constantly appearing on local and regional press, as well as volunteering her time to sell the record locally in supermarkets and shopping centres.
Her fundraising and media appearances have increased the profile of the Charity and our services to serving and retired members, Control Staff and members of the public. And she has fit all of this alongside being a wife, mother to two young children, full-time Control operator and on-call firefighter.