Awarded to the firefighter (who can be wholetime or retained) who has demonstrated outstanding support of The Fire Fighters Charity during our nomination period, who has gone over and above the call of duty in the name of The Fire Fighters Charity, doing something truly exceptional and showing incredible dedication in the process.
Our nominees are as follows:
Sam Pick, Norfolk FRS
Norfolk Watch Manager Sam Pick is motivated by the knowledge that every pound he can raise for The Fire Fighters Charity makes a tangible difference to his colleagues across the country's fire and rescue services community. He can be constantly heard encouraging people to support the Charity, explaining they "never know" when they might need our support.
Sam has always supported the Charity during his 20-year career, but has stepped up his fundraising over the last ten years, coordinating and supporting dozens of events over the last decade. Some have been smaller, and others much more complex, but all have contributed to thousands of pounds being raised for the Charity, as well as helping to promote awareness of our services in the community.
Sam has supported with local Landrover events, cycled to Paris, fundraised in supermarkets, organised car boot sales, manned stalls and even travelled the breadth of Norfolk to help coordinate car washes across the region. Sam also attends community meetings and social events to promote the Charity while sharing safety advice to the public.
He motivates everyone in the service with his inspirational and positive attitude. He seizes every opportunity he can to promote the Charity and often receives small donations from members of the public.
Sam is a 'go to' person for people needing help in all ways, signposting friends and colleagues to the Charity's services when he recognises someone is in distress. Every fire and rescue service needs people like Sam.
Robbie Sturrock, Scottish FRS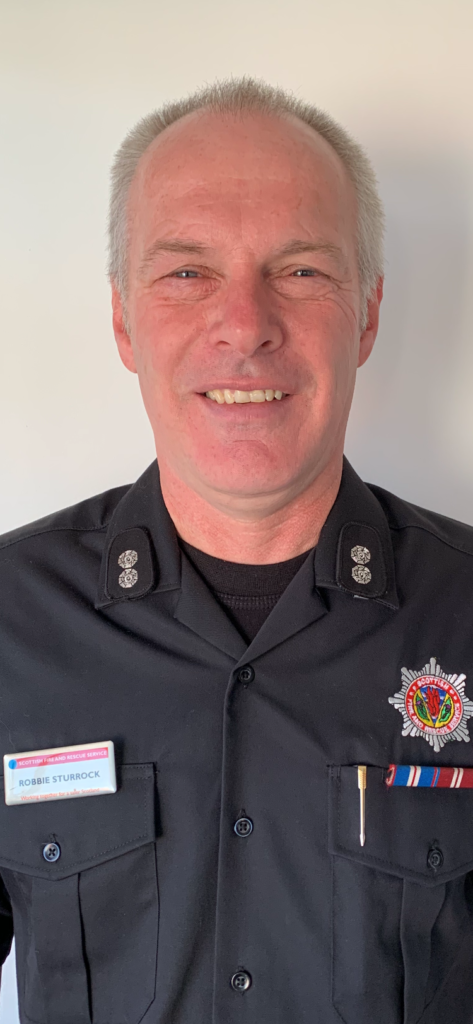 Inside Robbie Sturrock is a drive and determination to support The Fire Fighters Charity, and when it comes to his efforts, nothing stands in his way.
As Peterhead Fire Station's long-term station rep, our Charity benefits from Robbie's absolute support in everything he does. His reputation for being a kind and generous person in the Peterhead community means he is fully supported by friends, family, colleagues and the public. This is the secret to his success, because everyone always has a great time and the outstanding income reflects this.
Throughout the year, they organise car washes, Summer Fetes, Christmas Santa Sleighs and Santa Grotto, collections, and innovative ideas like scratch cards and liaising with their local schools and communities to bring in even more money. They took part in our My75Mile challenge, raising over £6,500, making them the top team and bring Scotland into first place for regional totals.
Because of their relationships with the community, and with local businesses, their recycling is also one of our more successful banks. They attend many events and because of the standing they have, and the professionalism and good will, it reaps so many benefits to the crews and the station.
Thanks to Robbie, the dedication and commitment for so many years from crews is outstanding from this station and the community surrounding it. They don't look for any reimbursement from the Charity, even with their 75Mile Challenge they secured overnight stay, vehicle, volunteers and provision from businesses for all their food and beverages. They make sure every penny counts for this Charity.
Chris Birdsell-Jones, Mid and West Wales FRS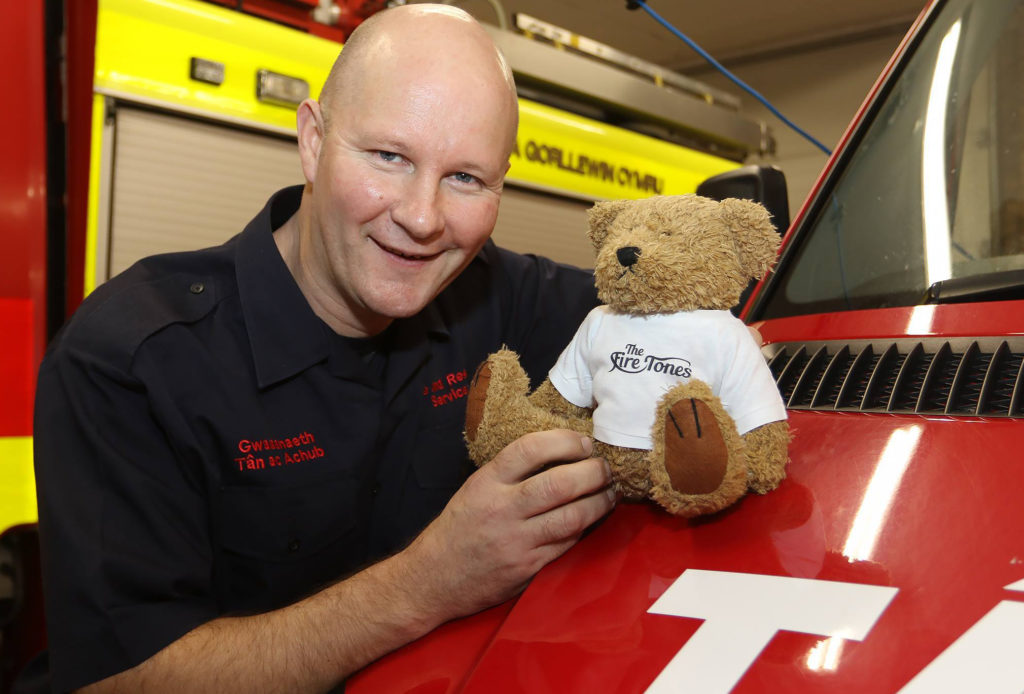 Chris Birdsell-Jones was responsible for creating The Fire Tones, a choir of fire personnel that took on the music industry in the fight for the Christmas Number One slot with their cover of the Band Aid song, 'Do They Know It's Christmas?'
What started as a conversation in a pub came into fruition thanks to Chris's tenacity and dogged determination, organising and arranging the logistics behind the 40-strong choir. He liaised with the likes of Bob Geldoff to get permission to record a cover and managed to convince everyone involved in its production to donate their services for free, so all money raised could go to the Charity.
Chris then went on a one-man mission to promote the single and their fundraising, with it being promoted on national press with numerous members of the choir speaking to local media channels. This has led to the Charity being promoted to a national audience, as well as bringing an awareness to newer members of staff who heard about the Fire Tones' mission.
The single raised thousands of pounds over Christmas 2018, and even got re-released last Christmas, banking £6,000 for the Charity.
Chris was initially told that this was an impossible task as many people before had tried and failed. but Chris was determined to prove that firefighters can succeed in areas that others have failed and that firefighters can work together to achieve the seemingly impossible.
He hit hurdle after hurdle when trying to achieve his goal but, each time, he became even more determined to make it work. He persisted for the best part of twelve months even taking, and making, phone calls on his wedding day.
David Millward, MBE, Scottish FRS
Nearly 20 years ago, David Millward MBE of Kilmelford Community Fire Station attended Jubilee House following a serious spinal operation to enable him to get back on the run as soon as possible. He was so impressed with the service he received and the huge difference his stay made to the rate of his recovery, he wanted to do something. Upon returning to operational duties he volunteered to be the Station Rep and committed himself, with the seemingly inexhaustible support of his crew at Kilmelford, to raising funds for The Fire Fighter's Charity.
Kilmelford is a very small community in the West Highlands of Scotland with approximately 230 people living in the area. But despite the lack of population, the community and the fire station crew have continuously raised funds by running car washes, having open days, running pub quizzes, placing a number of collection boxes in the area and engaging in various fundraisers. In the years since they started, this small community has raised over £20,000 for the FFC and continues to do so.
With the passing of time new crew members join and others leave or retire including this station rep, but the team's commitment to raising funds stays in place. David is still employed as a Community Safety Advocate in Scottish Fire and Rescue Service and continues to be a volunteer for the Charity, working, as ever, with support of the crew and community,
Kilmelford has always been known as the small village with the big heart and given the extremely small population and the funds raised over the years thanks to David's efforts, this name will remain in place for many years to come.