Awarded to a young person aged 18 or under who has demonstrated outstanding support of The Fire Fighters Charity during our nomination period, who has gone over and above the call of duty in the name of the Charity, doing something truly exceptional and showing incredible dedication in the process.
Our nominees are as follows:
Abbie Wishart, County Durham and Darlington FRS
Abbie Wishart's passion for The Fire Fighters Charity is contagious. In fact, so much so that her work fundraising and raising the profile of the Charity in Durham has led to her mum and best friend also becoming heavily involved with her efforts.
Abbey's work supporting the Charity began when she was little, attending open days with her family before helping out on stalls when she got older, learning the art of selling merchandise to the public. Abbie had a speech impediment, and her family credit the confidence she learnt on Charity stalls with overcoming the shyness she felt. It also inspired her to join the service's Fire Cadet scheme when she was 14.
Since joining the cadets, the lid has been lifted on her work supporting the Charity, with her ideas, enthusiasm and effort knowing no bounds as she takes on more and more responsibility in supporting the Charity.
She has become a fantastic ambassador and inspiration to her fellow cadets, using her previous awareness and knowledge of the Charity to encourage her peers to undertake numerous fundraising challenges, as well as inspired some healthy competition among local schemes. Just some of the events she has helped put on include a 5.5 mile stretcher carry, several car washes, steps challenges in Durham market and even selling glow sticks at fireworks events. Abbie also raised £500 for the Charity by taking part in the Junior Great North Run.
With young people like Abbie supporting us, we know our Charity will continue to be in good hands for many years to come.
Michael Bottomley, West Yorkshire FRS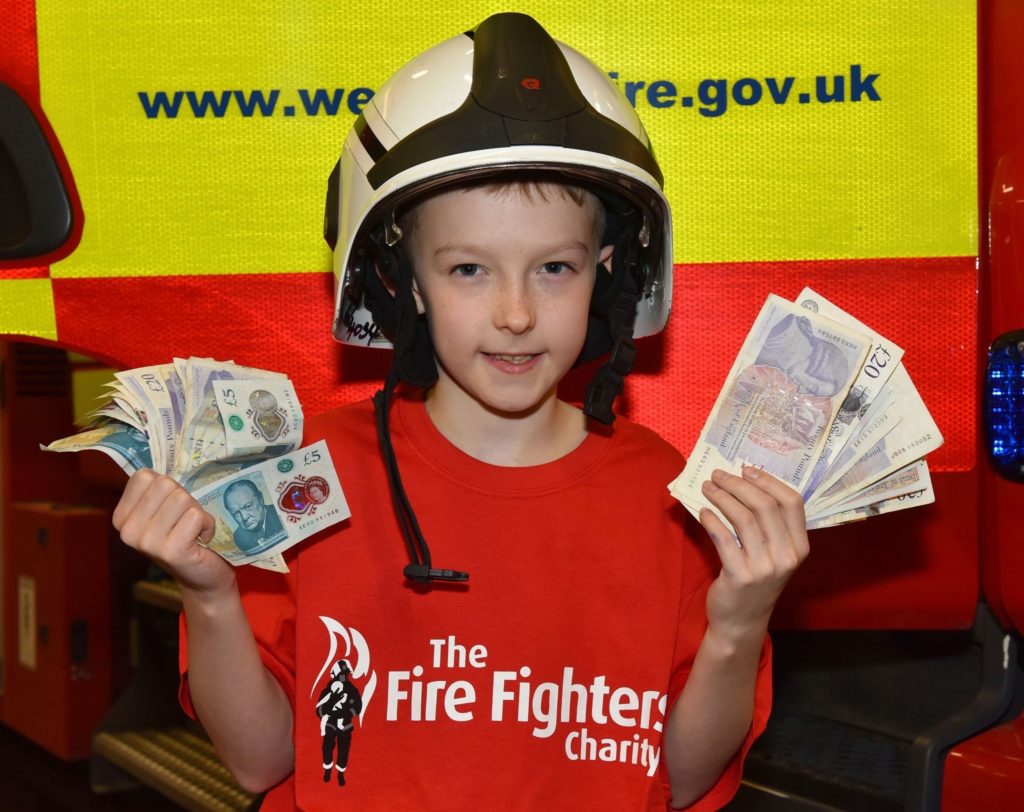 Michael "Mikey" Bottomley is an eleven-year-old from Leeds who, when starting a new school that happened to be next door to a fire station, became curious about his neighbours.
Mikey decided the crew couldn't work on an empty belly, and started taking biscuits round, eventually befriending the watches who welcome his visits. When he learned about the work the Charity does to support the health and wellbeing of his new friends, a fire was lit (if you'll pardon the pun) in this boy's belly, and he took it upon himself to raise as much money as he could for us.
He organised a Charity raffle and wrote to several large companies to ask for prizes (a PA to a senior executive at one of these was one of the many people who put him forward for the award) and raised a few thousand pounds for the Charity in doing so.
We aren't the first good cause Michael has fundraised for either, as his step-dad had a stroke two years ago and he raised money for Headway, as well as raising money for a family friend's son's cerebral palsy treatment and even receiving a citizenship award for making dog-poo bag dispensers for his local park. He can also be spotted regularly going around his neighbourhood with a trolley collecting for the local food back.
For someone with no immediate connection to the fire service, he has become an absolute inspiration.
Thomas Goodall, West Yorkshire FRS
With both parents working for West Yorkshire Fire and Rescue Service and taking active roles in supporting the Charity, schoolboy Thomas Goodall has spent most of his life fundraising for the fire family.
He has seen how people he cares for have benefitted from the support of the Charity, which has inspired him to genuinely want to do what he can to help.
Thomas regularly gives up his own time to volunteer in one way or another, whether that's helping at events, designing posters, washing cars, helping to sell calendars, handing out flyers, manning Charity stalls at open days, gathering contributions for Charity car boots or even helping with messages for local radio. He also speaks enthusiastically to members of the public about the work of the Charity, promoting us at every opportunity.
The chances are if there is a Charity even in his area, Thomas will be involved somehow, even spending his birthday fundraising.
Described in his nomination as being an 'unsung hero', Thomas works tirelessly behind the scenes to help his parents however he can to show his devotion to the Charity he cares so much about. He inspires the adults he comes across, encouraging as many members of the fire service as he can to join him in supporting the Charity that is there for them and their loved ones.
Katie Keay, Scottish FRS
Inspired by the work her firefighter father, Thomas, does as a Charity volunteer, Katie Keay has also picked up the mantle to become one of our valued young supporters.
Katie has donated her personal time on countless events over the years, helping to fundraise and hand out stickers, leaflets and other promotional materials for the Charity, helping to raise awareness among the public and fire personnel alike.
In her nomination reason, Katie was praised for her 'exuberant attitude' at these events, which is said to always keep people's spirits high and help everyone enjoy themselves, because of the 'affable manner' in which she conducts herself.
She is a conscientious volunteer, employing a kind, approachable manner in everything she does in the Charity's name. Her energy and enthusiasm are significant factors in the success of fundraising events she has been a part of, as has her attitude towards the people she works alongside, seeming much older than her years in her general demeanour.
We consider ourselves very lucky to have someone like Katie flying the Charity flag in Scotland, and look forward to watching her grow into an even-more important member of the fundraising team over the coming years. Seeing someone so young go above and beyond, working tirelessly on everything she turns her hand to, makes her an inspiration and worthy nominee for this award.