Donating a gift in kind is a valuable and lasting way to support The Fire Fighters Charity, while promoting your own business in the process.
Every year, the Charity holds two raffles which raise funds to support the mental, physical and social wellbeing needs of the UK's fire services community. By donating an item or prize to this, you could be directly supporting beneficiaries when they need our help the most.
Our supporters also regularly hold local fundraisers for us, so by donating a gift in kind, you'd be having a direct and valued impact. In turn, we would ensure we promote your business throughout. Here's a few ways you could get involved…
Donate to our summer and winter raffle
We hold a national raffle twice a year, with all the proceeds going directly towards supporting the vital work that we do with our beneficiaries every year. Each one can raise as much as £61,000 through tickets and donations, making a huge difference to many people's lives.
Could your company support our raffle with the donation of a product or voucher as a potential prize? In return for your contribution, your donation could be included in all raffle promotions. Further information on our raffle can be found below:
Hold an auction
Another way of supporting us would be to hold an auction in-house, with one or more of the prizes being auctioned out from your business and the proceeds donated to the Charity.
One company to have done this for several years now is William Wood Watches. The British watch makers not only donated an incredible £10,000 to The Fire Fighters Charity in 2021 following a successful year of sales of its luxury timepieces – but the generous team also auctioned off a timeless, limited edition Triumph watch, raising a huge £5,215 for the Charity in the process.
You can find out more about the latest auction in aid of the Charity here:
Support local fundraising activities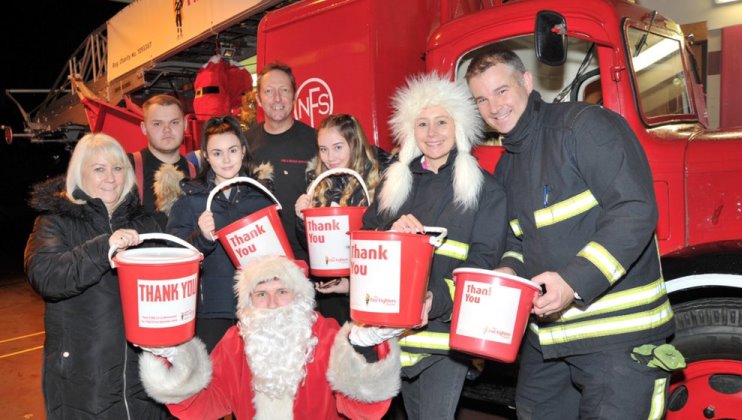 Every year across the UK, fire stations and fire crews undertake a variety of activities to raise funds for the Charity. They are always looking for donations to support their incredible efforts, from raffle or tombola items to branded merchandise to hand out at events.
If your company can support with donations towards local fundraising activities, please get in touch and our fundraisers can match you with a local activity.
To find out more, email corporate@firefighterscharity.org.uk