Activities for crafty crafters
Blaze Bear colouring sheets
We've said it once, we'll say it again. We think our emergency services are amazing. Why not print out one of our colouring sheets and post it to your local fire station or control room to say thanks for keeping us all safe during these times, like Jessica has done!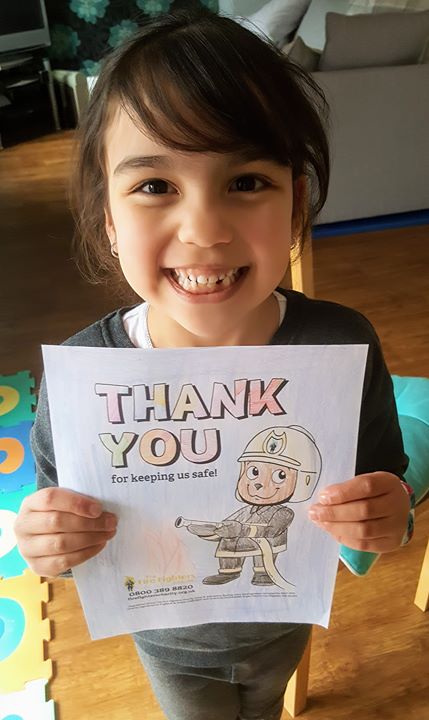 Colour in Neenaw
Everyone's favourite fire engine is also available to print off and colour in. Find a Neenaw colouring-in sheet here.
Blaze Bear Activity Sheets
We've got a special Easter Blaze Bear activity sheet, which you can find here. And we've also saved the Blaze of Glory pages from past copies of Shout! magazine, which you can find here and here.
Colour in fine art
One of Britain's leading artists, Sir Michael Craig-Martin, has designed a poster for adults and children to colour in and display as an appreciative show of support for the selfless work of NHS staff. You can find it here.
Craft along with experts
Hobbycraft are running a daily craft-along each day on their Facebook page, packed with ideas to keep you and your family occupied during lockdown.
Lockdown learning
With lots of parents looking for ways to keep their children occupied, the London Fire Brigade have put together some activities. Try at home here.
Activities to keep healthy, fit and active
YouTube is your friend
There's plenty of amazing stuff out there at the moment to encourage kids to get moving during lockdown, so ask them what they'd like to do and do your research.
The Body Coach Joe Wicks is hosting live daily PE lessons at 9am, but you can watch them anytime via his YouTube channel.
Or if they prefer dance to PE, Strictly Professional Dancer Oti Mabuse is hosting daily dance sessions at 11.30 each weekday. Here's one of her fantastic routines, inspired by Spider Man! Sadlers Wells Ballet have also created a series of family dance workshops.
Get outdoors
Why not do a scavenger hunt around your garden or down your road, writing a list of things to spot while outside? (sticking to Government guidelines for outdoor activity) Hold an Easter Egg hunt around your house or garden.
Activities to nourish your soul
Get reading
Reading is one of the best ways to relax and unwind, and take your mind off any worries it might be thinking. If your children don't like reading books, why not listen to them? David Walliams has a daily reading of his books at 11am and Audible have made loads of children's books free to download as well.
Mindfulness for children
There are lots of guided meditations on YouTube for you to watch and enjoy, which will help you take some much-needed time to relax. Here are some of our favourites:
Enjoy the grounds of Harcombe
Our Wellbeing and Behaviour Change Coach Sally Walker has provided a relaxation video featuring some of the beautiful grounds of our residential centre in Devon, Harcombe House. Sit back, relax and enjoy unwinding.
Enjoy nature
Host a field trip to your back garden or a patch of greenery near your house? Write down five things you can hear, see, smell, and touch. Not only is being outdoors great for our wellbeing, but this activity also helps ground people in the present, something extremely important during these periods of stress or uncertainty.
Activities for the arts lovers
Take in some theatre
Entertainment and the arts have never been more important to give people and families something else to think about beyond the virus. Theatres are constantly updating the shows they are streaming, but you can find an up-to-date list here.
Create your own cinema
Host a family movie night and set your living room up to feel like a cinema. Design tickets and create tasty snacks to enjoy while you watch. Or if you want a low-key affair, what's better than "going to the cinema" in your pyjamas?
Visit museums and galleries
Some of the most famous museums and galleries are opening their virtual doors to us to enjoy their contents from the comfort of our own home. Enjoy an Andy Warhol exhibition at the Tate Modern, wander round the British Museum, or have a go at recreating famous works of art with the Getty Museum challenge.through the Google Arts and Culture forum, where you can also take part in an online treasure hunt through famous works of art.
We challenge you to recreate a work of art with objects (and people) in your home.

🥇 Choose your favorite artwork
🥈 Find three things lying around your house⠀
🥉 Recreate the artwork with those items

And share with us. pic.twitter.com/9BNq35HY2V

— Getty (@GettyMuseum) March 25, 2020
Activities for the future
Create an ideas jar
Whenever someone in your family says they'd like to be doing something beyond your home, make a note of it and keep it safe. Perhaps you could decorate a jam jar to house of all of your ideas for things to do after lockdown. Then when all of this has passed, you'll never be stuck for ideas of things to do again! Just enjoy picking one out at a time.
Make a time capsule
It's unlikely any of us will ever live through anything like this ever again in our lifetimes, so why not create a time capsule for the future? You could fill a shoebox with newspaper clippings, letters or cards you've been sent, things you love at the moment and seal it up to put away somewhere safe. Write on it 'Not to be opened until 2030' or even '2040', so you can look back and remember just how you felt during these times. Or if you're feeling particularly bold, why not bury a timecapsule in your back garden? Create it as a family, write down how you felt about things and enjoy collecting stuff to go in it.
Whatever you end up doing, make sure you show us! You can tag us on Facebook, Twitter and Instagram or email us at marketing@firefighterscharity.org.uk