An 11-year-old boy set himself a massive running challenge to support his firefighter dad and his colleagues, as they planned a parachute jump in aid of the Charity.
Rory Mangan vowed to complete 50km running in just a month, but ended up smashing his target and managing 73km after seeing the amount of support he had behind him.
His dad, Stu, works for Hampshire and Isle of Wight Fire and Rescue Service, as both a wholetime and on-call firefighter, and has been an inspiration to Rory for years. Keen to support the Charity that has been there for his dad in the past, Rory set his sights on doing his bit to help.
Stu, 38, was already planning a parachute jump with other firefighters at the time, so decided to include Rory's run in their main fundraising drive.
Stu says: "Rory had come home from school after a charity talk and he wanted to do something for 'daddy's charity', as he worded it. He's a typical son of a firefighter, he loves it and likes to get involved.
"He loves to talk about it when he's with his friends! Both my kids are proud, like anyone else.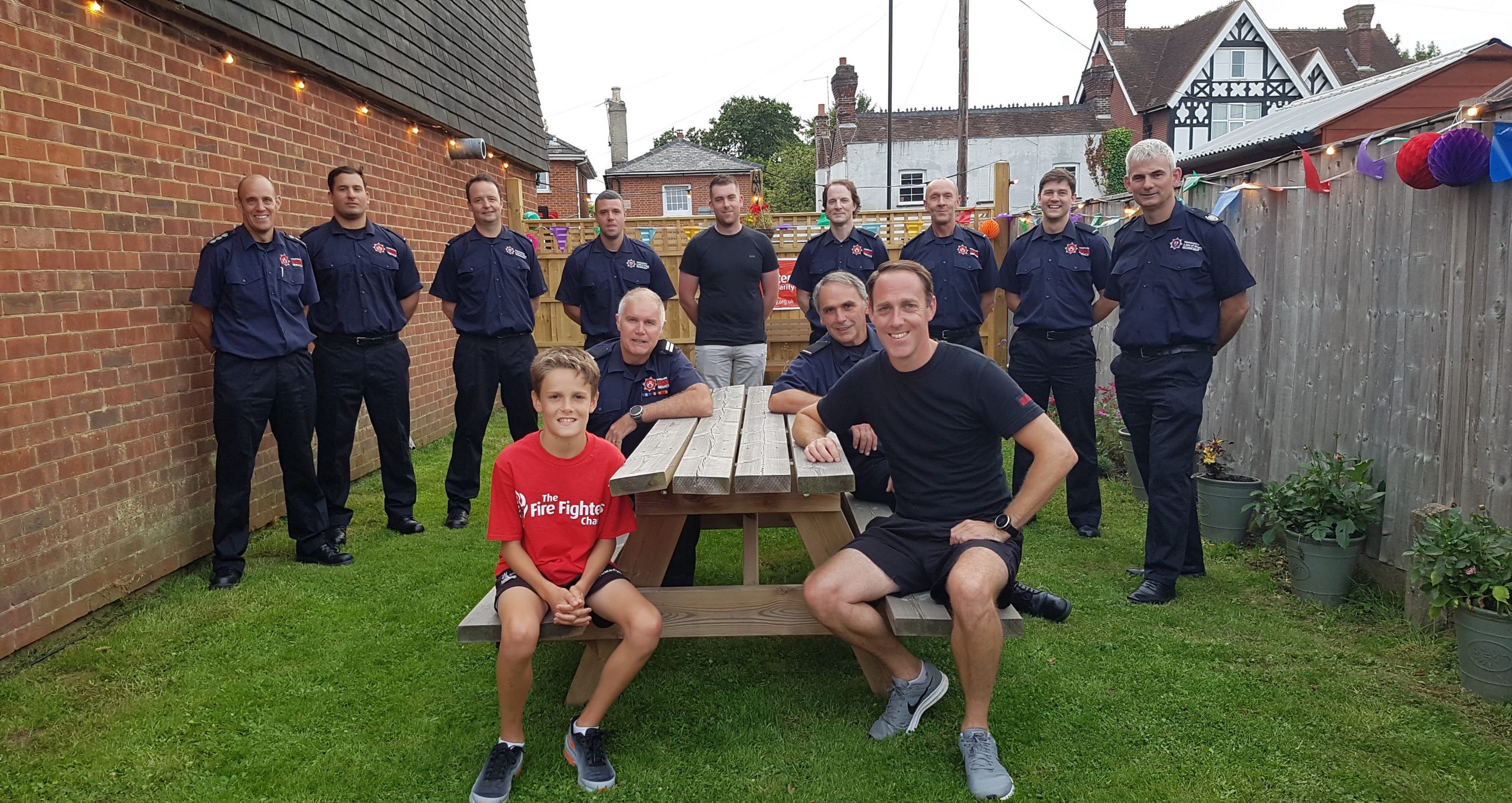 "He decided he wanted to do some running and we decided to do it as part of the main parachute fundraising.
"At first I thought we'd be pushing it with 50km in a month… then one of the members at the station said he'd sponsor Rory £20 when he makes 50 and another £20 if he manages 70km. From that conversation, Rory had made his mind up he was going to do more than 70km!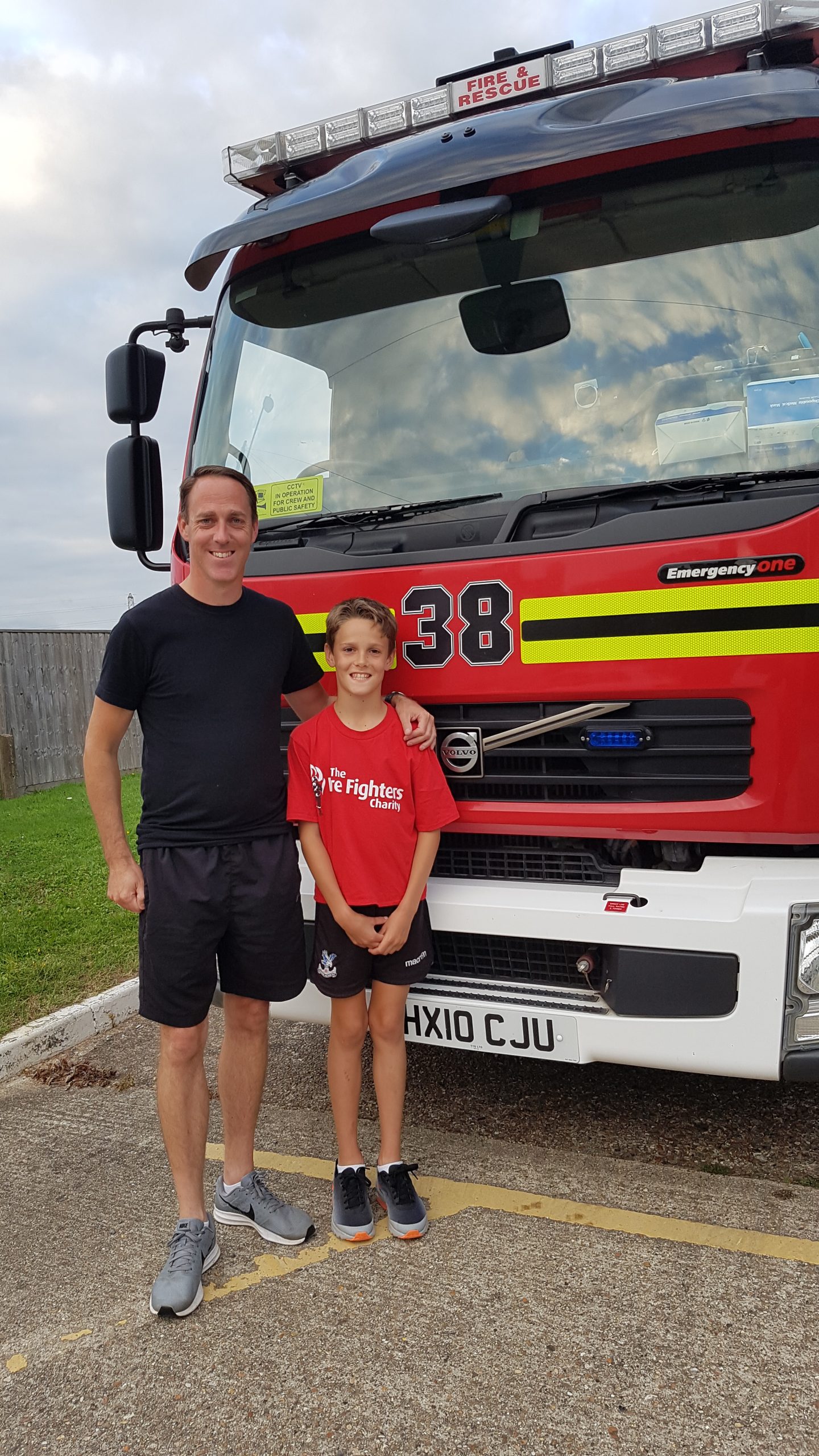 "He's only 11, just starting senior school. He's just been diagnosed with a developmental language disorder, so he's about three or four years behind in schooling and development. Not that you'd see it if you met him, he's so sociable!
"He's at that age now where he may get some knock backs, so for me, the event and the challenge was to show Rory that, while school focuses on how you do academically, you can achieve in many different ways in life. You're not defined by your academic ability.
"He'll take this event with him forever now."
Rory raised an incredible £1,100, which went towards Stu's parachute fundraising. The team had been planning the jump for a while, but had to put it back due to the added pressure of the pandemic on their day-to-day roles.
"A lot of the team were heavily involved in the direct response to the pandemic within our full-time jobs, so we had to take a step back on the jump until now," says Stu.
"The station's always been a big fundraiser with the Car Washes and any other events we can do – plus in all our full-time roles too.
"On a personal note, I've used the Charity twice. I had reconstruction of my ankle after snapping my ligament and having an artificial one put in place. That was about five years ago.
"I went down to Harcombe House for some rehab and when I went down, I found I had a lot of other stuff going on mentally that I hadn't really realised.
"I was then invited back for another stint for my ankle, and I came out of there with a better ankle and on the track of understanding that I did actually have some mental health issues that I wasn't facing or wasn't even aware of.
"There are some more guys here at Botley that have used the Charity as well, as it's personal to all of us.
"It's also knowing the Charity's there for my wife and kids – that's something you often forget about.
"Once someone works in the fire service, the Charity's already committed to saying they're part of the fire family. It's saying, 'we're here for you'. I hope my wife and kids don't ever need it, but it's peace of mind to know it's there."
The team of seven completed the jump on 18 September 2021 and Stu says it couldn't have gone better – with Rory and the rest of their families on the ground cheering them on.
"Our call came around 4pm – the skies had turned a stunning blue with hardly a cloud in sight," recalls Stu. "The team at this point were still very excited as we took the walk out to the plane.
"A final wave back to everyone and in we went. Now it felt real, the smiles were still there but everyone had gone quiet and focused – it was happening.
"Getting close to 10,000ft, the instructors called out final checks and there we had it – the door was open and there was no turning back. The emotions were all over the place, fear, anticipation, and excitement to name a few.
"From a personal note, moving towards the door was absolutely petrifying but there was an acceptance of 'there's only one way to go'. A few choice words at the door which can't be repeated, and we were out.
"Freefall – What an absolutely amazing experience and one that is so hard to describe – to this day I don't know what that emotion was, but it was like no other felt. We were in freefall for around 30 seconds before the chute deployed and thankfully, they all worked first time. It can then just be described as the most peaceful experience flying around and slowing floating down to a huge cheer from all our family and friends on the ground.
"Smiles followed from every team member from ear to ear – what an absolutely amazing experience and to top it off we were able to do this supporting and raising money for a truly fantastic charity."
The team have raised more than £5,890 so far. To donate to their fundraiser, click here.