Earlier this year, Chris Morrison told us that it was during his stay at Harcombe House where he decided to draw a line in the sand with his recovery from major bowel surgery and adjusting to life with a colostomy bag.
Three years to the day since a serious bleed saw him spend five days in hospital, Chris headed to the Sahara Desert on an epic fundraising mission for The Fire Fighters Charity, determined to make sure he drew that line in the biggest piece of sand in the world.
"The Charity is so close to my heart, and my time at Harcombe House played such an important role in my recovery, so I wanted to say thank you," says the Londonderry Watch Commander. "When I saw the advert for the Sahara Desert trek on the Charity's events pages, I thought it would be the perfect way. I couldn't repay their kindness, but I could raise some money for them."
Chris has spent the summer fundraising and training with equal determination, and on Wednesday 30 October he left Northern Ireland for his adventure.
This is Chris's story.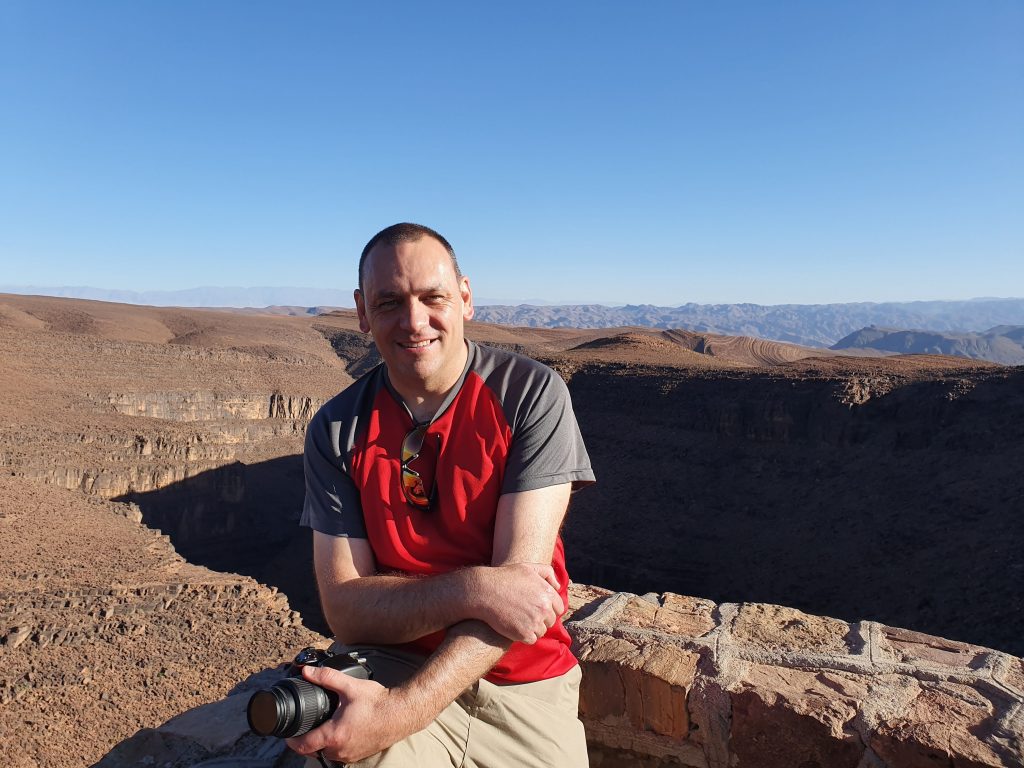 Travel
After landing in Marrakech, a four-hour drive turned into a daunting six-hour drive as we navigated unbelievable roads through the Atlas Mountains. Talk about scary, these wee narrow roads were climbing up 4,000 metres. We were so close to the edge; you'd look over and it was a sheer drop down.
When we eventually got to the hotel, we had our first experience of Moroccan food, which was absolutely delicious. Then we all headed to bed for an early rise the next morning.
Day one
We started the day with another three-hour drive over an even more daunting mountain path, stopping on the way to buy head scarves, which kept you much cooler than wearing a hat. We learned how to tie it properly, wrapping the trailing piece across our nose to keen sand out, and then we were driven to our start point. We loaded up with water and piled our day packs on, leaving our rucksacks to be picked up by the camels who would be accompanying us. And then we set off.
Half an hour in, we had our first day's lunch in some shade. It was just amazing, seeing the food they'd prepared for us. All these fresh salads, big bowls of chopped peppers and onions and soup tureens.
Once we'd eaten our fill, we set off again for our proper trek. The first day was spent walking along a dry riverbed, where sand was soft and dry mud made a hard, rocky surface. The mud cracked and dried with slabs two or three inches thick but loose, so you had to watch your footing. It absolutely pulled your legs all around, trying to keep your balance.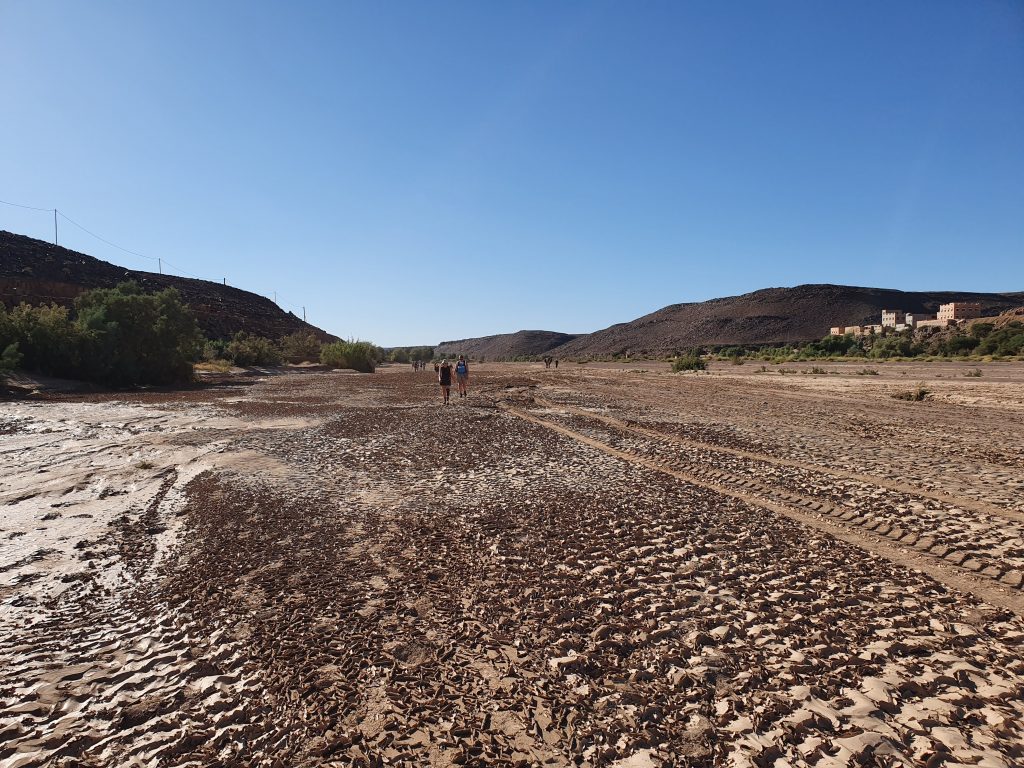 People have an impression of the desert as being like Lawrence of Arabia, miles and miles of sand. But our guides were telling us for all its vastness, only 20% of it is sand, and the rest is rock and gravel.
That first day we walked for about four hours. Our guides were brilliant at making sure everyone was drinking water, and every now and then we'd stop for a snack and an energy boost.
The heat was unbelievable, nearly 35'C, and that first day was relentless.
We left the riverbed and turned up onto a track. We'd been trekking with hills on our left, and one had eroded and fallen to the ground, suddenly revealing an oasis, the first patch of green we'd seen among the beige and barren.
When we eventually made it to camp, it was getting dark. Darkness in the Sahara is different to here, it just descends like someone has switched off the lights. Boom, it's dark. Just like that. Despite being hot, sweaty, tired and hungry, the first thing we had to do was put up our tents, then time to freshen up as best we could.
We ate our first night's dinner in one of the bigger tents, created by chefs in a smaller one. We had soup, then chicken with cous cous and vegatables, and then dessert. I've no idea how they cooked such delicious food inside this eight-foot square tent that was a hot as a sauna, but they produced a three-course meal in the middle of the desert. It was amazing. They also built an oven in the sand, so we had fresh bread every night. And to top it all off, the first day was someone's birthday, so they even brought out birthday cake with icing writing on it.
They'd offered us the choice of sleeping in a tent or dragging our mats outside, so about eight of us braved the elements (and wildlife) and lay there, looking at the stars. Trying to sleep in the camp was a strange experience, what with the sounds of people sleeping, being blinded by the head torch of someone going to find a hole in the ground for the toilet, and not to mention the noises being made by the camels. But eventually, lying there looking at the unbelievable constellations in the night sky, I fell asleep.
And that's how we finished our first day in the desert.
Day two
Camp life starts early, as cooks and support crews get up around 5.30, and campers get up and washed before breaking the camp and putting tents away. Once everyone was fed on porridge and bread, we loaded our stuff onto the camels, had a stretch and then off we went again.
What started as soft gravel became harder and the boulders got bigger and bigger. If you'd told me they'd faked the moon landings, I'd have believed they could have gotten away with it there.
You had to find whatever shade you could from lone trees or bushes, and the scenery is hard to describe, because it's so barren. You'd be taking in the view while trying to watch your footing, enjoying good banter and craic with your fellow trekkers.
That morning trek lasted four hours. You'd be walking and walking, thinking this is never going to end, then all of a sudden you'd see the wee blue van and white food tent set up, and we arrived to some much-needed lunch, sitting under the one tree big enough to shade us all.
After another delicious lunch, we set off for another four hours in the afternoon, as the second day was our longest trek, covering 20km in one day. But our guides wanted us to keep the pace up, because our second night's camp was in the sand dunes, where the promise of a view over the desert was only possible if we made it in daylight.
Boulder-strewn hills turned into rolling, massive sand dunes, about 40m high. We could see our camp abut a mile away, and our guide offered us a choice: we could walk straight there in about 30 minutes, or if we were feeling adventurous, we could climb the sand dune for the view and walk across the ridge.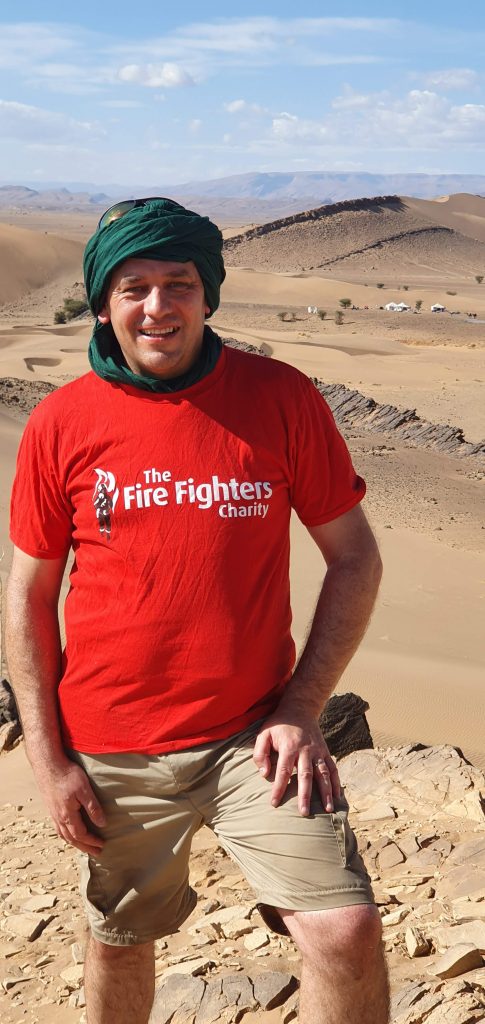 Obviously we chose the harder route! We were faced with a wall of sand, and had to walk in a zigzag, doubling up on yourself as you made slow progress. But the view behind you was spectacular as you climbed.
At the top of the ridge, a once-in-a-lifetime sight was waiting for you. Once we got over, the desert stretched out in front us as far as the eye could see; all you could see for miles were sand dunes.
We stopped for a few photos, and then made our way back down, putting one foot in front of the other to avoid falling down the sheer drop where the sand fell away.
Once we'd got our camp set up, we all headed back up the sand dune to watch the sunset over the desert. We all helped each other up, so no one missed out. And then we just sat there, seeing the sun set down and the stars and moon come out. It was absolutely incredible.

Back down to camp for our last night camping, a quick clean, and dinner, which was, once again, absolutely amazing. Relishing in the success of what had been our hardest day, conversation turned to each of our personal reasons for being there. I was the only firefighter there, so I told my story and explained how much the Charity has done for me. I told them how the trek had appealed to me because of the dates, as they are the exact same dates as the time I had spent in hospital in 2016, so it felt especially poignant.
We had a lot of craic around a bonfire, laughing and singing. The guides taught us some of the traditional Berber music and – wanting to return the favour and show them a bit of our culture – we taught them the Hokey Cokey!
Then it was time for everyone to go to bed, so I found an empty space and settled down once more under the stars, this time with the sand dunes as the back drop. The memory of those night skies will stay with me forever.
Day three
We all set off for the last 12km of our trek, knowing our time together would soon be coming to an end. After packing up camp for the last time and a final stretch, we headed out across the sand dunes again.
The landscape changed again, becoming even more sparse than before. The only shade you could find was from the odd acacia tree, which you had to be careful didn't spike you if you got caught on their two-inch thick thorns.
There was a lot of craic on day three, with everyone looking forward to the finish line and our celebration meal at the end.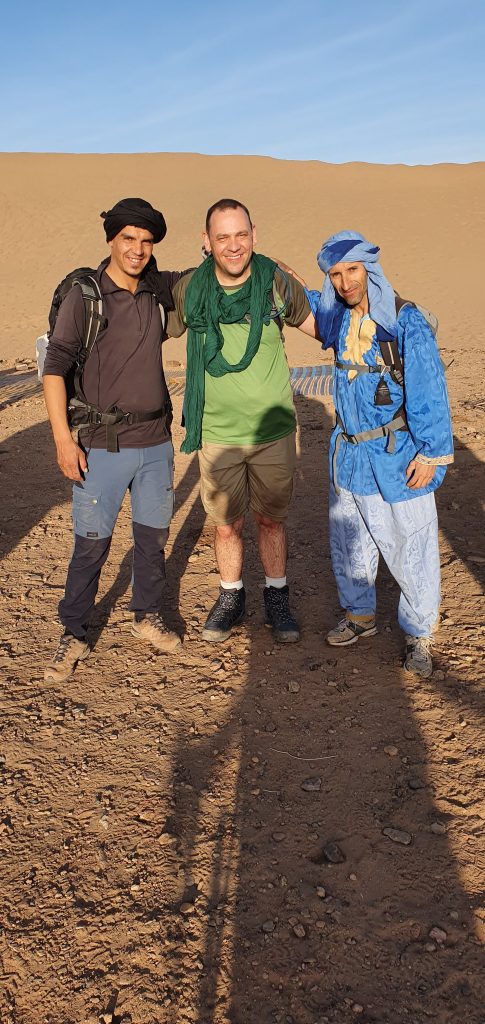 It was emotional for me, walking along with all sorts of things going through your head. I was missing my family, and thinking back to three years previous and how far I'd come. Here I was in the desert, with my stoma, challenging myself. The rest of my campers thought I was mad coming into the desert with it, but I said I have do these things, to show it can be done. I wanted to prove to myself and to everyone else that these things can still be done, that a colostomy bag isn't going to hold you back.
When we got that glimpse of our ending point, the sense of elation and relief in everyone was palpable. I pushed on ahead, because I wanted to capture everyone's photograph as they crossed the line. There wasn't an actual mark to finish it, so we drew a line in the sand for them to cross. A further reminder of just how far I'd come.
After our last lunch together, we said our goodbyes to our local crew, chefs and camels. After another three-hour drive to the hotel (where I jumped straight into the pool) we rounded it off with an amazing meal in a local restaurant. And then we headed to the airport to say our goodbyes.
And that was it. That was my once-in-a-lifetime trek.
I'm not normally stuck for words, but the experience was just… indescribable. Crossing that finish line, knowing the job was done, I'd raised the money for The Fire Fighters Charity and I'd proven my point to myself.
People thought I was mad to do it with my stoma. They said I'd had my challenges to overcome in getting fit and healthy again, and couldn't that just be enough? But I said no, this is me now, I wanted to pay back the generosity I received when I was sick. So I trekked 50km through the desert, and raised £4,000 for the Charity.
The day I got back from the desert was my 50th birthday. I'd drawn that line in the sand, I had recovered. I am back and better than I ever was.