There's never been a greater need to look after our planet and the last few years have seen people across the world coming together to combat climate change in amazing, innovative ways.
The fire services community is no different, with initiatives springing up all the time to not only give back, but also utilise what the natural world has to offer to benefit our mental health – whether it's through our successful recycling scheme, or planting gardens round stations to promote the benefits of green spaces on mental wellbeing.
Now we are marking Earth Day by sharing some tips on how you can get involved – and improve your overall wellbeing in the process.
The theme this year is 'Invest In Our Planet'. So, why not do your bit and try out some of our fun ideas to not only give back, but also find ways of boosting your mental wellbeing?
1. Clean up your beach: Right across the country there are big beach clean events happening all the time, encouraging people in the area to join forces and clean up litter left behind. These are not only a great way to help the environment, but also socialise with new people. The National Trust runs many, as does Surfers Against Sewage and the Marine Conservation Society. You could also combine it with some running by trying out 'plogging' – picking up litter as you jog.
2. Join our recycling scheme: We have run a successful clothing recycling scheme since 2008, in partnership with fire and rescue services and textile recycling companies across the UK. Not only does it raise thousands of pounds every year, but it encourages friends, families and colleagues to work together to reduce the amount being sent to landfill. You can find your local recycling bank on our website here.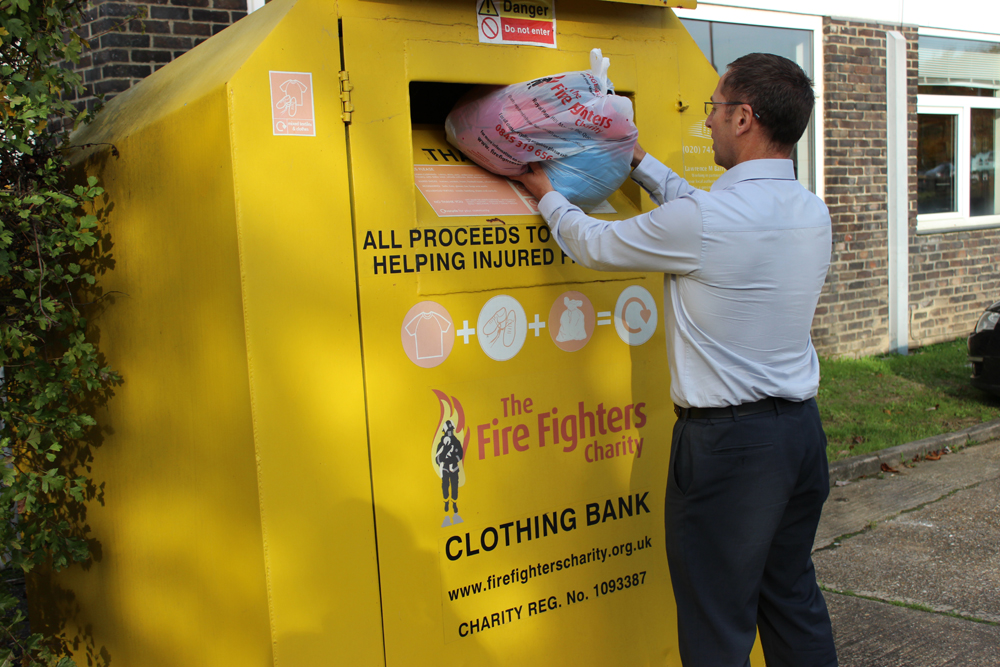 3. Try an at-home recycling challenge: It's not just clothes than you can recycle – why not try boosting your waste recycling at home too? Get the kids involved and see who can recycle the most in a week.
4. Grow your own at home: You could also start a home-growing competition. You can grow many herbs in a pot in your kitchen, which has the added bonus of meaning they're at your fingertips when cooking. Grow basil, thyme, chives or rosemary and enjoy their benefits for months. If you've got space, consider a vegetable patch, or just pick up some tomato plants to grow in pots. It not only reduces plastic waste in the long-term, but allows you to spend quality time with your nearest and dearest, hopefully while soaking up some fresh air in the process.
5. Enjoy the great outdoors: It's no secret that sunlight and fresh air can improve our mood, but walking more (instead of driving or taking public transport) can also have a positive impact on the environment. Take time to enjoy the calming, restorative effects of being outdoors, whether it's on a hike (within government guidelines) or through gardening – which has proven health benefits. You could even host a field trip to your back garden or a patch of greenery near your house with the kids, educating them along the way. Write down five things you can hear, see, smell, and touch. You can listen to our Shout! Podcast Plus episode dedicated to stress busting gardening tips here.
6. Learn about our planet: There are endless resources available for Earth Day that you and the kids can either read or watch, to learn more about the impact of climate change, our carbon footprint as a whole, and the small things we can all do to make a difference. Check out some of these on the main Earth Day website here. There are also a host of TV shows you can catch up with, including top-rated shows from David Attenborough – many of which are available on streaming services or catch up.
7. Plant a small garden at your station: We previously chatted to Simon Jakeman from London Fire Brigade on our Shout!Podcast. He is busy encouraging other firefighters to enjoy nature in an urban environment – by planting small gardens round their stations. He reveals how his vision has literally grown from a few tomatoes in a fire bucket to a string of green spaces in stations right across the country in our latest episode.
So get stuck in to mark Earth Day 2022 – and be sure to let us know how you get on on MyFFC!