With Easter just around the corner, we know filling the holidays with entertainment for the kids can sometimes be challenging, but there's so much you can do to keep them busy – and you may just enjoy taking part too!
Get stuck in and remember to let us know how you get on by tagging us on social media and posting your photos and videos in MyFFC!
Children's colouring sheet
Blaze Bear has been on an Easter Egg hunt, and we're asking your little ones to show off their artistic flair by colouring in the sheets below – decorating not only the eggs, but Blaze too. Alternatively, they could draw or make their own Easter creation from scratch and send it in. Either comment on our social media or post in one of our groups in MyFFC to show off your colourful creation.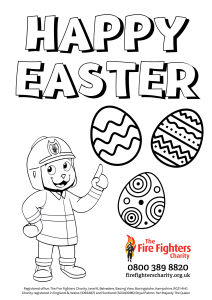 Colour in NeeNaw
Everyone's favourite fire engine is also available to print off and colour in.
Easter egg hunt
It's an oldie but a goodie! Grab some small chocolate eggs (or any other goodies you wish) and hide them round your garden or through the house. Then set the kids a time limit and challenge them to find as many as they can.
Try our scavenger hunt
If you're wanting to get your family outdoors and stay active, while having fun together and making the most of your surroundings, try our scavenger hunt!
Bake together
If you're stuck inside on a rainy day, which we all know can happen in April, then why not test out your culinary skills in the kitchen with the kids?
As part of our fundraising campaign, Brew With A Crew, in partnership with Typhoo, we shared some of Great British Bake Off star and firefighter Mat Riley's most popular recipes for cakes and biscuits, to go alongside your cup of tea.
Try some of them out, or dig out your own recipes – and be sure to share photos of the finished results with us on MyFFC!
Have fun outdoors
There are plenty of outdoor activities on offer if you fancy something a bit different this Easter. Why not set the kids a challenge of building something out of leftover recycling items?
Verywell Family has a long list of outdoor activity ideas on offer, so check them out and see what takes your fancy.
Find local events
Depending where you're based, there will more than likely be some events and activities taking place if you'd like to meet up with others.
From outdoor festivals to summer camps, museums, shows and educational events around nature, there's so much on offer – so have a browse online and on community social media pages for your area.
Listen to our podcast
Our health and wellbeing podcast had a bit of a makeover last season, with each episode focused on a different topic and trimmed down to a pocket-sized 20 minutes, so you can fit it easily into your day. Available through all the usual podcast channels, you can find us on Spotify, Apple or Google Podcasts. However, if you're newly dipping your toe in to the podcast pool, you can find all the episodes here.