Having been chosen as one of the three charities to benefit from the Telegraph Christmas Charity Appeal 2018, a series of features highlighting the work the Charity does have started to appear in the newspaper.
"Being chosen as one of the three charities to benefit from The Telegraph Christmas Appeal 2018 is a real privilege and a fantastic opportunity for us to showcase our work and the inspirational stories of our beneficiaries," says Head of Marketing and Engagement Tim Beynon. "The appeal will highlight the work we are doing to enhance the support we can provide to those members of the fire services community with mental health needs.
"Through a broad range of features, across The Telegraph's daily and weekend newspapers, on and offline, The Fire Fighters Charity will benefit hugely from this fantastic opportunity to engage with the paper's readers. Running until January 2019 and featuring a dedicated telethon day in December, this appeal will also – we hope – raise a huge sum of money to fund the onward development of Harcombe House as a specialist mental health centre."
The campaign focuses on three charities working to support people living with mental health issues, and members of Telegraph staff have shared why this cause is so important to them
Keep up to date with all the content from the appeal here, so you never miss a thing.
Mark Schofield:
'Everything spiralled out of control' – a firefighter's story of being saved from PTSD
Watch Manager Mark Schofield shares his experience of living with post-traumatic stress disorder and the event that triggered it.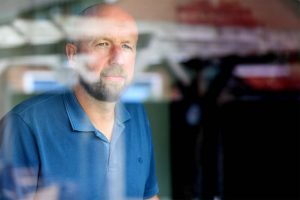 Roger Moore
''Every dead body I'd ever seen at work span past my eyes like a film'
Retired firefighter Roger Moore and his wife Karen share the impact Roger's mental health issues have had on their marriage.
Roger Kendal
'If the Kings Cross fire happened today, there'd be even more casualties'
Former firefighter Roger Kendal talks about being the first at the scene of the devastating Kings Cross fire in 1987 in which 31 people died and 100 were injured.
Jubilee House
Inside the Lake District recuperation centre that helps injured firefighters back to health
A Telegraph journalist visit Jubilee House and meets beneficiaries on the programme.
The Shoreham Air Crash
The true story of the Shoreham Air Disaster… and how the firefighters are still affected three years on
Firefighters Marvin Smith and Mark Price share their ongoing struggles with mental health following the disaster in 2015.
You can donate to the appeal online or by calling 0151 284 1927.