When a Mountain Rescue helicopter came to the aid of a dog walker who had fallen in the Brecon Beacons earlier this month, they were surprised to find a firefighter in full kit, complete with breathing apparatus, was the one who had rescued him. But this firefighter wasn't there with a crew, nor was he on duty. He was taking part in an epic hike to raise money for The Fire Fighters Charity.
Mid and West Wales retained firefighter Lyndon Rees was competing in The Fan Dance, a gruelling 24km endurance hike organised as an SAS Selection test march. The infamous march is world-renowned for its difficulty, taking place over Pen Y Fan, the highest mountain in the Brecon Beacons, and used as an indicator of whether a candidate has the physical and mental aptitude to join the Special Forces. As a mountain leader and seasoned hiker, Lyndon, wanted to go one step further than just complete the course, so decided to do it in full fire kit.
"When I do something, I like to give it 110%," he says. "Go big or go home, that's what I say."
Lyndon, who is an ex-Marine, joined the fire service last year, and quickly decided he wanted to do something to raise money for the Charity. As a lover of all things to do with the mountains, he decided this event was perfect, and signed up.
Thinking he could probably do the distance in about four hours in usual circumstances, he allowed himself seven to accommodate the extra 40kg he was carrying in kit, which was more than half his body weight. But unfortunately, he didn't have the chance to complete the event…
"As I was walking to the summit of the first mountain, I passed three lads walking a dog, and we stopped and had a brief chat," he explains. "It's not every day you see a firefighter in full kit on the highest peak in Southern Britain, so we got talking and I explained what I was doing, and who I was raising money for. We parted ways, I said stay safe, and that was that."
Carrying on a bit further, he met another man on the trek, who was also ex-military. As they climbed to the summit, discussing their shared experiences, they heard a cry of distress.
"Someone was shouting 'he's fallen, he's fallen!' and I looked to where they were, expecting to see someone on the floor with a grazed knee. But we all rushed to the edge of the cliff, and could see that it was the same dog walker I'd met earlier, and he had fallen about 500 foot down the side of the mountain trying to save his dog who had also gone over the edge."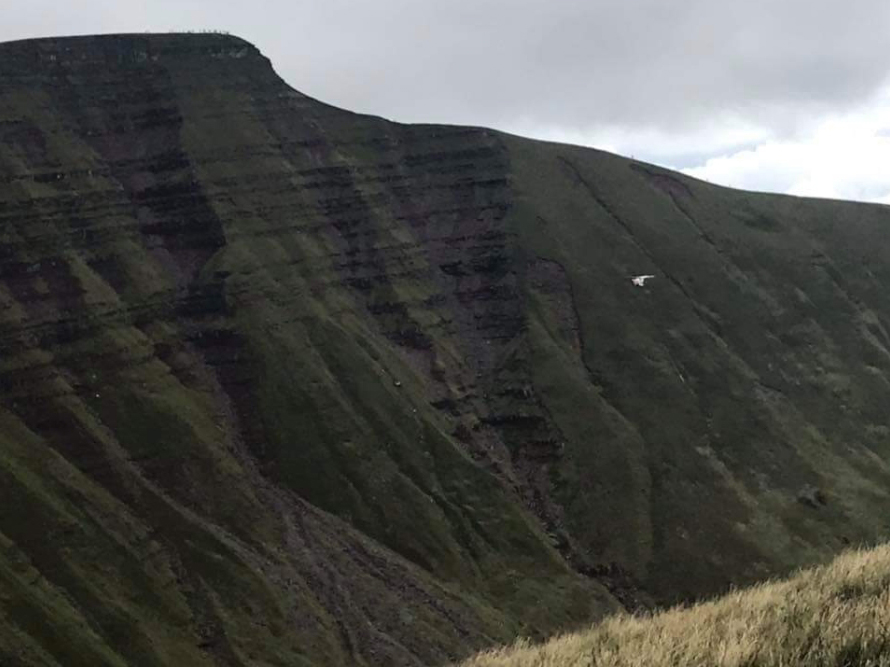 At this point, instinct kicked in. Lyndon got everyone back from the edge and asked someone to call 999 and ask for the police and mountain rescue, explaining they were on the north face of Pen Y Fan.
"Between me and the other ex-military chap, we got a little posse of six people and went down the side of the mountain," he says. "It was quite treacherous, because we had to go the long way round to get to him safely, and we didn't have any mountain equipment with us. He'd fallen such a long way, we honestly thought we were going to be locating his body, not a casualty. I couldn't believe it when we got to him after about 15 minutes of scrambling down the side of the mountain. Not only was he alive, but he was using his cheap supermarket first aid kit to try and tend to the mess of his legs!"
Lyndon tended to the young man's injury, packing him up to prevent hypothermia, and before long, the helicopter had arrived.
"I could hear the pilots talking over their comms, asking what the hell a firefighter was doing on the side of a mountain! I kept chuckling to myself. I joked to them that I had been at a fancy dress party the night before and was doing the walk of shame home through the mountains."
Thinking he had injured his spine, it turned out Adam, the man who had fallen, only had whiplash on top of his leg injuries. Lyndon and the group also managed to rescue his dog, who had broken his toe, and even locate his mobile phone further up the mountain.
"I think his guardian angels must have been watching over him that day for sure," says Lyndon. "It's practically a sheer cliff, and he'd fallen straight down."
While Lyndon didn't manage to finish the trek, Adam, who he has now become firm friends with, has made him promise they will tackle the mountain together when his legs are healed.
He may not have finished, but he's still a hero in our eyes. If you'd like to donate to Lyndon's justgiving page, you can do so online.