The last few months have felt a bit surreal – both never-ending and flashing by in the blink of an eye.  For me it wasn't the cancellation of every planned event this summer that has made time so elastic, more the absence of the everyday; dropping into see friends, having a catch up with my work colleagues, travelling to Living Well groups, seeing my family, popping to the pub on a Friday night. I realise that so much of my life is dependent on others, my interactions with my normal network of people serve as reminders of who I am and my place in the world.
During lockdown, I've been lucky to be able to continue working. I've spoken to lots of people on the phone, most of them doing well, some hardly noticing the change, others desperate for restrictions to lift and many, many unsure about how and when we will get back to normal life. Loss of physical contact has been particularly hard; grandchildren born, but not yet met, friends not able to meet for coffee, families unable to hug each other.
During this period technology has come into its own. I've heard countless stories of iPads borrowed or bought with crash courses in Facetime, Zoom, 8×8, House Party, Skype or Whatsapp video calling. It can be daunting to try new technology but also liberating. Not to mention the satisfaction of conquering a new skill.
At the Fire Fighters Charity we're aware that as movement restrictions begin to lift, lockdown may still be in full force for our retired generation. Even if you've been able to ease restrictions, you still won't be able to go about your daily life as before. Because of this we've been setting up virtual Living Well Groups, where we meet online to catch up, chat about interesting topics and be joined by different guests.
Up until now, we've held Living Well Groups online in the same geographical areas as our existing groups. But we know there are still people out there feeling lonely or isolated who may not live near a group, or just didn't have the chance to go to one in person. Virtual groups may not be as good as face to face, but they're the next best thing until we can come together again, and we'd be delighted to get more online groups up and running.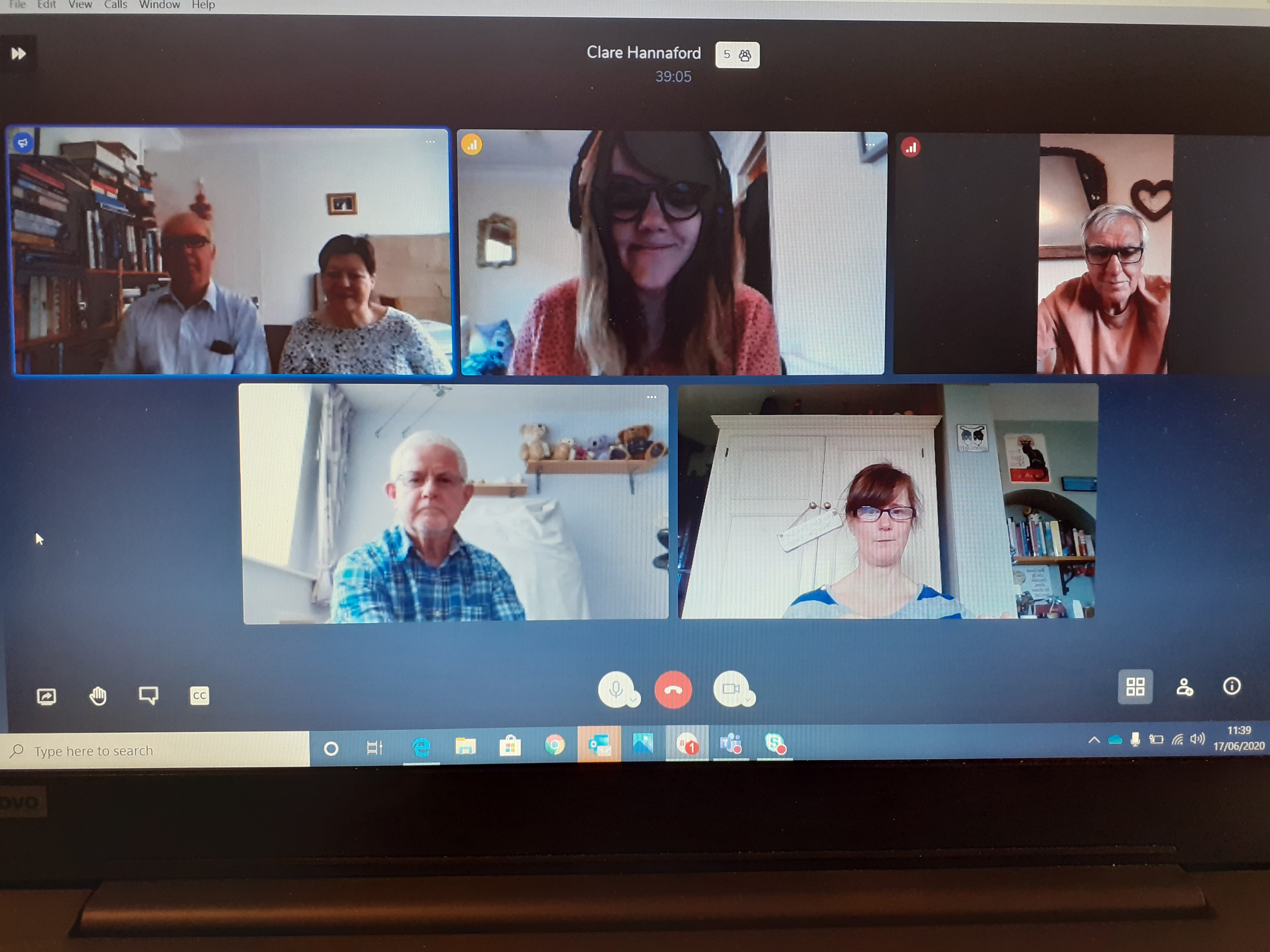 So we're setting up a nation-wide Living Well Group network, connected by the magic of technology. If you think that you would like to have a go, please get in touch and we'll do the rest, connecting you to a group made up of retired fire personnel from across the country. Drop me an email at channaford@firefighterscharity.org.uk.
And if you're worried about the technology, please still get in touch and we can see what's possible. I'm happy to try the technology with you on a one-to-one practise ahead of the meeting. We host the meeting using secure technology and you can practice beforehand if you're nervous about getting started. We would love to do more of these, but we need people who are interested in joining us.
Need more convincing about how good our Living Well Groups are? Here's some of the existing members from different groups.
Chris: The Living Well Groups allow me to reconnect with the parts of the fire service I always loved, especially after I'd lost touch with people in retirement. The first one I came along to I was a little nervous, but within minutes everyone made me feel like I still have family in the fire service, and here they are: at The Fire Fighters Charity's Living Well Group.
Malcolm: Since lockdown started, I've only spoken to a couple of people apart from my wife and family. I haven't even met my new grand daughter yet, because we don't want to put anyone at risk. So it's good to have the Living Well Groups, because it gives the opportunity to talk to other people and catch up.
Kev: I went to Jubilee House with a shoulder injury and remember feeling like I'd come home when I walked through the doors. That's much like the feeling I get from the Living Well Groups. I went with trepidation, but it feels like coming come to your friends and family, even if you've never met them before.
Lesley: It's about your own mental wellbeing, being able to interact with people. When you're self-isolating, social interaction is almost non-existent. And just endlessly discussing what we're having for dinner does get boring! But the Living Well Groups give you a chance to talk to other people, and we really appreciate that opportunity.
Pete: I'm not always comfortable talking on camera, but being able to hold Living Well Groups over video is much better than nothing. I think it's essential to help people keep in touch. I'd encourage people to put technology worries aside and ask for help, because this shouldn't just be limited to people who are comfortable with modern tech.People need to be shown just how much technology can do for them and it's really not the monster you might think it is.
Keith: They're just a brilliant way of keeping communication going during lockdown in the absence of being able to see each other in person.
Dave: Being a Living Well Group coordinator is like a breath of fresh air, supporting ex fire personnel to remember the good times and enjoy some banter together. And it's completely free. There are so many people out there who could benefit from coming along.