As we approach a new year and a new decade, we thought we'd bring you a few highlights from the last 12 months in The Fire Fighters Charity.
We kicked off 2019 with some very good news. Our annual Bag It and Bank It textiles recycling championship smashed last year's totals, both in terms of weights and money raised. The donated textiles collected from 809 fire stations weighed in at a whopping 312 tonnes and raised an incredible £68,145. That's the equivalent of over 40 elephants. Or to put it into language our fire and rescue service community might speak, it's around 19 fire engines worth of shirts, shoes and woolly jumpers collected in one month. But we want to do even better this year, with the target set for raising £70,000 during January 2020.
We've had a number of specialist weeks at our three centres this year, with more to come in the New Year. In February, Marine Court hosted a functional drills week to help beneficiaries prepare both mentally and physically for their return to work after injury or long-term illness. The targeted week was the brainchild of Exercise Therapists Kirsty Gladdis and Craig Williamson: "We'd spoken to a few beneficiaries about a physical focus to help get them ready for the fitness test, but the more we spoke to, the more we realised there was also a huge psychological block about returning to work as well," says Kirsty. "People worry about passing their fitness test after being off sick for a while, and this helped us shape our focus for planning the week."

In March we received some very welcome news from The Telegraph. As one of three charities to benefit from the Charity Christmas Appeal running throughout December and January, they presented us with a cheque for nearly £150,000 in March. Not only did their readers raise this whopping amount for us, but their features also helped to highlight the mental and physical challenges fire and rescue personnel across the UK are facing every day, and the work the Charity is doing to help. We joined Changing Faces, a charity that provides advice and support for people living with a visible difference, and YoungMinds, which is dedicated to providing a lifeline to parents and carers to prevent young people from coming to harm.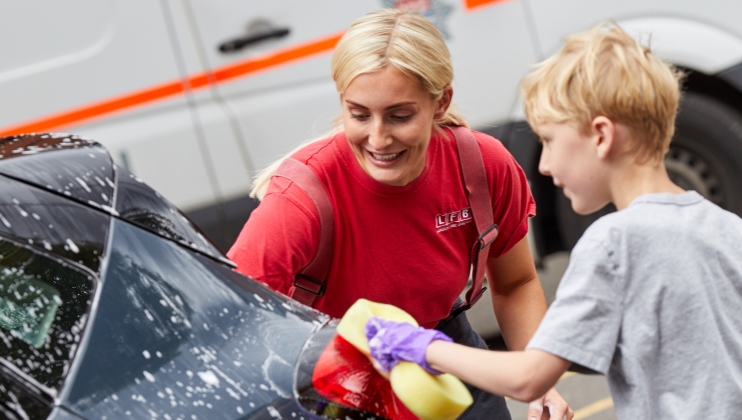 Stations to continue to come out in their droves to support our Autoglym National Car Wash championship, and in April, we announced the winners. In just one year, the combined efforts of fire stations across the UK raised a quarter of a million pounds for the Charity, which is a fantastic figure. Slough fire station held onto their position at the top of the table, raising £3,618.35. We also announced that we would be offering twice the chances to win in our national league from this year, splitting the annual competition into two six-month slots.
We have some amazing fundraisers who achieve superhuman feats in our name. Gloucestershire firefighter and semi-professional rugby player Sasha Acheson walked her way into the record books for being the first person to walk the width of the country in a month, covering the equivalent distance of a marathon a day in May. She decided to tackle this amazing feat as a way of keeping herself physically and mentally active when a shoulder injury meant she could neither work nor play rugby, and she was awaiting her operation. "The feeling of achievement every day is what kept me going, knowing I was doing good," she says. "I just concentrated on putting one foot in front of the other, and some days were tougher than others, but there was never an option not to do it, because I was accountable to our Charity. My aim was to get a donation every day, no matter how small."
In June the first Child and Family Week of the year opened its arms to some unique families, each with their own complex needs. They were invited to attend a week at Harcombe House and spend time together and with other families in a similar situation. "Just because a family has more complicated requirements than another doesn't mean they are any less deserving of a holiday," says the Charity's Welfare Services Lead, Carrie Pearce. "It's so important to be able to offer families time away from the pressures and stresses of everyday life and spend some quality time together."
We absolutely love watching the amazing things people get up to with their fundraising, and this Summer, London Fire Brigade did not disappoint. A team of firefighters made it to the top ten of the Red Bull Soap Box Race at Alexandra Palace. They converted an old Olympic bobsleigh into a fire engine and then threw themselves down the course. "It was an absolutely brilliant day and we had so much fun," says Croydon firefighter Emma Watling. "The team survived, the Firebob came back in one piece, and we're all so happy to have come seventh out of 66 teams! We're very happy, Captain Peet Boxhall got to the end of the track in 39.95 seconds, which is not too shabby at all."
It wasn't fitness that stopped Mid and West Wales firefighter Lyndon Rees from completing a gruelling SAS hike through the Brecon Beacons in full fire kit and breathing apparatus in August. It was the fact that he stopped to rescue a dog walker who had fallen 500ft down the side of a mountain: "Someone was shouting 'he's fallen, he's fallen!' and I looked to where they were, expecting to see someone on the floor with a grazed knee. But we all rushed to the edge of the cliff, and could see that it was the same dog walker I'd met earlier, and he had fallen about 500 foot down the side of the mountain trying to save his dog who had also gone over the edge. We got a little posse of six people and went down the side of the mountain. It was quite treacherous, because we had to go the long way round to get to him safely, and we didn't have any mountain equipment with us. He'd fallen such a long way, we honestly thought we were going to be locating his body, not a casualty. I couldn't believe it when we got to him after about 15 minutes of scrambling down the side of the mountain. Not only was he alive, but he was using his cheap supermarket first aid kit to try and tend to the mess of his legs!"
HRH The Duke of Cambridge visited Harcombe House in September, to officially re-open the centre after its refurbishment. He met with beneficiaries who have been supported by the Charity, including retired Royal Berkshire firefighter Richard Baldwin, who is a regular visitor to Harcombe. "Being able to speak with him and to share my story with him meant so much to me," says Richard. "It meant I'm on the way up, and it was tremendous. I could talk to him. A few years ago, I couldn't talk to anyone. But then I come here and I talk to strangers, and then next thing I know I'm talking to the future king of England. I still can't get over it!" HRH also launched the Royal Foundation's new dedicated blue light support from Shout, a 24-7 crisis text line. Speaking in a video to mark the overall launch of Shout earlier this year, he spoke of the benefits of accessing support in this way: "As texting is private and silent, it opens up a whole new way to find help," he said. "It provides instant support, you can have a conversation anywhere and at any time. I'm incredibly excited to be launching this service knowing it has the potential to reach thousands of vulnerable people every day."
The Jubilee House Nursing team received its second piece of good news for the year in October. Having successfully applied to increase their nursing bedrooms earlier in the year, they rounded off 2019 with an 'Outstanding' rating from their latest inspection from the Care Quality Commission. "People who stayed here received extremely high-quality, personalised support from an exceptionally well-led service," the inspector writes in her report. "People said the service was 'life changing' and 'amazing' in successfully helping them to learn skills to manage their conditions, as well as enjoying a very fulfilling and sociable short break." Having taken the time to speak with beneficiaries, she could see the genuinely positive impact their time at the centre has on both their physical and psychological wellbeing: "The service was exceptional at helping people achieve positive outcomes and building confidence and independence." She praised the 'full commitment' of 'kind, considerate and empathetic' staff in providing a person-centred service. Members of the team told her they were proud to work for the service and that they received 'superb support from the organisation and their colleagues'. As a result, beneficiaries told her they had 'absolute faith' in staff, as they were so knowledgeable.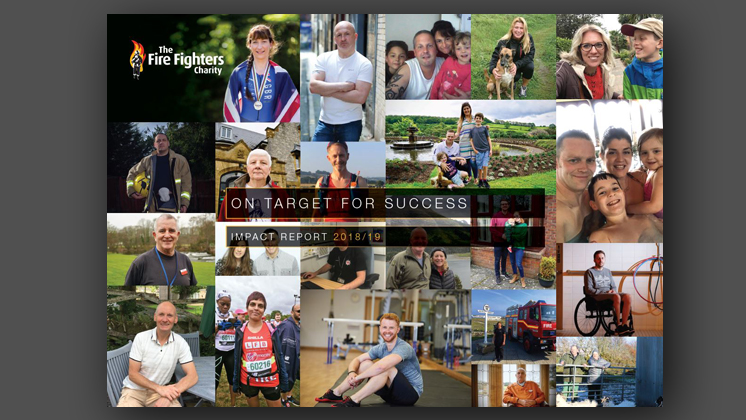 Coinciding with our Annual General Meeting, we published our Impact Report for 2018/19 in November. Having celebrated our 75th anniversary in 2018, the year marked the midway point of our 2017-20 Strategic Plan and saw our donors, supporters and fundraisers raise a staggering £10m. Significant progress was also made towards the plan's four core objectives, not least in the field of mental health and the repurposing of our Harcombe House centre to better meet the mental health needs of an increased number of individuals, couples and families.
What an incredible month it's been for fundraising. We've enjoyed seeing all your festive sleigh rides, carol singing and Santa's grottos. Here are just some of the wonderful things you've been up to for our Charity throughout the festive season. Thank you so much for all your hard work, dedication and support.
Phew. What a year it has been.
On behalf of everyone who has been helped by the Charity because of the support you have given us, thank you. We wish you a peaceful Christmas and a very happy new year. See you in the new decade!