As our 75th year comes to a close, The Fire Fighters Charity's Chief Executive Dr Jill Tolfrey shares some reflections, and we bring you some highlights from the last twelve months.
 Dr Jill Tolfrey
"It has been an incredible 75th anniversary year for The Fire Fighters Charity. The inspirational achievements of our fundraisers, together with the dedication and hard work of our staff and volunteers, has been a fitting tribute to those who have gone before us and the many thousands of people we have supported since 1943.
"Any anniversary should be a time of celebration and, over the course of our 75th, I've been humbled by some of the incredible ways people have helped us to mark the occasion. Our My75Milers have taken the challenge of completing 75 miles to extraordinary lengths; running, walking, swimming, cycling, skiing, canoeing, horse riding, gliding and snowboarding their way to their fundraising totals.
"The inspirational achievements of our fundraisers, staff and volunteers, has been a fitting tribute to those who have gone before us and the many thousands of people we have supported since 1943."

Dr Jill Tolfrey
"Others have washed cars, run marathons, played record breaking rugby matches, cycled across America and rowed the Atlantic ocean for us this year. Extraordinary feats every one.
"Across the Charity meanwhile, we have done some great work this year, helping to raise the profile of our mental health support services and continuing to support thousands of people across our fire services community with mental health, physical and social needs.
January: record-breaking Bag It and Bank It
We kicked off the year with a record-breaking effort for the Bag It and Bank It textiles recycling competition. In one month alone, £56,728 was raised through collections from fire stations, up 23% compared to last year's efforts. One fire station who took up the call to arms in a big way during last year's campaign was Egremont. The Cumbrian fire station collected a huge 11 tonnes of clothing, shoes and textiles during January. To put this into perspective, the second biggest amount collected was in Oundle Fire Station in Northamptonshire, who collected over two tonnes of clothing and shoes.
February: Team Noble rows the Atlantic
In Februrary, Firefighter Kristopher Elliot and his brother Blair, both from Dunblane, Scotland, completed the Talisker Whisky Atlantic Challenge. In just seven weeks they completed the 3,000-mile endurance race across the Atlantic. Sailing as Team Noble, in memory of friend and colleague John Noble, the duo battled 40ft waves, sleep deprivation and sweltering heat to conquer the world's toughest row in aid of the Charity.
March: The National Car Wash League
Despite the snow's attempts to postpone proceedings, car washes eventually managed to take place all over the country once crews and volunteers rescheduled their events. During March and April, £112, 722 was raised, making the final total of our 2017/18 National Car Wash League a huge £236,073. Congratulations go to Slough Fire Station, Royal Berkshire, for raising the largest amount at £5,009.22 and winning a Touring Car Championship VIP experience courtesy of our sponsors Autoglym.
April: The London Marathon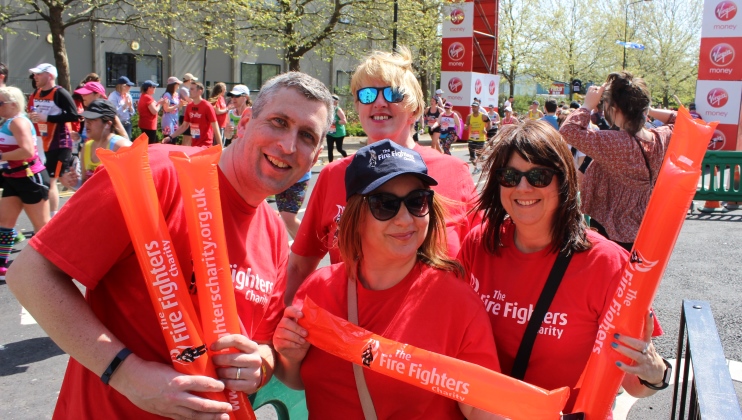 Of the 50,000 people running the London Marathon back in May, a small army of runners were taking part to raise money for The Fire Fighters Charity. Between them, our 17 runners raised more than £100,000. They were also joined by 18 London firefighters, who were fundraising for Grenfell communities.
The Ladder 23 Night

Also in April, The Fire Fighters Charity teamed up with The Jamie Carragher 23 Sports Foundation to host a star-studded sports dinner and evening of entertainment, which raised more than £20,000 for each charity. The 'Ladder 23 Night' hosted by local comedian Willie Miller was held at Liverpool's Titanic hotel and featured the BBC's Richard Askam in conversation with Carragher about his childhood and football career.
May: Rugby World Record attempt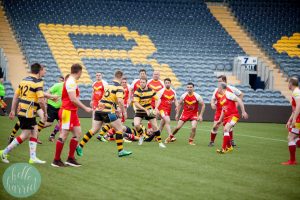 A specially formed rugby team made up mainly of fire and rescue service personnel once again attempted to break the world record for the longest game of rugby played, after 2017's unfortunate technical issue with the camera equipment lost them the title. Taking place at the Sixways Stadium in Worcester they played non-stop for 32 gruelling hours against a team representing the charity Scotty's Little Soldiers, raising a staggering £25,000 for both causes.
June: Brian conquers America
In June, Former Highlands and Islands Chief Fire Officer and now retained firefighter, Brian Murray, completed the epic Trans Am Bike Race, a 4,300-mile pedal across America, in an astonishing 22 days. Brian's self-supported cycling challenge raised more than £7,000 for the Charity.
Spirit of Fire Awards 2018

This year also saw the long-awaited return of the Charity's Spirit of Fire Awards. The day offered the chance to celebrate the inspirational achievements and support that the Charity has received from individuals and teams across 10 categories. Hosted by BBC newsreader Nicholas Owen, the ceremony was held in One Great George Street in Central London and was followed by a reception in 10 Downing Street, with nominees from across the country in attendance,
The ceremony began with the presentation of a Special Recognition award to London Fire Brigade Commissioner, Dany Cotton, for excellence in the promotion of positive mental health, and closed with the reveal of our Lifetime Achievement winner, retired firefighter and long-time supporter Chris Wannell.
July: Wimbledon Coin Toss
The Wimbledon Foundation chose 11-year-old beneficiary, Joshua Bills – whose father Dan is a London Brigade Firefighter – to represent the Charity and perform the coin toss at the Wimbledon Gentlemen's Final. The Bills family have previously been supported by our Child and Family Programme, to help Joshua, who has complex needs
Blazing Saddles
Thirteen firefighters from Greater Manchester Fire and Rescue Service, known as Blazing Saddles, cycled 1,700 miles from Oldham to Gibraltar, Spain, raising a whopping £32,000 for their four chosen charities. Completing the challenge in 15 days was an impressive feat considering that in the crucial training weeks leading up to the event, the team were also tackling the Saddleworth Moor fire.
August: Our 75th birthday
On 17 August 1943, the National Fire Service Benevolent Fund was formally created at a National Council meeting in Central London, uniting the London Fire Service Benevolent Fund and the National Fire Service Benevolent Trust. And in 2018, we celebrated our 75th birthday.
At Marine Court, a statue of a firefighter made by Littlehampton Welding Ltd was kindly donated to commemorate our 75th anniversary at at Jubilee House and a ceremonial tree donated by North West Arboricultural Services was planted.
#My75Miles challenge
Our year-long fundraising challenge reached its peak of activity over the summer as teams and individuals from within the fire service and members of the public ran, swam, walked and cycled their way to 75 miles and beyond. To date, more than £55,000 has been raised and more than 54,000 miles have been completed.
September: Textile Recycling milestone
In 2018, the total amount raised by textile recycling reached the £3 million mark. Since the launch of our recycling scheme in 2009, the amount of clothing collected and re-diverted from landfill totals nearly 18,000 tonnes. More than 800 fire stations across the UK are now home to one of our yellow recycling banks, so make sure to check our nationwide map to see where your nearest one is.
October: Shining a light on mental health
On World Mental Health Day, we shared the story of Mark Schofield, a Retained Watch Manager whose post-traumatic stress impacted his family and work life. He discussed why our support helped him feel like the person he was before and why taking part in the #My75Miles challenge was great for his mental health.
November: The Telegraph Christmas Charity Appeal

The Fire Fighters Charity was selected as one of three to be supported by the newspaper's annual charity appeal. Alongside YoungMinds and Changing Faces, we have received regular coverage sharing the work the Charity does to support fire and rescue personnel, with a particular focus on mental health. We also took part in the appeal's phone-in day, where they smashed last year's targets, raising £84,000 for the three charities.
December: The Fire Tones 
Rounding off our 75th year in style, The Fire Tones were in the running for the Christmas Number One spot. Featuring over 40 fire and rescue service personnel from across the country, the group recorded a cover of Band Aid's 'Do They Know It's Christmas'. With Welshpool Firefighter Chris Birdsell-Jones at the helm, the group managed to get themselves onto local radio radio stations, Sky News, ITV's This Morning and even the BBC's The One Show. All proceeds from the song will be split between The Fire Fighters Charity and The Band Aid Charity Trust.
2019 and beyond
Never one to rest on our laurels, we have lots planned for 2019. The first beneficiaries of a new era for Harcombe House will be joining us in January, with tailor-made programmes of recovery putting the individual's needs at the heart of everything we do. January will also kick off the return of our Bag It and Bank It textiles recycling campaign, and the Spirit of Fire Awards will be returning in October. We'll be taking part in a London ziplining event, so watch this space for more information on that, and, most importantly, we will be continuing to support the mental, physical and social needs of the everyday heroes from within the fire and rescue service community.
"So on behalf of the whole Charity," says Jill, "all that is left for me to say, is thank you and to wish you all a very happy and healthy new year."