Looking for the perfect gift for your Secret Santa but not sure where to start? Stuck for ideas for that last stocking filler? Or do you just want to make a kind gesture to show your support to the UK's fire family?
Well, look no further. You can get involved in our Fire Fighters Charity Secret Santa, and it couldn't be simpler to do.
Just text 'FIRE' to 70660 to donate £5 to the Charity, 100% of which will come to the Charity and help us provide life-changing support to members of the fire family in need. Or if you'd like to give more than £5, you can do so here.
Please note: Text costs your donation amount plus your standard network charge. Please obtain bill payer's permission.
"What nicer thing is there to say about someone than you think they would appreciate this kind of gesture, a gift to our Charity in their name?" says Income Generation and Engagement Manager Kate Griffiths. "Secret Santa is a lovely tradition among a lot of workplaces and friendship groups, and while we can't do things in person this year, this is a fun way to do something for your loved ones while also showing support to our keyworkers, who have done so much for us this year."
"What nicer thing is there to say about someone than you think they would appreciate the gesture of a gift to our Charity in their name?"

Kate Griffiths
We've been incredibly touched by the support that people have shown to us already this year. Whether it's been taking on a Fire Family Challenge, signing up to become a regular donor, making a one-off donation, taking part in our Winter Raffle, or making the amazing decision to remember us in your will, we are so grateful to each and every person who has helped us try to counter the impact of the coronavirus on our fundraising.
"The reason we can't do office parties or Secret Santa in person is the same reason we can't get out and fundraise: we have to keep each other safe," says Kate. "We aren't able to hold street or in-store collections, or have Christmas markets or open days, where people would so generously put money in our pots. So by taking part in our Secret Santa, not only are you helping to pay it forward, but you're showing your support to those people who dedicate their careers to keeping our communities safe."
To make a donation in someone else's name, simply text 'FIRE' to 70660 to give £5, or visit www.firefighterscharity.org.uk/secretsanta to give any amount you'd like.
We've created some posters, printable PDFs and social media shareables if you'd like to help publicise our Secret Santa, or if you want to let someone know you've made a donation as a gift to them, which you can find below.
Download our poster
Want to get your workplace involved? Download and print our poster below.
Gift card
If you'd like something tangible to give along with your donation, we've got just the thing.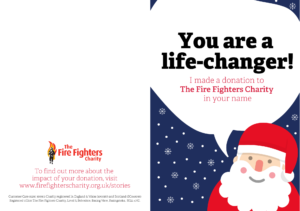 Share the message
Want to give something to share on WhatsApp or social media? Download the images below and share to your heart's content.
Thank you
To find out more about the impact of your donation on the fire services community, check out some of our real-life stories here (link to case studies).
Once again, thank you so much for your continued support at this time. We can't do what we do without people like you.