During his visit to Harcombe House today – Emergency Services Day – His Royal Highness The Duke of Cambridge and The Royal Foundation announced the launch of a new 24/7 crisis text line for the emergency services community.
Operated by Shout, a dedicated crisis line set up by The Royal Foundation, the new, dedicated text service allows members of frontline emergency service communities to text BLUELIGHT to 85258 any time day or night to be connected to a trained and supervised Crisis Volunteer.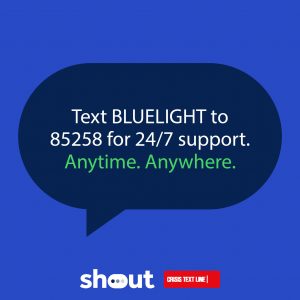 Shout, offers a free, anonymous service, connecting people who are experiencing moments of crisis with trained volunteers at the end of a text message. A legacy of the Duke and Duchess of Cambridge and the Duke and Duchess of Sussex's Heads Together campaign, Shout aims to change the national conversation on mental health.
"Members of our first responder community regularly walk towards traumatic and high stress situations on our behalf and they deserve the very best support for maintaining their mental fitness," says Shout CEO, Victoria Hornby. "At Shout, we are using technology to help people connect by text to trained and supervised Crisis Volunteers, anonymously and in confidence, anytime day or night. We are proud to be supporting the Blue Light community in this way. We want to encourage people to reach for help at an early stage without fear or shame, and to show what a positive step this can be by providing a safe space to listen without judgement."
The Fire Fighters Charity's Chief Executive, Dr Jill Tolfrey, confirmed on Monday that the organisation is committed to supporting Shout, stating: "We are extremely proud to partner with Shout and are looking forward to working with its volunteer network and The Royal Foundation to ensure that the fire services community is fully aware of this new service,
"Supporting the mental health and wellbeing of the fire and rescue services community is central to our ambitions as a charity. So we are delighted to support an initiative that compliments our own work and shares our desire to make mental health support available and accessible to as many people in need as possible."
By texting BLUELIGHT to 85258 any time, day or night, members of the fire services community in need of immediate support can take part in an anonymous text conversation that will flow back and forth. The Crisis Volunteer at the other end of the text service will listen without judgement and support them through the moment, helping them to articulate the issue, and empowering them in regards to to taking the next steps.
Speaking in a video to mark the overall launch of Shout earlier this year, The Duke of Cambridge spoke of the benefits of accessing support in this way: "As texting is private and silent, it opens up a whole new way to find help," he said. "It provides instant support, you can have a conversation anywhere and at any time. I'm incredibly excited to be launching this service knowing it has the potential to reach thousands of vulnerable people every day."