Wanting to keep the magic of Christmas alive for their daughter a little longer, 11-year-old Grace Bonell's parents wrote a letter from Father Christmas. He set her on a secret mission to pick a Charity and raise as much money as she possibly could. Enclosed in the letter as an example of good causes in the community to support were the police and fire service, and the seed was sewn for her interest.
"We got in touch with West Drayton fire station and they arranged for Grace to come and have a look around," says her mum, Emma. "She went to a fire training evening to meet Sally Eynon, who showed Grace around the fire station and equipment, which she really liked. Grace asked if the station had a charity of its own and Sally told us about The Fire Fighters Charity. Grace decided this was the one to focus on, because she felt we don't see enough in our area about the Charity and she wanted to change that."
Grace has organised several cake sales in her local community, selling cakes she and her friends and family have baked, and has so far raised nearly £200 for the Charity. She also has plans to create a calendar for next year, showing off the fire engines and fire boat in the local area.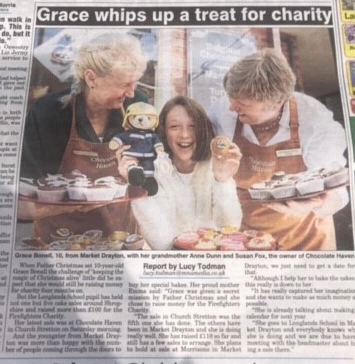 "We're very proud of her," says Emma. "We see fire engines out on call and she really does take note of the fundraising aspect of what she's doing. She gets so excited organising her events, and keeps asking what else she can do to raise money. Plus she now wants to become a firefighter when she's older."
From everyone at The Fire Fighters Charity, a big thank you to Grace for all your amazing efforts. Keep up the good work!
Do you know a young person who is going above and beyond to raise money or awareness for the Charity? Why not nominate them for a Spirit of Fire award? We have a new category this year, which celebrates the achievements of our younger supporters. You can find full details of this award and all the others via our Spirit pages.