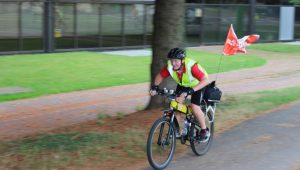 To mark our 75th anniversary, we're asking you to take on your own 75 miles challenge to help support members of the fire services community in need. The distance is set, but how you get there is completely up to you.
Andrew, from Portsmouth, began his #My75Miles bike ride in Tadley, Hampshire on Monday 20 August and will finish at Lands End, Cornwall on 2 September.
An avid supporter of the Charity, Andrew jumped on the #My75Miles challenge when it launched at the start of the year and immediately began planning something special for the Charity's 75th anniversary year.
Arriving at Cranborne first stop this morning pic.twitter.com/wRvXrQONGN

— Andrew Dane (@AndrewDaneUK) August 22, 2018
It was concluded that Andrew would go 75 mad – cycling for over 75 hours, stopping at 75 fire stations, drinking 75 cups of tea, taking 75 photos with fire crews, and having 75 fire fighters joining him at points throughout his journey.
Over last three years Andrew has raised more than £2,500 for the Charity though his 'One Lad's Challenge', his incredible mission to visit all 2,330 fire stations in the UK. Thus far he has managed 1,062 with the addition of 51 in New York, two in France and 15 in Denmark.
In June this year, Andrew jointly won the 'Supporter of the Year – Non- beneficiary' award at our Spirit of Fire Awards due to his tireless fundraising efforts and passion to raise awareness of the work of the fire service and The Fire Fighters Charity. Andrew also brilliantly continues to raise awareness of autism and other hidden disabilities.
On the very first day of his challenge Andrew stopped by the Charity's head office in Basingstoke to say hello ahead of his two-week cycle.
Follow Andrew's journey on his Twitter and Facebook pages: