To mark our 75th anniversary, we're asking you to take on your own 75 miles challenge to help support members of the fire services community in need. The distance is set, but how you get there is completely up to you.
This June, Airport Fire Service Crew Manager Mike Rose, 32, from Swindon attended the health and well-being programme at Harcombe House for support with his post-traumatic stress.
Mike's 75 Miles Page
Mike explains: "Since becoming a full-time airport firefighter in 2006, and during my role as a retained firefighter between 2012-17, I've unfortunately been involved in some tragic incidents. The first fatal accident I attended was that of a good friend and colleague who was killed in an industrial accident at the airport back in 2011. I was then faced with having to give evidence at the coroner's court a few years later.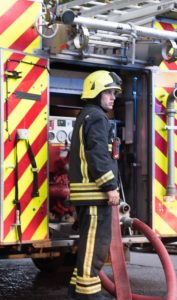 "I always put on a brave face and never really talked about it and how I felt, needless to say, I did the same with other incidents I attended over the years with both services.
"It affected me at home mostly as my son was going through diagnosis for attention deficit hyperactivity disorder (ADHD), I was finding myself very short-tempered and was getting quite angry or vocally intimidating. My wife Leah could see the damage it was causing me and contacted the Charity to see if they could help. I thought I was OK but I never saw the full picture or how I was reacting to things.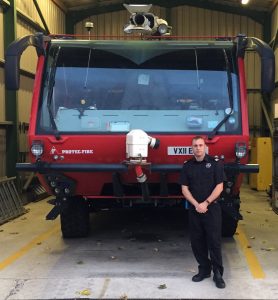 "I attended the health and well-being programme at Harcombe House earlier this year in June after being diagnosed with post-traumatic stress.
"The programme brought me together with other firefighters who were going through something similar, including a former firefighter who was 91 years old. This provided me with a bigger support network and I formed many friendships during my time there.
"It was at the centre where I saw the poster for the #My75Miles challenge, so I decided to take part as I wanted to give something back to the Charity for helping me.
"My aim is to walk 1,000 miles with my dogs, Ryker and Roxie, as they seem to know when I'm having bit bad time especially when I'm home alone. They do this in their own ways, either by cuddling in to me or getting me out for a walk to clear my head."
If you're taking part in the #My75Miles challenge, we want to hear from you: