To mark our 75th anniversary, we're asking you to take on your own 75 miles challenge to help support members of the fire services community in need. The distance is set, but how you get there is completely up to you.
Nick Hinchley, 42, a Paramedic and On Call Firefighter from Chesterfield is cycling and running his 75 miles to support the Charity that helped his father.
Nick's 75 Miles page
Here, Nick explains in more detail why he's taking on the challenge:
"My dad was a serving Station Officer in Derbyshire and benefited from the Charity's amazing work even after he retired, and I have colleagues that have used the Charity's services. The work they do is amazing, I recently learnt more about what they do which inspired me to take a look how I could get involved in raising funds and I immediately signed up to #My75Miles.
"I am mostly cycling but also running my 75 miles to improve my own fitness whilst raising some funds for the Charity, so it's a win-win situation. I am very lucky to live local to some excellent trails so most of my cycling is being completed on the local Five Pits Trail and Trans Pennine Trail.
"I am really enjoying my cycling, at times it is difficult working shifts and being on call but I get out at every opportunity and feel much better for it. I have seen a massive difference in my fitness levels.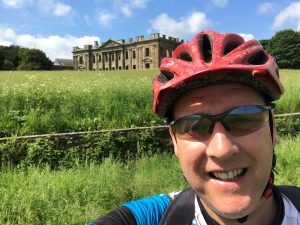 "My dad was very ill some years ago with kidney problems and spent a long time in hospital, after his hospital stay he was able to spend two weeks at Harcombe House recuperating. He spent two separate weeks there and it made a massive difference to his recovery. At the time, he had retired from operational duties and was working as a civilian driving instructor for the fire service. The support he received from the Charity was excellent and we will always be thankful for it.
"I would encourage anyone thinking about getting involved and raising some funds for the Charity to go for it and increase your fitness levels at the same time. We are very lucky to have such a valuable service and we need to do everything we can to support it."
If you're taking part in the #My75Miles challenge, please let us know: