To mark our 75th anniversary, we're asking you to take on your own 75 miles challenge to help support members of the fire services community in need. The distance is set, but how you get there is completely up to you.
Susan Kerr, 41, from Fife is being joined by her children, Brody, 11, and Emily, 9, for the challenge, covering their miles in a variety of ways.
Susan's 75 Miles Page
On kick-starting their challenge, Susan said: "I have been doing training runs for the recent 10km I took part in last month at Edinburgh Marathon Festival. I usually do a 5-mile loop where I live but also do smaller runs with the kids. Both kids recently did the 2km in the Edinburgh Marathon Festival and did amazing. We also took part in school's sports day doing various races and I won the mums race!


"We have some walks planned over the summer holidays as well as keeping up our running and all three of us are going to do 75 minutes on a Segway for the first time."
Brody added: "I'm keeping up the running and was just in the cross-country team for school where I had to do 2km. I play a lot of sports so will find a way to use these."
Susan said: "We're taking part because it's a great way to raise money, keep active and most importantly to be able to do something as a family. I've grown up in the fire service and my dad is a retired firefighter so we're doing this to raise money for people like my Dad who might need the services of the Charity one day.
"I've been volunteering for the Charity for 12 years now. I've made new friends, met amazing, inspirational people and have seen the work the Charity does. It has such an important role in our fire service family and provides support, care and comfort to those in need."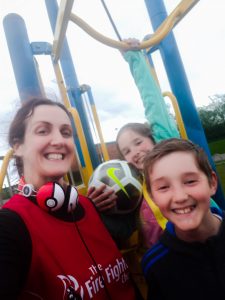 Brody said of the Charity: "It's amazing. I like helping with open days giving everyone stickers", with Emily adding: "I think that the Charity is awesome and spectacular and I like helping my mum with the shop in the box stalls."
Susan concluded: "The kids have always been part of my volunteering role in the Charity. They have helped at car washes and open days and other events. It's great to see them champion the Charity at a young age and they both love doing it."
If you're taking part in the #My75Miles challenge, please let us know: