It's one of the most infamous treks in the world, following in the footsteps of mountain climbers and the late, great Sir Edmund Hillary. And while Everest Base Camp may sound like it's nice and low compared to the mountain whose foothills it sits on, don't be fooled. At 5,300m high, Base Camp is nearly three times higher than the UK's highest mountain, Ben Nevis, which stands at 1,345m. In the heart of the Himalayas, it's a gruelling 130km, two-week trek there and back, covering all different terrains and altitudes where both temperatures and oxygen levels can drop to dangerous lows.
So it's no wonder that a group of firefighters who love a challenge and were looking to do something extra special to raise money for The Fire Fighters Charity decided to trek to Mount Everest's Base Camp for their fundraising mission.
Leaving on Saturday 8 October, a team of 14 firefighters from across Hampshire and West Sussex will be flying to the world's highest (and most dangerous) airport in Nepal. With no time to rest after landing at Lukla Airport, as soon as they touch down they will be heading straight into their hike.
This epic trek was the brainchild of Cosham Watch Manager Craig Sadler, who has spent most of his career trying to better his own fundraising efforts in the name of The Fire Fighters Charity.
"I've been in for 23 years and I've always done stuff for the Charity," says Craig. "We've done the Three Peaks, ladder carries, car washes, all sorts. While we were on our trekking through the Pyrenes last year we were discussing what to do next. I jokingly suggested Everest."
Research quickly revealed that the factors would be against their dreams of reaching the summit; not only do people have to pay £65,000 and take two months off work to participate, but there is only a 24-hour window to actually get to the top.
Then a chance discovery in a BnB in the heart of Snowdonia opened Craig's eyes to another possibility: "In the back room of this little tiny place in Wales is a shrine to the original Everest summit attempt by Hilary, with all their gear, climbing tanks, oxygen masks etc. I knew the summit wasn't achievable, but I started to wonder how high we could get to raise money for the Charity while still being able to afford it. And the rest is history."
Not content with just making it to Base Camp, Craig wanted to go one better, and found out how high they could get, even if it wasn't as far as the summit itself.
"We're trekking another thousand feet up to Kala Patthar, where there is less than 50% oxygen and temperatures can drop as low as -37'C," says Craig. "This will be our hardest challenge yet, as high altitudes can cause sickness, confusion, dehydration and fatigue. And that's after trekking for an average of nine hours every day, always on the incline of the ascent!"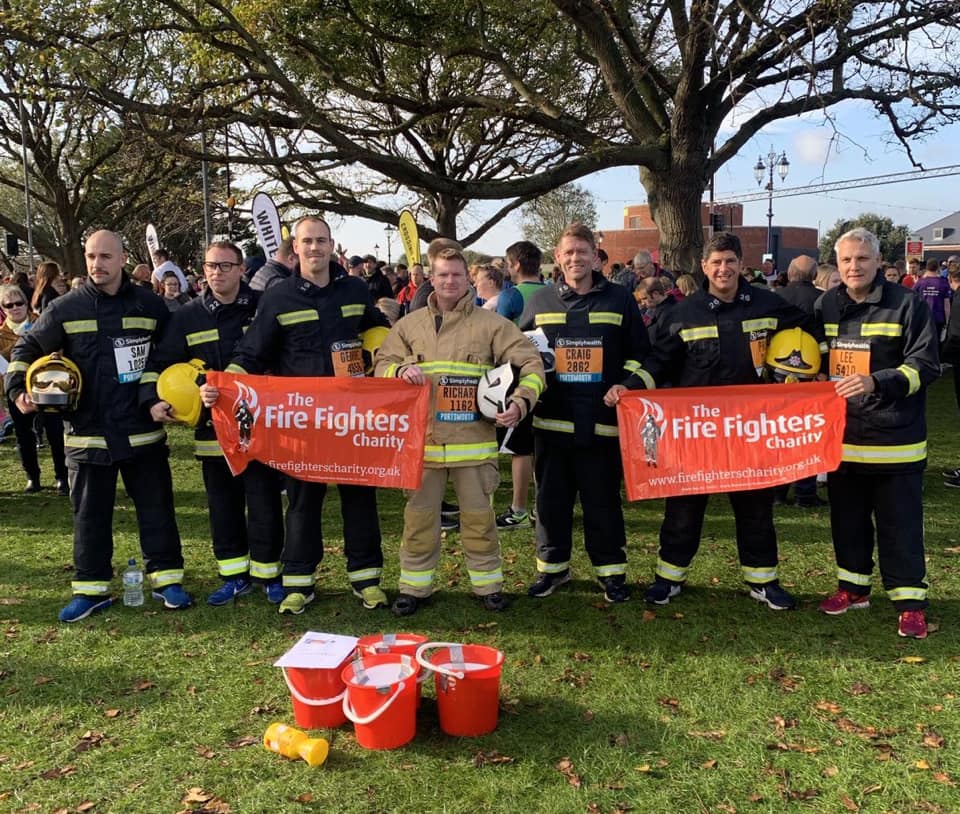 The trek will mark the culmination of a year of fundraising efforts for the Charity among the 14 members of the team, including numerous runs, car washes, station quizzes, bucket collections and promotion in the local press. They've managed to get various celebrities involved – including John Barnes and Portsmouth Football Club – and approached different local businesses for corporate sponsorship. All to raise funds for The Fire Fighters Charity.
"That's what it's all about really," says Craig. "I've been very privileged in my career to work with some amazing people, I've seen all the highs and all the lows, so my motivation is to give something back to the Charity that has supported so many of my friends and colleagues."
"You're only one call away from potentially needing the Charity's services yourself, and there's such a reassurance in that. How many employers have a charity dedicated to supporting its workforce? All the time I am fit and able, I will continue to do my bit to fund raise for this amazing Charity."
This motivator is a common theme among Craig's teammates. While some have Everest on their bucket list, and others liked the challenge of the physical exertion, there are other members of the team who have been supported by the Charity themselves, with their own mental and physical battles. But for all 14, the desire to do something for the Charity that means so much to them has been a constant source of motivation.
So great at their fundraising efforts, that when they set off on Saturday, they do so knowing they have raised nearly £15,000 for the Charity, with that total continuing to rise.
"Heaven forbid I ever need something from them or my family needed help, but if I did, I would hope there'd be one firefighter out there who'd be willing to give up his time to help me," says Craig. "That's why I know this has to be the right thing to do."
On behalf of everyone at the Charity, those we continue to support and those who will directly benefit from the incredible sum of money you have raised, thank you, and good luck. We'll be thinking of you!