Andrew Lynch had one main ambition for his time as Chair of the Board of Trustees: to leave the Board in a better place than it was when he took it over.
"I think that's the natural desire when you take over the leadership of something, just as my predecessors Ken Seager and Keith MacGillivray did," says Andrew, who finishes his term as Chair on 18 November after four years. "This means not just the governance and strategic direction, but also in terms of interaction with the service we provide to beneficiaries, maximising that collective experience of the Board and its diversity of thought so no opportunities are missed."
A wish to maximise the potential of a wider breadth of trustee experience has seen the recruitment of three Lead Trustees: the Lead Trustee for Clinical, Lead Trustee for Digital and Lead Trustee for Business Development and Marketing, who will all join the Board in November, subject to Company Member approval. All have been recruited to complement existing skills and experience on the Board and ensure the future success of the Charity, and all of them have a strong digital focus, something Andrew thinks is key for the future success of the Charity.
"Digital services provide another tool in our toolbox; they're not the be-all-and-end-all, but they are part of the solution," says Andrew. "There are numerous reasons why a blend of digital and face-to-face services is the right direction for the Charity. Digital can provide an instant access to our integrated approach without a huge amount of impact on cost or time. Technology will also help us reach wider audiences than we currently have access to, especially among those beneficiaries who may not even realise they're eligible for our help."
"How we deliver a blend of digital and face-to-face services is key to the Charity's success, because we have to provide the best value for the donations we receive, so as much as possible is spent in the best way possible to ensure the best service. This means not always doing things the way we did yesterday, and the use of technology is integral to this. Constant evolution is necessary to improve our service.
"I made sure I brought this attitude to my role as Chair: how can we evolve to meet the evolving needs of beneficiaries, who in turn reflect our changing society? We have to be cognisant of these things, so that our services are fit for purpose now and in two, three or five years' time. Having a background in journalism has always dictated that approach in my thinking: in magazines, you're only ever as good as your last issue, so you have to focus on the future to drive change, whilst being informed by enabling aspects of traditional approaches and lessons learned."
It is his background in journalism that precisely made Andrew a good fit for his nine years on the Board of Trustees, the last four of which have been spent as Chair. He may have been one of the Trustees not from a fire and rescue service background, but the world of the fire service was not unfamiliar to him.
"Having been involved in various fire magazines and fire sector boards for a number of years, I saw it as a good opportunity to use my skills," he says. "I'd worked closely with the Charity over a number of years on the communication side, and we'd published Shout! on behalf of the Charity many years ago. I saw an advert to join the Board of Trustees, which happened to coincide with a sabbatical from my usual hobby of ultra-distance running. I thought I could bring something new to the Charity from a semi-outside perspective, so I went for it.
"And then four years ago I had the opportunity to become Chair. Before agreeing to take up the role, I spoke to a lot of different people and got a lot of guidance, from fellow Trustees, former Chair Ken Seager and my Deputy Chair, Peter Davies. I challenged myself to make sure I felt I was really up for the job. After a long night sat mulling it over with a glass of wine, I decided, yes, I trust myself. And most importantly, I trust in my ability to make the difficult decisions that could be forthcoming for me as Chair."
Andrew says it is this trust in himself that was a guiding factor during his tenure, but so too was the trust he felt in the people he was surrounded by: "Our people are at the centre of everything. The right people need to be in place to make the right decisions, which have always been based around providing the best possible service to beneficiaries, continuing to improve what we do, while making sure the Charity is sustainable and run effectively.
"You never know what specific threats are around the corner – look at Covid-19 – but a resilient approach means you can be as prepared for it as possible, knowing how to utilise our reserves, so the provision is there, should the crisis come along. This doesn't mean you're immune from the longer consequences, but asking yourself what's your fall back, what's your resilience and are you sustainable going forward? All of this helps you. We didn't know we were going to have to close our centres because of this particular threat from the global pandemic, but because we have been continuing to evolve and exploring digital solutions, our service provision was able to adapt and move online, expanding on plans that had already been in the pipeline. That's why I'm so sure a blended digital and face-to-face approach has to be the right one for the future."
Before we let him hang up his Chair hat for the last time, we are keen to hear what Andrew's highlights have been during his time on the Board.
"Collectively, I'm very proud of the last Strategic Plan we implemented, which put much more of a focus on mental health and wellbeing in our services provision, and I have similar faith in the direction of the next plan. Obviously hosting HRH The Duke of Cambridge during his visit to our recently refurbished Harcombe House last September was also a highlight, as was having the chance to meet the beneficiaries that day and hear their extraordinary stories, which is always one of the delights of being a Trustee."
"But I think my personal highlight was the last Spirit of Fire Awards (before the pandemic prevented us from being able to meet in person) where we held a reception at No. 10 Downing Street after the awards. I was giving a speech in the Rose Garden, and it was one of those seminal moments that just felt otherworldly, being able to address all these incredible people in such a location. Plus the then-Prime Minister Theresa May was having a meeting with the Secretary General of the UN in the Cabinet Office not far from where we were, and I kept thinking my voice over the microphone might well have interrupted them, which was a surreal thought! I remember thinking, if you can do this, you can do anything."
When it comes to his hopes for the future of the Board and the role they play in the success of the Charity, Andrew says his hope is that the Board continues to evolve, using diversity of thought to enable this.
"I think we have great leadership and great people on the Board, which places us in fine fettle to deal with the enormous challenges ahead. But my hope for the future of the Board is that they're as diverse, flexible and knowledgeable as possible, with the different skillsets in place to enable it to be proactive, rather than reactive. The instinct of journalism is to spot the opportunity for change at the earliest opportunity to help move things forward, and the same is true of leading a Charity."
"The instinct of journalism is to spot the opportunity for change at the earliest opportunity to help move things forward, and the same is true of leading a Charity."

Andrew Lynch
"A greater diversity of Trustees in terms of knowledge and experience will mean you can cover all bases. So I implore the next Board to continue that attitude of evolution, looking at the structures in place and encouraging more women and people from BAME backgrounds to join, even if they aren't from a traditional fire and rescue background, because the benefits of diversity of thought and experience are huge.
"I would like to say an enormous thank you to everyone who has supported me in doing what I've done over the last nine years, particularly during my four years as Chair. You're not there on your own, and in order to be able to support other people, you need the support of other people. Peter Davies has been particularly valuable to me in providing deep and thoughtful analysis of the Charity and is one of the most forward-looking people I know. I also have to mention the likes of Andy Goves [former Trustee and Chair of the Beneficiary Services Committee] and Andrew Best [serving Trustee and Life Patron], both of whom always put the Charity first and challenge for the right reasons, as do our Senior Leadership Team."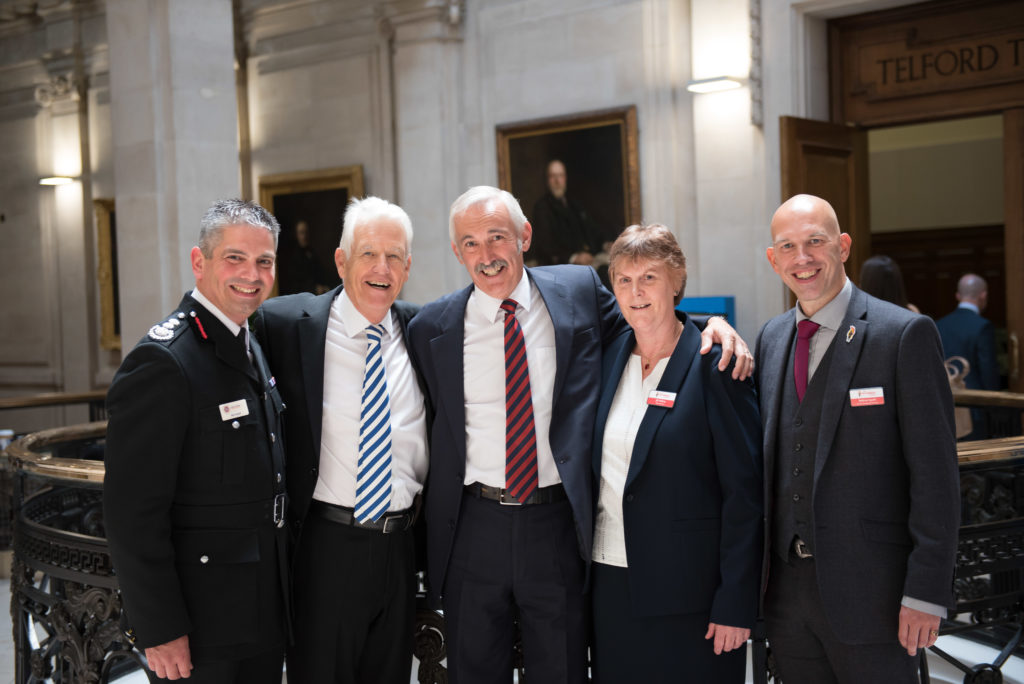 "What I have done over the years is to help facilitate and move the Charity forwards. The most important thing has always been working together to ensure we're all doing the right thing for our beneficiaries. So I'd like to thank all the leadership team, employees, volunteers, Trustees and beneficiaries. It's a team effort, as all work together to help people move forwards with their lives. And that's the most important thing any of us can do."
Our new Trustees will be formally voted in at our AGM on Wednesday 18 November, and our next Chair of the Board of Trustees will take up their role following the Board's vote at the meeting.