At a time when so many of us feel powerless in the fight against the coronavirus, Andy Hart says it feels good to be doing his bit to help. Every day, the former firefighter helps organise the delivery of millions of pounds worth of Personal Protective Equipment (PPE) to non-hospital locations across Surrey.
Andy has worked with Surrey Fire and Rescue for 25 years, initially as a retained firefighter at Guildford before moving to wholetime and then a variety of roles at different stations. When he injured his back during a shout, he sought post-surgery recovery support from The Fire Fighters Charity, making a number of visits down to our centre in Devon, Harcombe House, which helped him get back on the run.
But unfortunately his condition worsened, and he was had to leave his operational role. After spending time in Fire Prevention, a few years ago, he took on a new career managing the volunteers that support Surrey Fire and Rescue Service.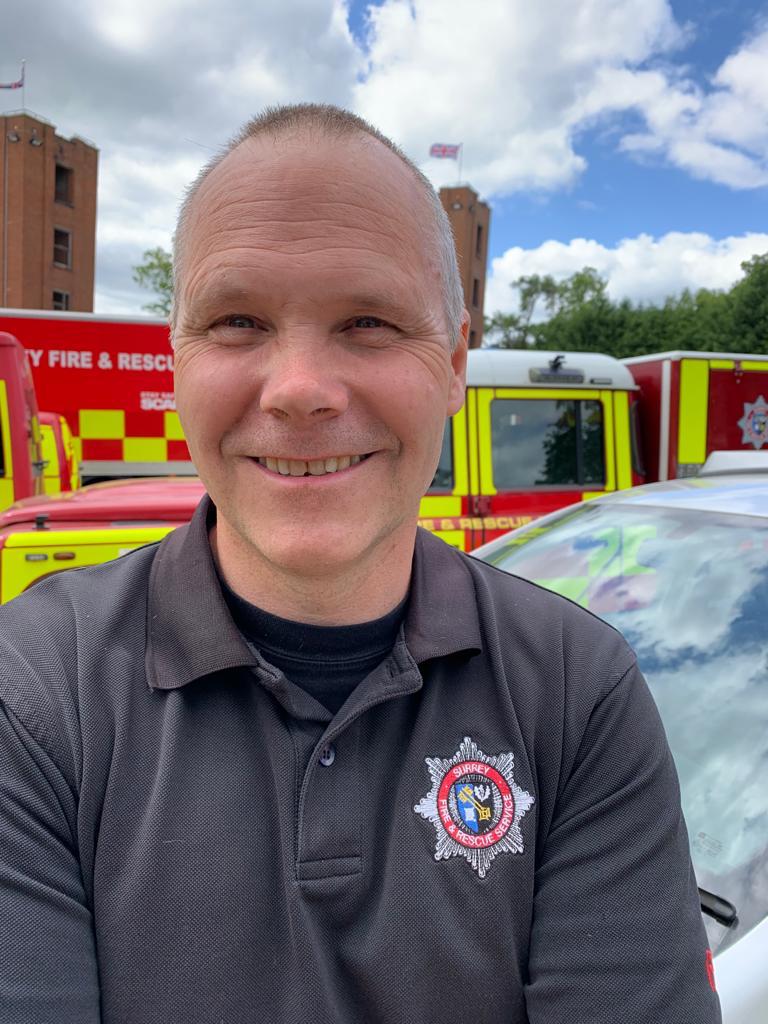 When the pandemic hit, Andy and his team were ready to jump into action.
"Our regular work stopped overnight, as we couldn't do the community work we'd normally be busy with, such as safe and well visits or station open days for the Charity," says Andy. "After a little transitional period while we waited to hear what we could do, we were told we'd be involved in PPE distribution, as well as Welfare visits to those people whom the County Council have deemed vulnerable."
Andy's volunteers work alongside wholetime fire personnel, organising the quality check and mass distribution of PPE from their depot in Surrey FRS headquarters. Together, they manage the demand and arrange the delivery of equipment to all non-NHS organisations in need, including children's homes, hospices, care homes, dentists, doctors surgeries and domiciliary care.
"People are pulling out all the stops in this fight against the virus," says Andy. "Our numbers have been boosted by retired fire personnel saying they want to come back and help and we've got volunteers working alongside wholetime teams. Everyone is mucking in to do their bit and it's a real team effort. Everyone sees it as another way of giving back to their communities at this time when everyone is in such need. It's a really nice feeling, knowing you're doing something that is so useful. It's lovely when you drop something off (at a safe distance) to look into people's eyes and know how happy they are to be receiving this desperately-needed resource."
Andy's three sons are also working on the front line: one works in a pharmacy, one is a retained firefighter at Guildford who has been supporting in the transportation of bodies to the temporary morgue at Surrey HQ, and his 16-year-old son helps in the depot.
"I'm very proud of them," he says. "We were driving to work the other day and my 16-year-old says to me, "Dad, do you realise we're living through history?" and he's spot on. We'll look back at this and say we were there, doing our bit. Some people like to call us heroes, but we're just doing our small bit to help the people who are really at the sharp end, trying to keep them safe. It's the little things that count, and you have to remember that when you feel powerless. We can't all do grand gestures, but we can do the little things to help. Even if that's just staying at home to keep others safe, you're doing your bit. And so are we."
Andy says he is usually too busy to really stop and worry about the bigger picture of the virus, but that a cuddle with his two dogs definitely helps when overwhelming feelings creep in.
"You try not to think about how indefinite this might be and just get on with the job in hand, which definitely helps. Obviously the death rates are worrying, but if you think about it too much, it impacts on the vital work you're doing. My wife worries, with so many of us out there doing our bit. But we're working as safely as we possibly can, observing all the necessary precautions."
With fire and rescue personnel across the country picking up additional roles in the fight against the virus, Andy says he thinks the fire service are naturally positioned to do so.
"We're used to responding to emergency situations, and firefighters have a practical attitude that works in these scenarios," he says. "Tell us something that needs to be done and we'll do it, overcoming any obstacles we need to. Plus we know the importance of teamwork; fling a group of fire people together who have very limited knowledge of each other, and they will naturally come together as a team. We're responding to this emergency exactly as we would any other incident, by working together and responding accordingly."
The national outpouring of support to front-line key workers has further cemented the belief Andy has in the reassurance the public takes from their fire and rescue services.
"I think the fire service has always had a really unique bond with the general public," he says. "We're not out to judge people or tell them off, we're just there to help, and they know that. No matter what incident we go to, the public respects what we say and know we'll help them. Especially so at the moment."
So next time you're clapping for our carers on a Thursday evening, spare a thought for the fire service volunteers working around the clock to keep them safe, so they can keep us safe. On behalf of everyone at the Charity, we'd like to say a heartfelt, sincere thank you to everyone working on the front line in this fight. We don't know what we'd do without you.
While we've got you here.
Throughout his 25 years, Andy has supported The Fire Fighters Charity and regularly donates some of his wages to us each month. He says not only is this a way of saying thank you for the help he received while he was still operational, but also to ensure the Charity can continue to be there for his loved ones in the future.
"If I've learned anything during the virus, it's that you have to take things one day at a time," says Andy. "It's good knowing if something did happen, the Charity could support my family as well. Some other charities are more like money-making machines, but with The Fire Fighters Charity, it's ours, we're serving ourselves by supporting you guys. I see how well spent the money is, and that's why I'll always support it."
If you can afford to make a regular or one-off donation to us, we'd be extremely grateful. With the necessary limitations in place due to the coronavirus outbreak, we estimate that over the coming months we may only raise around 50% of the usual income we require to operate our services.
However, the need for our services won't decline. We know that members of the fire services community will need our support over this time, perhaps more than ever. We are therefore doing all we can to mitigate the impact of this fundraising shortfall, but we need your help to do so. If you can, please consider donating to us.