They say dogs are man's best friend. In eleven-year-old Theo's case, his dog Malone is definitely this boy's best friend.
Theo is the son of Anthony Naylor, pictured below, a wholetime and on-call firefighter for Cheshire Fire and Rescue Service. And Theo has autism, which means he finds daily life a struggle.
"Before Malone came along, life had been really difficult for the whole family," says Anthony, who has worked for Cheshire for ten years. "When Theo was first diagnosed with autism, it was a shock, but it progressed as he got older and became more and more aware of it. At the worst point, he was having regular full-blown meltdowns four or five times a day, where he'd be completely inconsolable. He would be like a bottle of Coke, not only bottling everything up while he was at school, but also shaking the bottle. So then he'd come home and just explode.
"It was having a huge impact on family life; we have two other children – Tyler who is 13 and Megan who is seven – who were struggling with the stress of seeing Theo the way he was. My wife and I were just at a loss with what to do. I was working fire service shifts and would leave her alone trying to deal with his issues, while consoling the other two. It was very difficult, and the mental health services we could access through his diagnosis were limited at best. We just didn't know where to turn."
One of Anthony's colleague had a friend who trained assistance and therapy dogs. So the family reached out to see if they could be eligible and were invited to come down to the farm to hear more.
"I had heard of dogs like that, but I wasn't fully aware just what they could do or how much difference they could make," says Anthony. "They have a psychologist in the team who specialises in working with therapy dogs and working on cognitive strategies along with their dog trainers. The dogs just seemed incredibly well trained, with the added skill of being really in tune with what's going on with the people they support. It was a very big decision to make, but it all just sounded brilliant, so we were optimistic."
There was just one problem. To enrol on the course that would eventually pair Theo with an assistance dog would cost £7,000. And they needed to pay a deposit of £1,200 to secure their place.
"We could fundraise and contribute ourselves, I could work extra shifts, but we just didn't have the funding to just commit to it then and there," says Anthony. "A close mate at work – Stuart Plaskett, who is also our Station Rep – told me about the support The Fire Fighters Charity had shown to his children and in-laws and encouraged me to ring you guys. So I did."
Anthony was put in touch with our Welfare Services team, who support beneficiaries through all sorts of different issues affecting their daily happiness and family dynamics.
"I explained our situation and asked if there was anything you could do to help," he says. "They said yes, we can cover the deposit. Just like that! It was unbelievable. Having that deposit secured everything for us. It meant we were actually doing this."
Theo began a series of regular meetings with the trainers, who would eventually carefully match him with a dog that suited his needs. This is where two-year-old Malone was introduced to their lives.
"Theo is really sporty, so they matched him with a Labrador red-fox retriever who likes rough and tumble play, just like he does," says Anthony. "The pair of them went through months of basic training, then a bespoke training programme matched exactly to his needs and likes. And then, a year ago, Malone came home with us.
"He's a part of Theo. He's always by his side and doing things with him. Theo has a number of issues, one of which is high levels of anxiety and emotional dysregulation, not able to understand his emotions or how he's feeling. Malone is very much in tune with that, he can see when Theo is struggling and will do what's called 'pressure therapy'. If Theo is lying down having a meltdown, Malone will lie on top of him, comforting him and distracting him. When you're angry and you don't know why, there's nothing like having a dog run up and lick you in the face. It's hard to stay in that frame of mind!
"Malone has allowed Theo to get on with some sort of normality. He wanted to go to a mainstream school, and having time with Malone keeps him in check so he's a lot happier. He's in Year 7 now, having started at high school in September, which is another massive landmark. Malone has taken the edge off his anxiety. Whereas before he'd come home from school and have a meltdown, now he'll come home and spend time with Malone, who is always so excited to see him. The other kids play with him, but we're very clear, Malone is Theo's dog. He's obviously a part of the family, but he's always drawn to Theo and to Theo's feelings. Theo does all his feeds and gives him commands, which gives him the sense that this dog is only for him and the dog knows that."
"The more time they spend together, the more they have turned into each other. One of their favourite games is to play hide and seek. Theo will tell him to stay and then will go and hide somewhere, before shouting for Malone, who will come and sniff him out. They play it for hours and it's just amazing to watch. But Malone also helps with daily life for Theo; he'll pull the covers off to get him out of bed in the morning and will even pull his socks off for him, which Theo thinks is hilarious. He'll even get on the paddle board when we go to the beach, wearing his own little doggy water shoes and life jacket."
Living in a fire service house whose garden had become neglected, it quickly became apparent that their outdoor space was not fit for purpose for Theo and Malone's boisterous play. Having been told not to hesitate to get in touch with the Charity if there was anything else the family needed, Anthony once more picked up the phone.
"I explained Theo had nowhere to play with Malone and was told the Charity could pay for artificial grass to go down in the garden," he says. "It was fantastic, and couldn't have come at a better time, as we managed to have it done just before we went into lockdown in March. It was so special and completely unexpected that the Charity would be able to help us like that. We'd tried to fund it ourselves, but I was already working two jobs and we were still paying for Malone. I'm an on-call Watch Manager at Knutsford Fire Station and a firefighter at Lymm, but the amount of hours I'd have to have put in to afford to have the garden done and we still wouldn't have been able to do it before lockdown. The Charity made another massive difference to our family.
"I've always been heavily involved with the Charity, but I had no idea to what extent you could help families. I've done fundraising, regular giving, the lottery, car washes, half marathons in fire kit etc. All these crazy ideas I've come up with, I try to do things every year. But I had no idea just how much you consider families to be beneficiaries as well as fire fighters."
"Malone's presence has made such a difference to my family. Going from the stress of feeling so helpless to seeing this dog console our son, it just makes you feel so much more reassured and happier. I've noticed I'm less stressed now. We do still have meltdowns occasionally, but if you ask Malone where Theo is, knowing he's curled up in a ball on his bed, Malone will turn it into another game of hide and seek. He'll think he's got a ball in there with him, so he'll nose dive in, making a fuss, licking his face and climbing all over him. It just snaps Theo out of it. And Theo has started talking to us a lot more; if he's had a bad day, he'll ring me up at the station and talk to me about it. Seeing the difference a dog can make to a family, it's just amazing. He has saved my son. I'm so grateful to the Charity for helping us get to this point."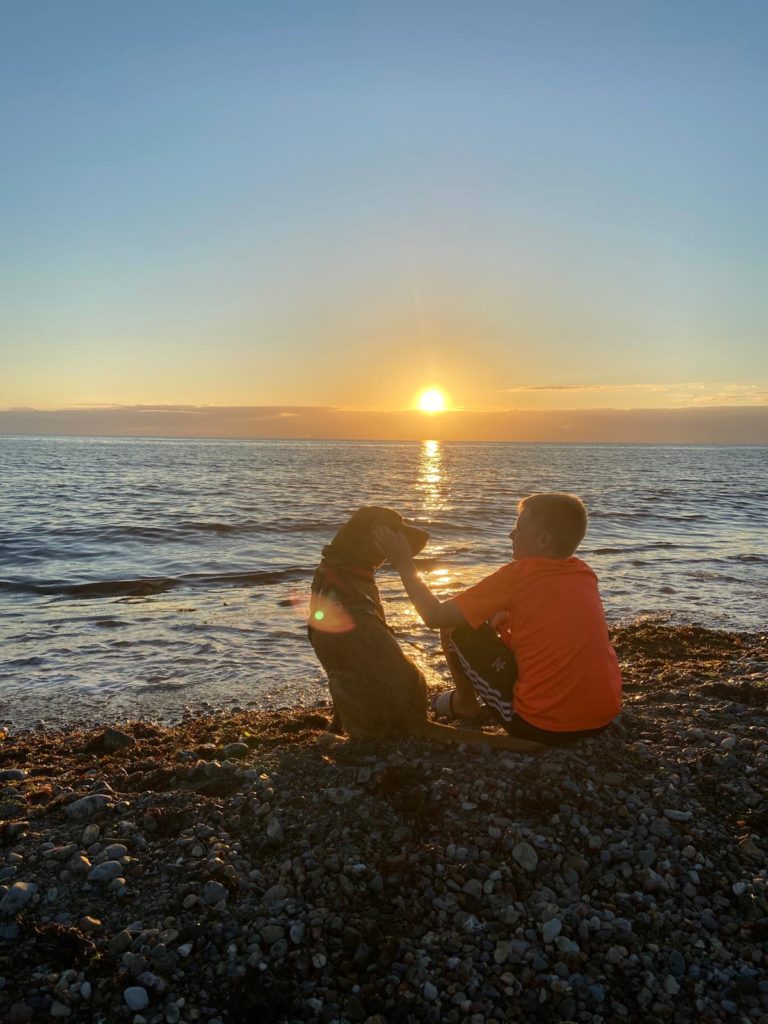 If a member of your family has a complex health diagnosis and you are struggling to cope, let us help. Call us on 0800 389 8820 or make an enquiry online, and see what our wonderful Welfare caseworkers could do for you and your family.