Like many carers, Bunty MacDonald says she often feels invisible. Which is why she says when she saw our post celebrating Carers Week, for the first time in a long time, she felt seen.
"Whenever I tell someone I'm a carer, they ask what company I work for, and I say no, I'm a full-time carer for my son," says Bunty. "It's hard, you feel unseen. That's why, when I saw your post to say you were celebrating the country's carers, it lifted me. I just thought oh my goodness, someone out there recognises me and knows I'm here."
Bunty is a long-term supporter of The Fire Fighters Charity. Her husband Douglas is a Watch Manager in the Highlands, where he has worked as a volunteer firefighter in the Highlands for over 40 years, receiving the Queen's Fire Service Medal in 2008.
The couple have two children. Nicola who is 32 and lives in New Zealand and Craig, who will be turning 30 in November. Craig has a life-limiting form of epilepsy, called Dravet Syndrome.
Bunty has spent 30 years as his full-time carer.
"He had his first seizure when he was six months old," says Bunty. "Lots of babies have convulsions, usually caused by a spike in temperature but his seemed to go on. Then another came, and it didn't stop. At seven months old, he was placed in Intensive Care in Inverness, but they didn't have a children's unit then, so my little boy was in an adult bed where he barely filled a pillow. But he's a tough cookie, he came round. And then the word brain damage was used."
After months of seizures, seemingly without cause, Craig was referred to a specialist paediatric neurologist in Edinburgh, who diagnosed him with epilepsy. It was here in hospital, where Craig said his last word.
"He was in the bath, aged three, and he just said mama, and that was it, he's never spoken since," says Bunty. "The seizures have been so bad, they've just battered his brain. We had this little boy who used to speak, then he never did again. And then the dreaded autism kicked in."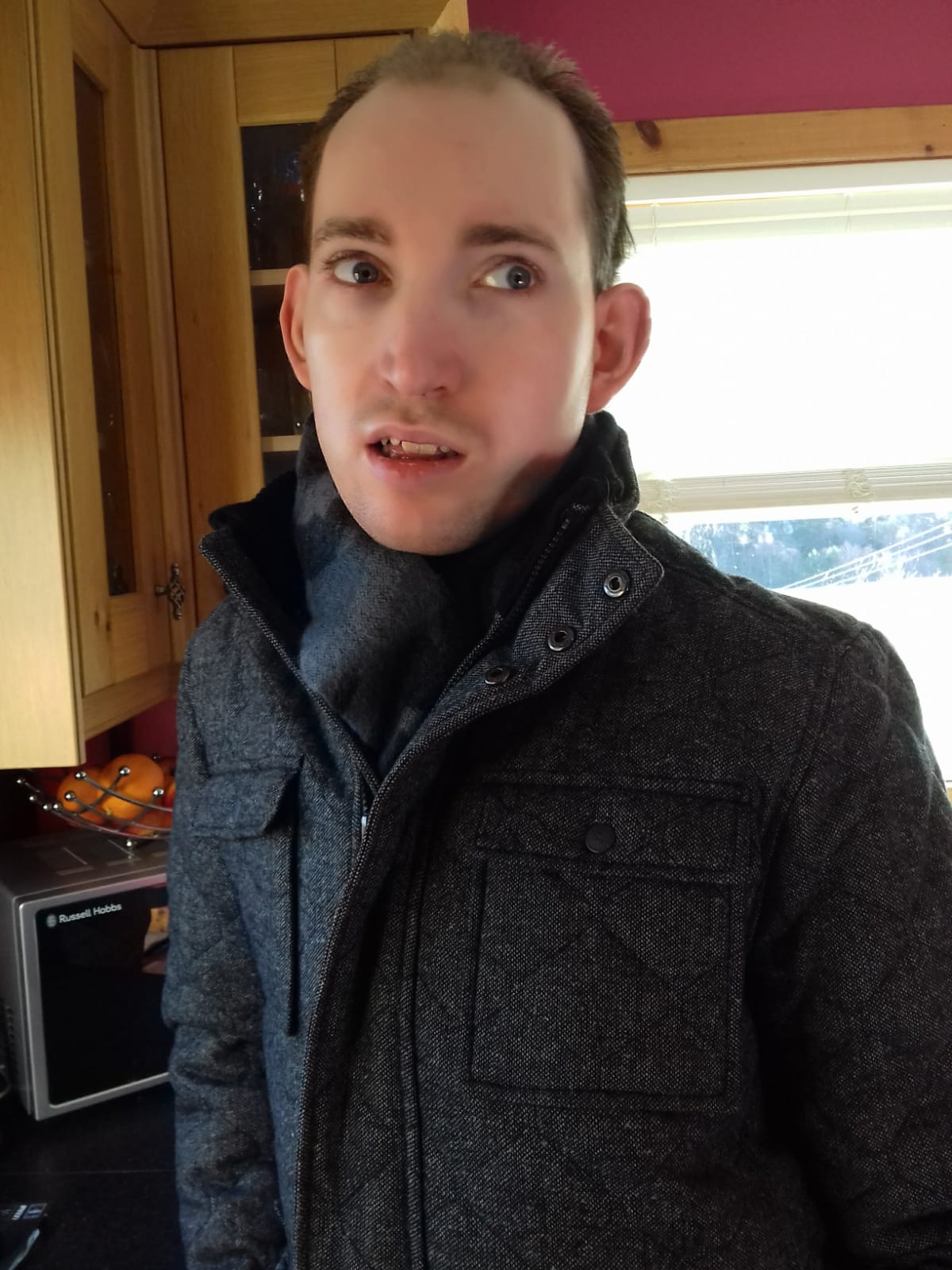 It was only when Craig was 18 that he was diagnosed with Dravet Syndrome, a severe form of epilepsy where any seizure could be his last.
"The biggest issue with Dravet is SUDEP: sudden unexplained death in epilepsy," says Bunty. "We're fortunate that he's reached 30, but you're not just caring for a disabled person, you have to be on high alert. I'm in his room most nights as his seizures are usually in his sleep. But that's much better than it used to be, when he'd have seizures while awake and would suddenly fall face first into the floor, fire place, tables or anything else nearby. He used to do himself all forms of hurt."
Despite his life-limiting condition, Craig is happy. Which in turn, says Bunty, means she has no choice but to stay cheerful.
"He's in his own little world, he's like this happy toddler watching Fireman Sam or Postman Pat," she says. "The last thing Craig wants to see is me looking miserable, he needs someone to smile at him, and you can be sure he will smile back at you. He may not be able to communicate, but I am so tuned into him I usually know exactly what he's trying to say."
Bunty says having a good sense of humour has been the glue that has kept her family together through challenging times.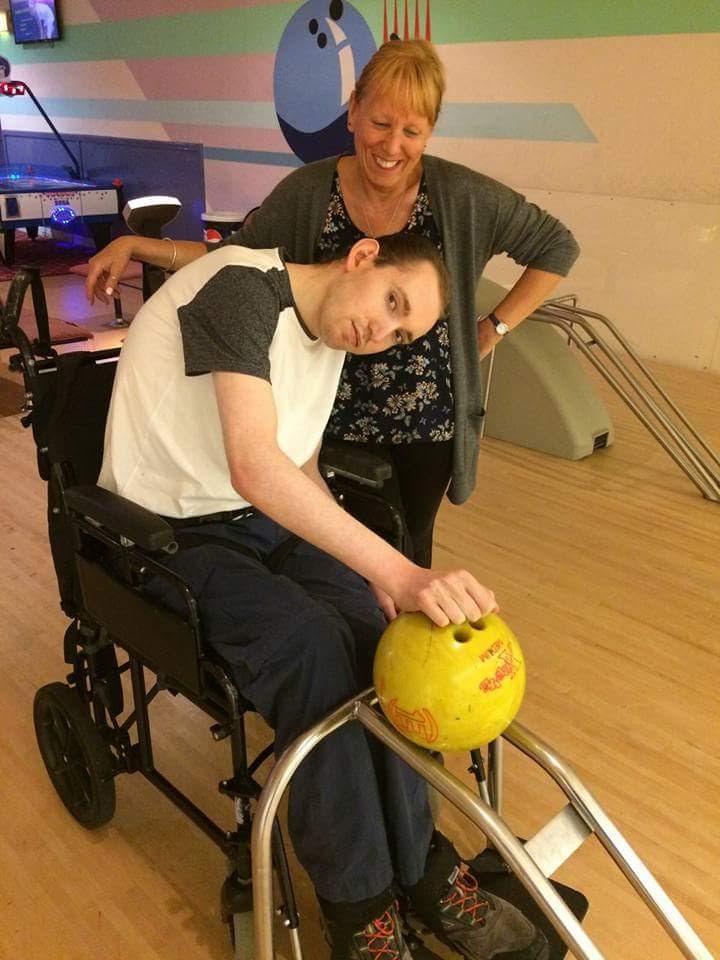 "You've got to laugh and stay upbeat," she says. "There are times when you think, oh god, this is a bad day, but then you shake your tail feather and get on. I have to look after myself for his benefit. Douglas owns a garage in the village as well as being a volunteer firefighter, so he can't be overtired. My family need me to stay well for them."
Like the rest of the world, COVID-19 has made life more complicated for the family, with Support Workers unable to visit and give Bunty and Douglas much-needed respite and time to themselves.
"When lockdown kicked in, it changed everything," she says. "You feel forgotten, confined to the four walls of your house. But you still have to get up every day and get on with things. Craig doesn't know what's going on and he relies on us. He's completely innocent, so you have no choice but to keep going, no matter how you're feeling. Nothing keeps him down. When you're struggling, he just looks at you with his beautiful blue eyes and gives you that smile and you think, ok, it's worth it. He's a heartbreaker."
"I can't wait for normality to come back, but it's hard when they keep moving the goal posts, changing shielding dates etc. Being a carer is hard enough, but blimey, add COVID-19 to that, it's not easy. I can't even have a friend stand outside the door and I've never washed my groceries so much. I think I've used more alcohol on my fruit and veg than I've ever drunk, my hands are getting more than my mouth! But we're lucky that we live in the Highlands, as it's so beautiful here. If I'm wanting some me time, I'll put on my music, open the French windows out onto the decking overlooking the trees and just walk and walk on my treadmill."
Bunty refuses to let the knowledge that Craig's condition is life-limiting rule her life.
"It's tough, but we have to be tougher," she says. "You have to focus and just say, we're going to get through this. We've come this far. When things are hard, I always think about something the consultant said to us when Craig was little. He said 'don't look ahead for trouble or problems. Life will grow with you.' I remember thinking what is he talking about?! I was still raw from the diagnosis, and could only see all the things Craig would never get to do, like get married or go for a pint with his dad. But he was right. Craig is still with us. Tomorrow he might not be and his next seizure might be his last. But we're fine today. We get through today and tomorrow will look after itself.
"I don't think of myself as his carer. I think of myself as being his mum. But when I saw your article and the resources you were putting out for Carers Week, I just had to say thank you. We're all just trying to do our best to support our loved ones. Like our doctor said, life grows with us."
If you're caring for a loved one and would like to discuss how we may be able to support you, get in touch with us. Contact us today on 0800 389 8820 or make an enquiry online. We can refer you to specialist support, assist you with any statutory entitlements or just provide a listening ear.
No one deserves to feel invisible. Especially those people working day in day out to care for their loved ones. So we may not be able to be with you in person, but we're with you in spirit.