Throughout his career as a firefighter, Andy Moore dedicated a lot of his free time to taking on extreme outdoor challenges, often in aid of charity. It was, according to his sister Cathy and her partner Paul Yates, a way of him dealing with mental health challenges he'd experienced for years.
Tragically, Andy – who worked for West Midlands FRS – took his own life in February 2020.
While Paul only met him a few times, as he'd started dating Cathy in the year before, he says Andy's commitment to these challenges inspired him hugely – and he's dedicated his time ever since to completing his own, as a tribute to Andy.
Now Paul is preparing to take on the 2023 London Marathon in aid of us to raise awareness of the mental health support we offer – in the hope it'll help one of Andy's fire service colleagues in the future.
"Andy was an exceptional athlete so for the past two years I have raised funds for charity inspired by Andy and in his memory," says Paul.
"A dedicated firefighter, Andy was a natural athlete who had suffered a long battle with depression and poor mental health. In the fight to balance his mental health, Andy would challenge himself mentally and physically by taking on extreme challenges."
Paul has completed the 3 Peaks previously, including cycling between each of them, and The Lakes Ultra Marathon – all to spread the word about mental health awareness.
He adds: "Andy was a naturally quiet and shy man with a wicked sense of humour, an amazing mimic and a quick and sharp wit. He was also very creative…
"This will be my third year undertaking a personal challenge and I have the honour of running the London Marathon for The Fire Fighters Charity in memory of Andy."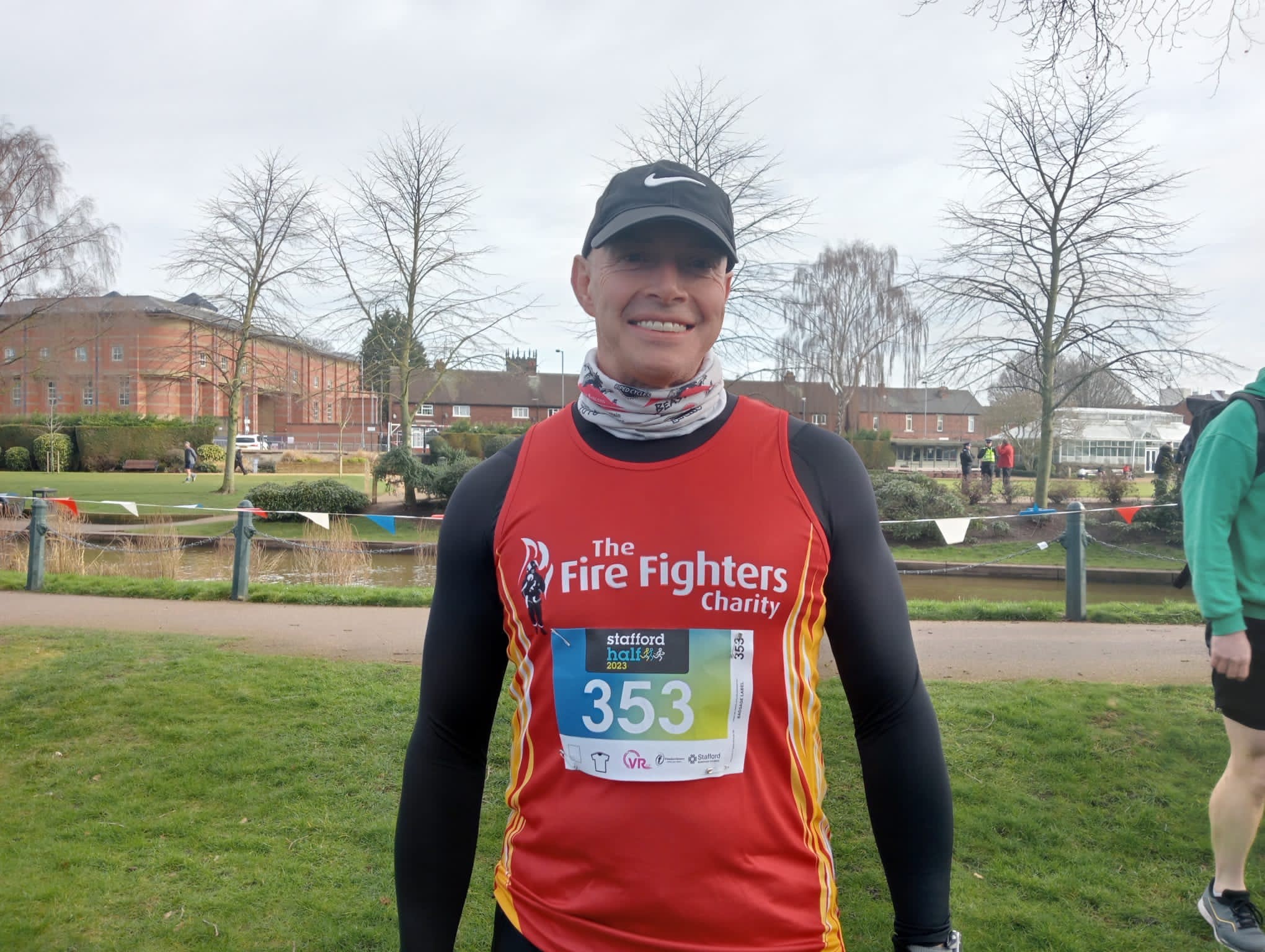 By his side throughout has been Andy's sister, Cathy, who says: "I didn't really know about The Fire Fighters Charity until after Andrew died, when we got in touch hoping to do some fundraising in his memory. We wanted to do our bit to support a charity that's there for his colleagues.
"After Andy died, Paul just became completely inspired to honour his memory. He also saw how much we were struggling to come to terms with everything, and wanted to give back somehow.
"It's very touching, humbling and important that Paul understands it – it makes me very proud to see him doing these challenges in his memory."
Paul's desire to spread more awareness of mental health difficulties is particularly important for Cathy…
"We all knew Andy struggled with his mental health and had depression, and as a family we were in touch with that, but that doesn't mean we were experts at handling it. Nobody truly understands mental health until they're experiencing it I don't think," she adds.
"If you knew Andrew superficially, you'd never believe he was someone who struggled with his mental health. He was a very good athlete, he was quite shy but came across as a very nice, kind and sociable guy. He'd always make the effort to say hello and that's quite scary.
"It's why taking the time to reach out for that support, when you feel you need it, is so important – and that's what The Fire Fighters Charity is there for."
To support Paul's fundraiser, click here.
If you feel you'd benefit from mental health support, we may be able to help you. Call our Support Line on 0800 389 8820, make an enquiry online or register for MyFFC now and visit the 'Access Support' tab at the top of the MyFFC homepage.
You can also join our 'Share Your Story' Group in MyFFC, by clicking on the 'Groups' tab, to chat to others who have received our support or enquire about sharing your own story.