Focusing on the road ahead of him, firefighter Chris Smyth breathed an unexpected sigh of relief and began to relax – knowing he was finally about to receive the help he needed.
He was driving the five-hour trip down to Harcombe House, our centre in Devon – a journey he'd been dreading for weeks after being so overcome with crippling anxiety following a health scare that he'd become virtually house-bound.
However, he says the care he received there – as well as a series of video calls with the Charity's team of professionals – has helped him find the tools he needed to take back control, overcome his anxiety and finally return to fully operational work as a wholetime firefighter with Humberside Fire and Rescue Service, after months off the run.
"It started a couple of years ago. I was out shopping with my partner, Elaine, and I began to feel really unwell, my heart was racing and my hands started to go numb," says Chris. "I went and sat in the car and when Elaine came back, I couldn't talk. All the side of my face went numb, I couldn't breathe… My lips even went blue. She phoned an ambulance straight away."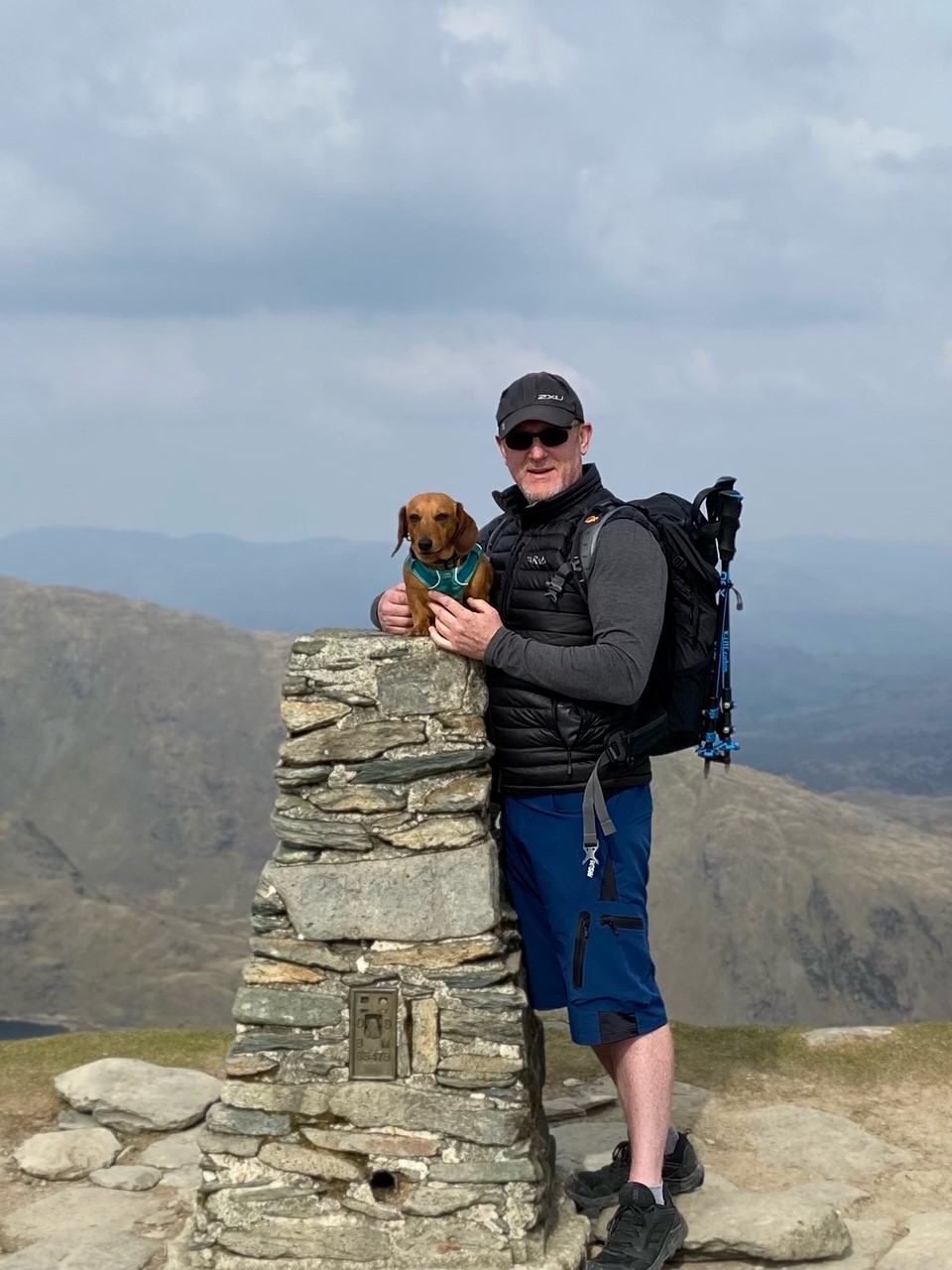 Chris says in the time he spent waiting for the ambulance, he became convinced he was either having a heart attack or a stroke – so when paramedics hooked him up to monitors in the car park and confirmed it was neither, he felt complete relief.
"They took me to hospital and did a load of tests but they all came back negative. I asked for a lot of answers but they couldn't really give me any," says Chris.
However, the scare had shaken Chris and he began struggling to cope with what he'd been through in the months that followed – constantly convinced it could happen again.
"My whole confidence got knocked really and it got worse and worse," says Chris. "I lost the ability to be on my own, it was classic anxiety and at the time I didn't realise what was going on. I spent months just sat in a chair, not moving, or so agitated I'd have to go somewhere and pace.
"I wasn't sleeping – it was the last thing I thought about before I went to bed and the first thing I thought about when I woke up. Luckily I was able to keep working. I'd told my gaffer what was happening and they were really supportive, and I did have a period of about two or three weeks on sick. That's when doctors prescribed me with anti-depressants."
Chris spent around 18 months from there on medication, but he found it tired him out and he'd often spend 20 hours a day in bed on his days off.
"The stuff I'd done before just completely went out the window," recalls Chris. "We've got a campervan and I'm a paddleboarder and motorcyclist and all sorts of stuff. Lots of toys! I couldn't do any of it, I lost my interest – especially paddle-boarding, thinking if I was in the middle of a lake and it happened, what the hell would I do?
"I couldn't train or exercise, because the minute my heart rate went up I was thinking it was going to start again. At Humberside, they've got a really strict fitness policy, but I could see my fitness declining and declining."
Chris eventually made the decision to try and stop taking the anti-depressants, to see if it would help him feel more motivated again. However, shortly after making the decision, Covid-19 hit.
"All the station got struck down with Covid," says Chris. "I had huge, huge fatigue because of that and it just knocked me back again and all that anxiety came back. It was awful.
"I had another massive panic attack one day. I came in from work that morning, it had been a normal shift, and my legs just went like jelly. Elaine ended up ringing 111 and they told me to go straight to A&E and the whole thing started again. Work took me straight off the run after that, which was another major change. I just couldn't see how to break the cycle and get out of it."
Chris knew about the support the Charity offered, after becoming involved in fundraising events with his station, but he says he has never expected he'd need the help himself – particularly with his mental health. However, he eventually reached out last year and was surprised by the help he received almost straight away.
"I started having counselling over video consultations," says Chris. "Just talking about it really began to help. I still couldn't break the cycle of not exercising and things like that though, so they got me into Harcombe House [while it was open between lockdowns].
"One big thing with my anxiety was driving – it put the fear of God into me. It had been something I'd really enjoyed, but we had to cancel holidays because there was no way I could drive all the time in Europe. But after building it up and building it up, I got into the car to go to Harcombe House and felt surprisingly better, knowing I was on my way there to get some help.
"Anxiety is such a horrible feeling, you can't think of anything else."

Chris Smyth
"My time there was so structured, which was what I needed. There were group activities with a really nice atmosphere, and it was super professional.
"Suddenly I was going in the gym three times a day. They were working on your body as well as your mind, so I was also doing relaxation sessions and yoga. It's something I'd never thought of, being sort of a blokey bloke, but I embraced it and threw myself into it and just felt fantastic. I was even able to run on a treadmill without going into a full panic.
"It's not for people in total crisis, and it's up to you to join in throughout. You don't have much time to overthink during the day. The food was incredible so you're eating well, it was almost a massive kick up the backside for me to get motivated."
Chris stayed in touch with the Charity afterwards, to ensure he continued the good work at home, and he's even converted a room into a yoga studio now.
"In the end I spent five months on modified duty at work, it went on and on, waiting for tests during Covid. But I'm finally back on the run now," says Chris. "Anxiety is such a horrible feeling, you can't think of anything else. You become breathless, your chest feels really tight. You convince yourself there's something happening.
"But now I've just slowly become more and more active, back walking and climbing mountains again, cycling again. I'm just really working to get my fitness back up.
"Having the video calls was so helpful, I just got a grasp of how professional the organisation is. You wonder at a charity if it's just going to be someone who doesn't have a clue and offering you a pat on the back, and it's not. The woman I spoke to is a professional psychologist and you get such a reassurance that you're dealing with someone who knows what they're talking about.
"In our job, there's a lot of testosterone flying about and some stigma attached to people that aren't looking after themselves, due to the fitness requirements. You just need to reach out and take that time for yourself – ask for help. I was really impressed with the support they were able to give me, even online. It does help, it really does."
Chris is now planning a charity walk later this year to raise money for the Charity, to say thank you for the support he received.
If something is affecting your mental health, get in touch with us. Call our Support Line on 0800 389 8820 or make an enquiry online.