It's one thing to top the league for the highest amount earned by an individual so far during The Fire Family Challenge. It's another thing altogether to do so while in the middle of treatment for aggressive bone marrow cancer. But for Scottish firefighter David Kerr, he says it's all about having a positive mental attitude.
David has worked at North Berwick Fire Station for the past 27 years, beginning his career there in March 1993.
He started to develop a sore back last autumn and in February he went to his doctor with a suspected kidney infection, only to be delivered a devastating blow.
"He said to bring someone with me to hear the results of the blood test, which is never a good sign," says David. "He started talking about radiation and chemotherapy, using these words we'd never heard of, so we had to actually ask what it was I'd got. When he explained it was cancer, I nearly fell off the chair."
David was diagnosed with multiple myeloma, a type of bone marrow cancer that can affect several areas of the body. For the apparently healthy 59-year-old, the news that his condition was incurable came as a shock. Especially for his wife, Karen.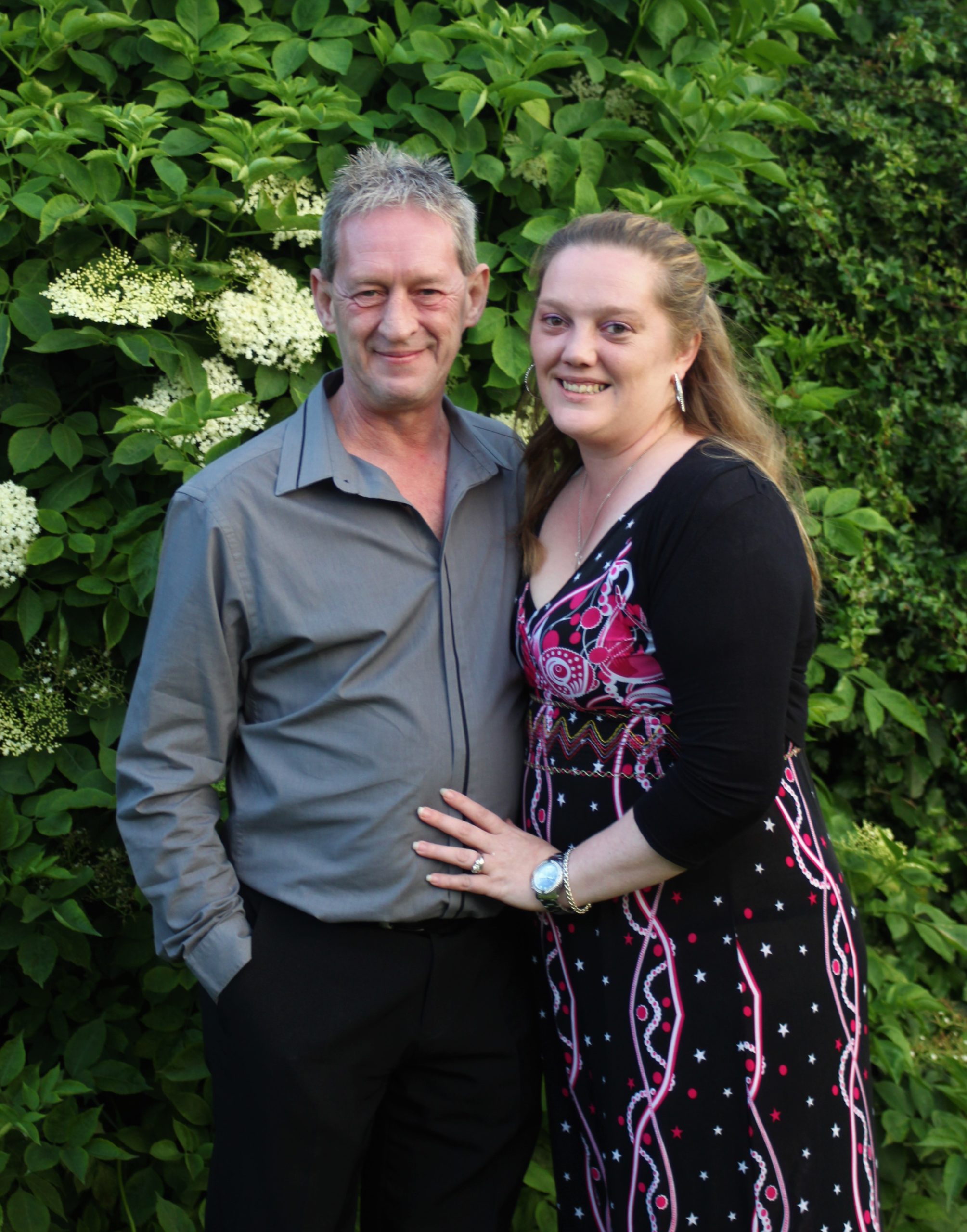 "He was so fit and we were just plodding along, all hunky dory, leading an active life doing what we wanted to do," she says. "Then suddenly everything is different, everything we wanted to do is just halted."
Scans revealed a tumour on David's spine, which could rupture his spinal chord if left untouched. So within a matter of days of being given this life-changing news, David began a course of radiation and a week later was started on chemotherapy.
"It all just happened so quickly, we had no time to prepare or even stop to take a breath," says Karen. "The whole of March just passed by in a complete daze. I didn't handle the diagnosis particularly well and both of us went off work sick at the same time. We were worried about money; I'm a self-employed carer and a part-time pub cleaner, but everything just stopped."
What little money the couple was getting from statutory sick pay was going on fuel to drive David the 30 miles to hospital each day for treatment.
"We were desperate, we didn't know what was happening, where to turn, or what this meant for us long-term," says Karen. "Every organisation I turned to said they couldn't help, or they'd have endless paperwork that we just didn't have means to be able to complete."
Meanwhile, the rest of the world was adjusting to a life in lockdown due to the coronavirus pandemic. For David and Karen this meant no visits with friends or family could happen and they were suddenly on their own, left to fight this thing without a support network in place.
Until, that is, help came in an unexpected form.
"Someone suggested I contact The Fire Fighters Charity," says Karen. "I rang them and was put through to the Welfare team. This lovely angel called Jason came on the phone and said, 'what do you need and how can we help?' Ten minutes and a quick form later, he had arranged for us to receive £50 each week to put towards petrol. Jason filled the void of family during COVID; he was a constantly reassuring voice on the end of the phone day or night. Someone in the world knew what was happening and was there to help us, it just meant so much to us."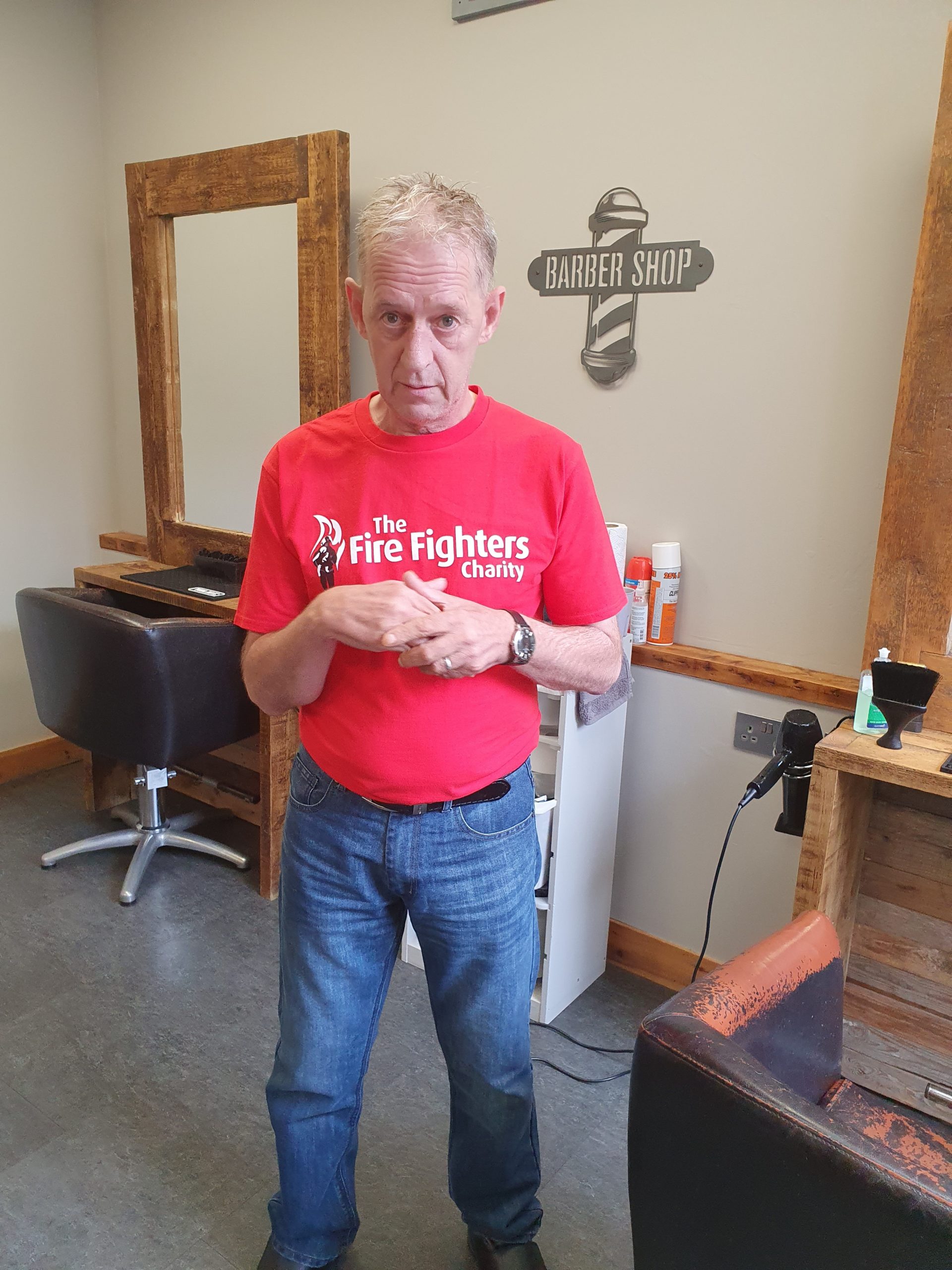 With financial worries temporarily taken care of, the couple faced their next hurdle. After two and a half months of undergoing chemotherapy, David's hand and feet started swelling up and going numb. The chemo had caused peripheral neuropathy to occur in his body's extremities, and he would have to stop treatment immediately.
"The good news was that although I had to end chemo three and a half months early, they found it had got the myeloma under control and I was actually in remission," says David. "Now I just need this last op at the end of the month, get the neuropathy under control and things will be all good."
For someone who has been given such huge news, and gone through aggressive treatment, David has remained decidedly upbeat throughout the year.
"My chin is up now, I'm happy as a bunny," he says. "None of this has ever got me down, I've been determined to be cheerful and happy, and keep Karen going. Let's just crack on. There's light at the end of the tunnel now, we're nearly there."
Karen says she has found it harder to remain cheerful, but that the couple have always been good at balancing each other out.
"I'm definitely the softer one and I take everything to heart, worrying about the day that never comes," she says. "It had a massive emotional impact. He went from being this active firefighter to someone who couldn't open a can of drink or a bag of crisps. But there's something to be said for refusing to give up, doing what we have to do to fight this thing. I don't know whether or not his positive attitude made a difference scientifically, but his chemo finished three and a half months earlier than planned… So who knows."
At the time we speak to the couple, David is a few days away from a three-week hospital stay which will involve major surgery. During a stem cell transplant, doctors will collect and freeze his stem cells, then give him a huge dose of chemotherapy to rid his body of any remaining myelopathy. Such a large dose will mean David would lose all of his hair overnight.
"That upset me," says Karen. "After everything we'd been through in the eight years of ups and downs, no matter what changed, we always looked like ourselves and we could keep each other up. I felt like him losing his hair would be the start of something we wouldn't come back from, worried he would suddenly look sick."
It was this news that planted the seed for what would go onto become a huge fundraising venture, turning a negative very much into a positive for the couple, their friends, and The Fire Fighters Charity.
"I decided I would shave it all off beforehand, to give her time to get used to things," says David. "I was going to be bald when I came out anyway, so I figured I might as well be bald when I went in. And I could get people to sponsor me, so we could raise money for The Fire Fighters Charity as a way of saying thank you for how much support Jason had shown us."
When Karen's parents came over to see them, David shared his intentions. Inspired, his father-in-law decided to join him. So too did his brother-in-law, best man and son. He mentioned it to a few people at work and at the fire station. Before he knew it, 17 people in total had agreed to shave their head to help contribute to his fundraising.
"It was absolutely incredible," says Karen. "His son even joked saying he was envious, that he wasn't sure he had 16 friends at all, let alone 16 who would shave their head in solidarity!"
David smashed his initial fundraising target of £500 within a matter of days, doing the same thing when he upped it to £1,000. Deciding to just leave it to run and see what happens, the couple had raised £3,600 at the time we went to press…
"One of the best things about it was that organising it served as a distraction from everything that was going on," says Karen. "It made all the doctors appointments bearable and gave us a sense of purpose, building up to this day. We got everyone T-shirts, organised balloons and medals. Some of our friends even bought us a remote-control fire engine so we could safely give everyone their medals! Yes it was all to raise money for the Charity, but it also masked the reason why we had to do it in the first place."
On a Wednesday evening in August, 17 men and women lined up (socially distanced) at North Berwick Fire Station to brave the shave in David's honour.
"To say it was emotional is an understatement," says Karen. "I was in floods of tears by the end of the night. Here was Dave, who hadn't been out of the house for months, walking around, laughing and joking with all these people who had turned out to support him. I looked at him and I thought, this is all for you, look at the love and support you've got from everyone. Who wouldn't get emotional? And it turns out he really suits a shaved head, it's taken years off him!"
"I know I'm biased because I'm his wife, but I just think to do what David has done for Charity while going through such intensive treatment is just amazing. We're not two years down the line, reflecting on the support we received and wanting to do something to say thanks. He's still in the middle of treatment for cancer. Some people couldn't muster the energy to go shopping, far less pull off this huge fundraiser. We've still got this huge tough thing to go through, and he was there doing all of this in the middle of it. But he's done it and I'm super proud of him. It speaks volumes about his character."
As they face the preparation for his surgery and the uncertainty of the years that will follow, David and Karen are just taking each day as it comes.
"Myeloma is incurable, it will never go away altogether," says David. "The stem cells they removed will still have traces of the cancer. But doctors are trying to get it to under a certain level to class it as being dormant, so it's not getting any worse or putting my life at risk in the short term. Having the transplant means I should hopefully be given another five or ten years before I have to resume treatment."
"I just can't tell you how much the support we've received from the Charity has meant to us," says Karen "Through all these horrible things, the Charity was the one solid thing in our lives. It wasn't even really about the money (although obviously that helped), it was just knowing there was somebody there. I'd phone Jason because my head was turning in all directions, not knowing what to do, and half an hour later we'd have a plan in place and I'd just feel calm. How do you find the words to thank someone for being there through the worst months of your life?"
If you or your family is trying to adjust to a life-changing health diagnosis and you don't know how to cope, get in touch with us. Our Welfare Caseworkers are waiting to support, signpost and empower you to help you navigate whatever life has put in your path.
Our Support Line will close at 5pm on Wednesday 23 December and will reopen at 9am on Monday 4 January 2021. But our Welfare Caseworkers will be available on certain days for support with any urgent social or welfare issues. Should you need to speak to them, you can do so between 9am and 11.30am on Thursday 24 December, and then between 10am and 3pm on Tuesday 29, Wednesday 30 or Thursday 31 December. Enquiries made outside of this time will be responded to once we reopen in January.