Having watched her grandad and then her dad supported by us during their time in the fire service, Kayleigh McInnes always wanted to do her bit to give back when she joined the fire service.
And she put those thoughts into action almost immediately, as she not only started volunteering as one of our Station Reps within months of joining, but also planned a series of fundraisers in aid of us – including the London Marathon later this year.
"I've always wanted to go into the fire service, ever since I was growing up," says mum-of-one Kayleigh, whose father-in-law was also in the fire service, as well as her husband. "I applied a couple of times but was unsuccessful. When I had my wee boy in 2018, I decided I'd try once more. Luckily enough I got in!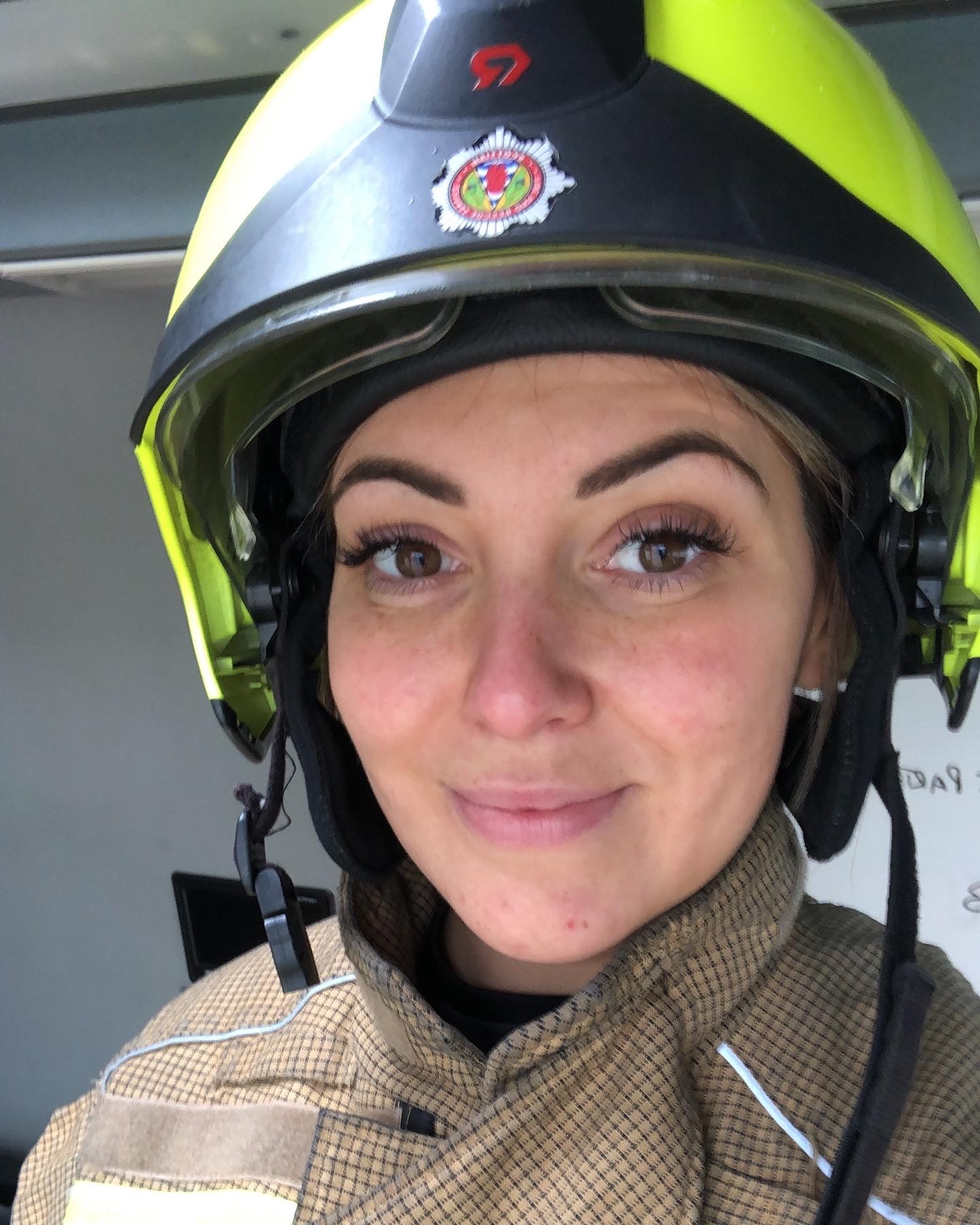 "I remember growing up we were always in the station with my dad, they always had kids' parties and stuff and fundraisers. I have great memories of it.
"I just always knew I wanted to do something meaningful and this was always part of the family for me, so it was always my first choice."
Kayleigh's grandad, Tom Lawrie, retired from the fire service 35 years ago, while her dad, Eddie Lawrie, retired 12 years ago. Both of them have been helped by us over the years, all thanks to your donations.
"My grandpa went down to Jubilee House in Penrith after he broke his hip. That was around 2008," says Kayleigh.
"He had some rehab and it was just amazing. Everyone was so lovely and the facilities there are just amazing. Then my dad's been too and said the same, it's such an amazing resource we have.
Support more people like Kayleigh's family by donating now
"I think a lot of people would really struggle without the Charity. As well as my own family, I had two close friends have similar operations on their knee and they both had support.
"They've also had mental health support along the way too, with them being off work, just double checking they're okay. You just think, some people don't have access to this and if they do it might not be affordable, so just the fact we have it there and we can use it at anytime is really amazing.
"I think it's so important that we continue supporting you. Without people's donations, the help they had wouldn't have been possible."
With that in mind, Kayleigh got involved from the moment she began training…
"When I joined, it was the week before the first ever lockdown, so our training course was different to everyone else's," says Kayleigh.
"Usually trainees will do something for the Charity, like a Ladder Climb or something like that, but we never got a chance. It was my dad that suggested we do something together after that.
"We did a 14 mile walk around all the plaques in Glasgow, which mark where all the major fires have been and where firefighters have died. We raised around £500-£600 doing that."
You can read about Kayleigh and her dad's challenge here.
"After that I volunteered to become our Station Rep," she adds. "I've really enjoyed the role and I'm really excited for this year in particular because there's more scope for us to do things like the Car Washes again. There'll be a lot more interaction with the public from now on.
"I'd encourage anyone to take on a volunteering role like I have. It was a brand new job for me and it's quite difficult to meet people and get to know them, but something like this can really help. It helps you, too. You're obviously doing a really good thing!"
Kayleigh has also organised everything from a sponsored walk to a Half Marathon and a December Ascender in 2020, raising over £1,000 altogether for us. Having seen the support she had, and how much she enjoyed the events, she then set her sights on a marathon.
"I was speaking to our community fundraiser after the Half Marathon and she suggested I enter the London Marathon. I've never run that far before and it really is a once in a lifetime opportunity. I can't wait now!"
She's now organising a series of events involving her colleagues to raise funds for us ahead of the run in October.
"We did a Race Night recently and I managed to raise £1,176 on that night alone towards the Marathon and the Charity. It's meant I'm well on the way now!" says Kayleigh.
To support Kayleigh's fundraiser, click here.
If you're struggling with your health and wellbeing, we may be able to help you. Call our Support Line on 0800 389 8820, make an enquiry online or register for MyFFC now and visit the 'Access Support' tab at the top of the MyFFC homepage.
You can also join our 'Share Your Story' Group in MyFFC, by clicking on the 'Groups' tab, to chat to others who have received our support or enquire about sharing your own story.