For Maria Smith, the fire service has been a huge part of her life for more than 24 years thanks to her late husband, Rusty, who was an on-call firefighter with Suffolk Fire and Rescue Service.
And while she'd always seen it as a second family, it was only when Rusty died suddenly, three years ago, that she realised just how much of a support his colleagues are to each other. Rusty, 53, had been in the service for 31 years when he passed away.
"Rusty was made Watch Commander in January 2019," says Maria, 51. "Little did we know that the overwhelming joy he felt on achieving this ambition would only last a few months when very suddenly, and without any warning, he died on 1st May 2019, aged 53 years."
Rusty woke up feeling unwell which prompted Maria to call an ambulance, after becoming increasingly concerned. Tragically, he passed away just as the paramedics arrived and they were unable to save him.
"It turned out to be a thrombosis, so a blood clot to the main valve to his heart. There had been no prior warning or symptoms," says Maria.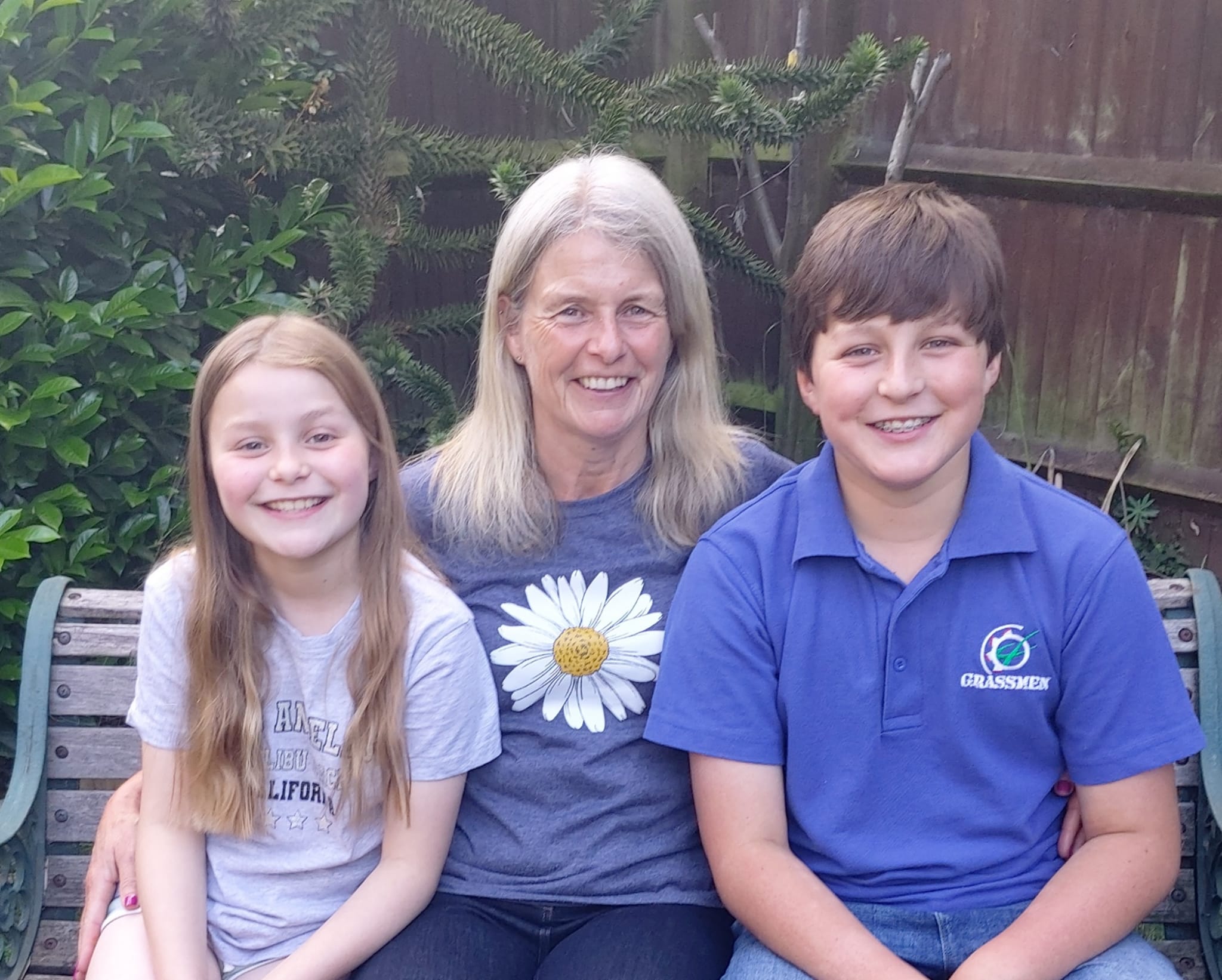 "I can't remember a lot from that first year afterwards to be honest – I was in shock. It was such a horrible, traumatic period for us all.
"I've almost had to kick into autopilot since then, to be there for our two children, Ellie and Toby, who were 7 and 11 when he died. I honestly don't know where I'd be without them – you have to carry on, for them."
In the immediate aftermath of Rusty's death, his colleagues were a huge support to Maria and her children – and have continued to be ever since.
"The fire service was amazing, within a few hours of Rusty dying there were officers and fire service personnel arriving at the station for the rest of the crew to go and speak to, and they saw me too," says Maria.
"One of them, Paul, is now a really close friend of our family. He read Rusty's fire service eulogy and was here with us every day after he died. I really can't speak highly enough of him.
"He always said he knew the funeral would be big, but he didn't know how big – there must have been around 1,000 people there. Everybody knew him!"
Help us to support more people like Maria by donating now.
Maria adds: "In some ways we 'did' the fire service together; the middle of the night call outs, struggling to get back to sleep wondering where the shout had taken him to, the annual fire service dinners, the award ceremonies for the medals he very proudly received, the moments of delight as he made his way through the ranks, listening to him and his father (who also served 30 years, as well as his grandfather) talk relentlessly about fires and pumps and going off to cut the station grass or wash the appliance, just when I needed him to do something else!
"I'd always laugh and joke his priorities were the fire service and then me, and then when we had children I think I moved to fourth place! He was just so dedicated. But joking aside, I understood how important it was to him – it was his life."
Throughout Rusty's career, he has fundraised and donated to us, knowing we were there for him and his family for life. It was this dedication that stayed in Maria's mind after his death.
She kindly donated half of the donations from his funeral to us and began thinking of other ways she could continue his fundraising legacy more recently too. That's when she began considering the London Marathon.
"Rusty always supported me with my sporting activities," says Maria. "As you can imagine, my sudden transition to a single parent has left me with limited spare time but what spare time I do have I run. I have completed numerous Half Marathons 'just for fun', am a qualified run coach and still lead a weekly running group as part of my job at the local Swim and Fitness Centre.
"Rusty and I used to watch the marathon, and he used to say, 'one day you'll do it'. He was actually heard saying to somebody, who asked him how my running was going, 'one day she'll run the London Marathon'…
"To run it now will be an emotional and inspiring opportunity for me to give something back for the support I have received since Rusty's passing.
"I know Rusty would be very proud of me and I would be honouring his wishes as, unbeknown to me, he had entered me into the London Marathon as a 'surprise 50th birthday presen't… I only found this out after his death when I received the rejection letter!"
Maria begun fundraising as soon as she found out she'd been offered a Charity place this time round and she's already shot over her target of £1,900 – with more than £4,500 raised so far, with months still to go.
And she says a lot of that is down to the impact Rusty had on his community and colleagues.
"It's bittersweet, but it's just amazing. Rusty's loss was felt enormously in the local community in which had lived in all of his life and I am confident they would all support me running in his memory and for this Charity," adds Maria.
"His colleagues have stayed in touch with me ever since, and they're helping me to fundraise now too. One of them has said he can't run it with me, but he's promised to go to everyone across the service to encourage them to donate.
"I knew you were the main charity there for the fire service, supporting Rusty and his colleagues, so it was important to me to choose you to support.
"Rusty paid in throughout his career, and I think he also rung you for welfare advice in the past too.
"Every mile I run, I will be thinking of Rusty – as I do every day."

Maria Smith
"I felt I wanted to pay something back for the help and support I had, and I still have, from the service. They were hurting and devastated too, and still are, but they were such a huge support for us.
"Then of course my children and I are all beneficiaries of this Charity now too."
Maria now says her son, Toby, hopes to follow in his dad's footsteps and become a firefighter one day – just like his dad and grandad did before him.
"Rusty's dad was in the fire service for 25+ years and his grandad was fairly similar," says Maria. "It was always then Rusty's intention to retire once Toby had joined the service too. He dreamt of them being on their first shout together.
"Toby's always been really interested in it. In a conversation with Paul, he said, 'it's going to break your heart when you see him go off in a fire engine', and I said, 'I know it is, but it'll be a very special moment too'.
"My children can no longer run up to the station to wave their Daddy off when they hear the sirens, but they can wave me as I put in the miles to train for this event and be there when I cross the finish line.
"Every mile I run, I will be thinking of Rusty – as I do every day – and of the lives I know he would want us to enjoy to the best we can. We all still really miss him.
"We need to think of his legacy and what he would want us to do to make a difference and that is just what I hope to do in London on Sunday 2 October 2022."
To donate to Maria's fundraising page, click here.
If you're struggling with your health and wellbeing, we may be able to help you. Call our Support Line on 0800 389 8820, make an enquiry online or visit the 'Access Support' tab in MyFFC.
You can also join our 'Share Your Story Group in MyFFC to chat to others who have received our support, or enquire about sharing your own story.