Recovering from a serious injury to your joints can take longer for some people than others, but for Mark, making sure he returned to full fitness as quickly as possible was essential for his work.
The Derbyshire firefighter, 50, has visited Jubilee House, our residential centre in Cumbria, twice following two separate injuries and built up his muscle strength and fitness each time, to ensure he could return to operational duties.
"I've known about this support since joining the job, because most stations have the Charity front and centre," Mark says.
"I got in touch myself in 2016. We'd just got back into the truck after attending an incident and a lorry careered into the side of us, where the crew cab joins up to the appliance.
"We were dragged down the road and thrown about in the cab basically. We had to get out very quickly because it caught fire straight away. We all managed to get out luckily."
Mark initially thought he'd escaped with a few painful bumps and bruises, but he later realised they were more serious than he'd thought.
"I was off work for a couple of months while I was getting my hip and back looked at," he says. "I found out it was a lot of lower back and shoulder pain from the collision, but the hip was popping and giving way a lot. It was a constant investigation into what that was.
"I was given exercises to do by the NHS, but then our service's occupational health department recommended that we get in touch with The Fire Fighters Charity."
That's exactly what Mark did and a few months later he was offered a place at Jubilee House, alongside other members of his crew.
"I was supposed to come here for two weeks but I ended up coming for an initial week, and then I did my second week shortly after," says Mark.
"I was really surprised what was on offer. The initial assessment was great, they dug deep into the injuries to find out what was wrong with them.
"The first week was more about my lower back, while the second week was more about my hip. The facilities here are great and then they give you a plan to go away with at home.
"They weren't happy with what they found when they looked at my hip, and thought it needed further investigation, so they wrote a letter to my GP and occupational health team. From that, I've managed to get an MRI scan.
"It turned out they believed there was a tear which was hiding behind the bone. I managed to get back operationally and fully fit quite quickly from there."
While Mark continued his exercises at home and remained fully fit from there, he unfortunately suffered another injury last year.
"This one was more my own fault," says Mark. "I was going a little too fast on a road bike and I hit a piece of tarmac where the tree root had pushed it up… the bike stopped and I didn't.
"It flung me quite far and I turned my shoulder to land rather than my face. It shattered my shoulder, it was completely dislocated and I had to go into surgery the next day.
"I had a metal plate with nine screws put in. That was March last year and with Covid and everything, it's been a slow recovery.
"I've done a lot of physio with the NHS but I knew I could do a lot more intense work on it to try and get more movement back with help from this great team in the Charity. So I got in touch and was luckily offered a place at Jubilee again.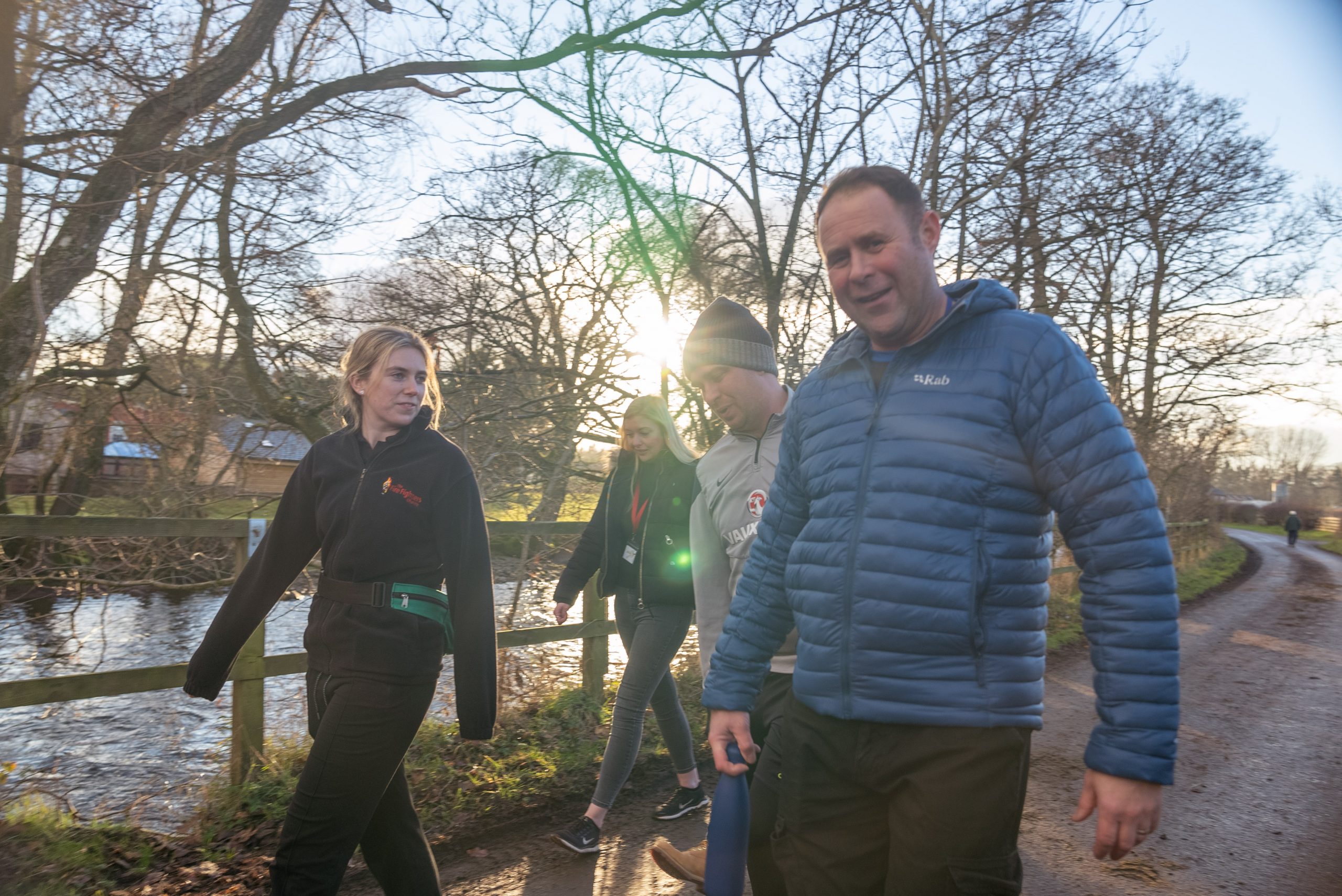 "For me, it's uncomfortable and it's a struggle to get a range of movement. It's about managing the pain that comes with that."
He says the week helped him once again build up confidence with his overall movement, as well as strength in his shoulder.
"Without a doubt this has made me realise how important it is to look after your joints and muscles," says Mark.
"Even in just two days here I've noticed my movement has improved and the muscle's getting stronger, so it shows working on it is really beneficial.
"I'd advise anyone to get in touch if you feel you'd benefit from support – whether it's yourself or your family that are eligible, the facilities here are fantastic, they're second to none. They look after you really well and you get a really good assessment of your injury, so you can go back with a plan to get yourself as best as you can."
If you're struggling with your health and wellbeing, we may be able to help you. Call our Support Line on 0800 389 8820, make an enquiry online or visit the 'Access Support' tab in MyFFC.
You can also join our 'Share Your Story Group in MyFFC to chat to others who have received our support, or enquire about sharing your own story.