Mark Latham joined the RAF Fire Service in 2008 when he was 19. In 2012, he was involved in a crash during a training exercise at the RAF base he was working on, and thought, for just a moment, that he had killed two people. It turned out they were fine, but the incident has left a lasting impression on him.
"We were driving our Major Fire Vehicle during a timed run when we accidentally rolled while coming off a runway, trying to avoid a car that shouldn't have been there," says Mark. "Because we had two minutes to complete the drill and were in our BA kits, we were exempt from wearing seatbelts, so when we crashed, I was thrown to the floor and hurt my back. My crew commander was also knocked unconscious and landed on top of me. But all I could think about was the car; these military versions of fire vehicles weigh over 30 tonnes, and I thought they were underneath us and that we'd killed them."
Once freed from the wreckage, Mark quickly found out they had narrowly avoided hitting the car, but the damage was already done to his mind: "Even though your conscious, logical brain knows they're alive and well, the trauma I'd experienced came as such a shock that my brain couldn't save that information. I was haunted by the idea that I'd killed them; I still have nightmares about crashing and killing people to this day."
Despite still feeling the affects of his back pain and psychological issues, Mark had already been scheduled to go on tour, and four months after the incident, he was deployed to Afghanistan.
"Unfortunately, within the first week of being there, there was a big incident, and we came under attack in the middle of the night with no weapons or ammo," says Mark. "We were experiencing things no one should ever have to see. Looking back, I was already in the mode of PTSD without realising. My mind was already not in the right place, and these two things happening so close together just put even more stress on. Plus I was in so much pain I had pretty much no sleep for the whole four months I was there. Things just got worse and worse, and when I returned home, I served my notice."
Mark left the RAF Fire Service in 2013. For five years, he was passed, as he puts it, from pillar to post, constantly being offered contradicting opinions on what was going on.
"Doctors said I was just sleep deprived and that once my back got better, things would improve, but they just didn't," he says. "I was struggling, just trying to survive each day. In the military, exercise had been my therapy, but because of my back pain, I couldn't even do that. Stress built up and I had no way to deal with it."
Mark says he 'wasn't open' to asking for help, so put off submitting an application to the Charity for support: "I just kept thinking someone else needs it more than me. I did the British thing, thinking I don't deserve help. So I suffered in silence."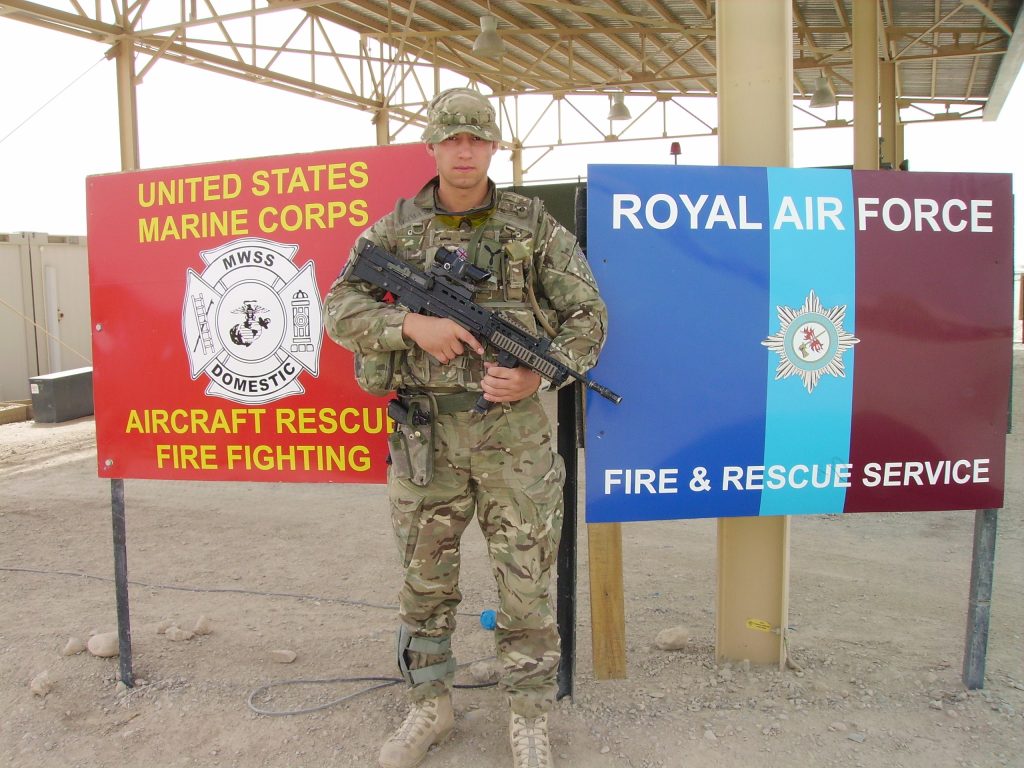 But when things took a turn for the worse in 2017, Mark knew he had to do something. A colleague at his new role working for the United States Airforce at RAF Fairford suggested he should reconsider contacting the Charity, which he decided to do. He was invited to visit Harcombe House, a week that he says was the turning point in his life, despite having initial concerns.
"I was sceptical to start with, just how helpful it could actually be for me," he says. "I felt a lot of anxiety the night before going; once I'd checked in, I nearly got in the car and drove straight back home. But that's your mind wrestling with itself between fight and flight. To overcome that, you have to go into the fear. By the end of the first morning, it was like a weight had been lifted. For the first time in a long, I felt a sense of peace. And I just hadn't expected that. It's so peaceful, the location is just perfect, it felt like being taken to another world."
Having explained about his back pain during application, Mark was surprised how much the team looked at the bigger picture, rather than just the psychological issues that had finally pushed him into seeking help.
"They were just incredible, hitting things from all sides," he says. "I was there to talk psych issues, but they were giving me exercises for my back, talking to me about sleep and how it can affect moods, and showing me different things I could do for myself. We'd do yoga and Tai Chi, go for walks or swim in the pool. There was just so much to take away from it, forcing you to slow down.
"The other beneficiaries were also amazing. All our stories were the same but different, experiencing different trauma or injury, losing sleep, stopping exercise, not knowing how to cope. It never felt like you were suffering on your own, and by the end of the first night, we were all laughing and joking."
It was his psychological sessions with one of our therapists where Mark found his real breakthrough moment: "I'd seen counsellors before, but I'd always just put on a brave face and didn't tell the whole truth. But I found myself opening up at Harcombe in ways I'd never done before. AJ was absolutely brilliant, teaching me about lucid dreams to try and stop my nightmares, and helping me understand that PTSD is a brain injury. She even encouraged me to seek support from Combat Stress, a military charity that specialises in traumatic stress, which I did when I got home.
"I realised I needed to make serious lifestyle adjustments to help me cope better. In the military, you're taught to drink through stress. But it all comes down to finding peace within yourself. My brain wasn't prepared for the things that happened to it, so I've tried to focus on healing it. I've taken up yoga full time and taught myself how to lucid dream, so I can intercept my nightmares. My sleep hygiene is the best it's ever been, and I'm the healthiest I've been in six years.
"I can't express how grateful I am for the superb support I received from The Fire Fighters Charity, and the love I was shown by everyone I encountered through it. Since visiting Harcombe House I've been able to return to work and am fully operational in my role with the United States Air Force."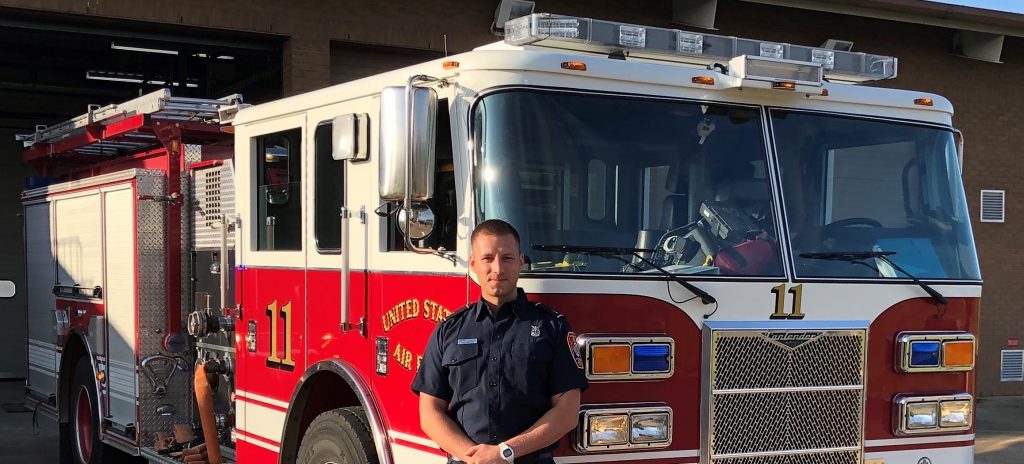 Mark now refers anyone he can to The Fire Fighters Charity, using his own story to inspire other people to stop bottling things up and ask for help: "We all deserve a bit of self-love. Especially firemen (and I deliberately say firemen), because there's so much bravado. The minute something bad happens, we'd make a joke, because that's how a lot of men cope. Most people wait until they're completely burnt out before asking for help. I wish I'd used the Charity's services earlier, that's my only regret. Admitting you need help isn't comfortable, so most people put it off. But you should do it, despite the discomfort, because the end result is so worth it.
If you work for an MOD fire service, you are also a beneficiary of The Fire Fighters Charity, and if you've got five years' service under your belt, you're a beneficiary for life. So if you're struggling to cope for whatever reason, don't suffer in silence. Get in touch with us and let us see if we can help. Call us on 0800 389 8820 or send us an enquiry via our website.