Mick Lilley has supported us ever since becoming an operational firefighter with Merseyside Fire and Rescue Service in the 80s – he but never expected he'd need our support himself.
However, fast forward to 2020 and Mick says he was helped when he needed it most via our online counselling sessions and virtual Living Well Groups, shortly after he lost his wife, Sue, to leukaemia.
He has since found the confidence to move forward with a new part of his life, not only enjoying new hobbies, but also finding happiness again – and that's all thanks to your generous donations to our Charity.
"I had a bit of a nightmare just over two years ago, as I lost my wife to leukaemia after an 18 month fight," says Mick, 65.
"That following September, I collapsed and found I had a big issue with my heart. Luckily they found they could tweak a few things, as well as medication, so I've been on the road to recovery since.
"That being said, I was at a pretty low stage in the September of 2020, I couldn't sleep and found I was suddenly by myself with two dogs. I was always used to being with people so being stuck at home, not well, in the middle of Covid restrictions meant I hit rock bottom."
Mick had always received our Shout! Magazine email newsletters, and he recalls it was around this time he saw one come through which included a story from one of our beneficiaries, who'd been through a similar experience to Sue with cancer.
"I remember seeing the email and the day being so bad at the time, I was feeling so down, and I thought, 'I'll pick up the phone and make the call'. I was put through straight away. I really just wanted to talk to someone."
Mick was referred to one of our psychological therapists at the time, for a series of online counselling sessions, before he heard about our Living Well Groups which, at the time, were just happening online due to Covid restrictions.
"I was a bit sceptical at first but it was brilliant, for me particularly, as I'd been by myself for so long. I remember one of the sessions focused on mobility. At first I laughed, thinking how will we do this on Zoom at home? But it was actually perfect for me.
"I never thought I'd be helped in getting my mobility back after the episode with my heart. I just loved it! Then we also got to do sessions like mindfulness and meditation which I'd never come across, but those sessions were so informative. So full marks.
"It made me think, seeing the number of people involved, there must be hundreds of others who have been connected to the fire service over the years and who must be struggling or by themselves.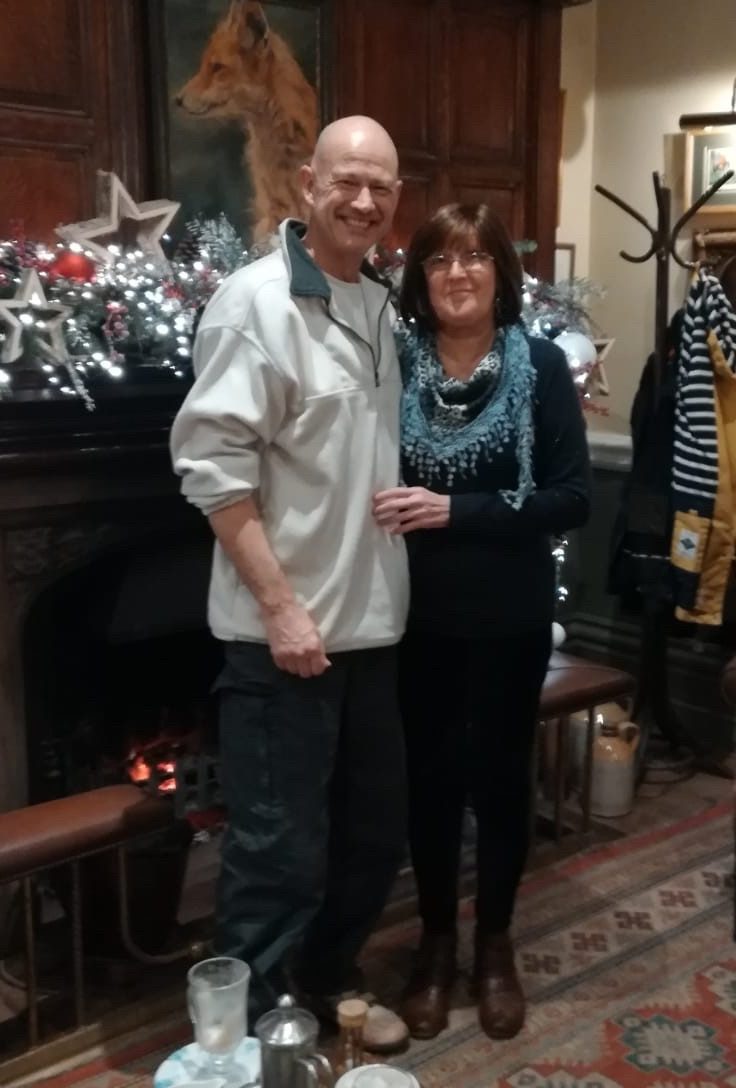 "It's people from all over the country who have all done different things, but all fire service related. And really, they've all got their own different stories. Imagine if we didn't have this online world, life would be so different. And to think we used to curse it!"
After attending several of the Living Well Group calls, Mick began thinking about hobbies he may like to try, and things he could do on his own which would interest him.
While he'd largely been advised to get involved with more people, he initially chose to do the opposite and booked a few nights away on his own in North Wales, somewhere he'd never been before.
"The restrictions had lifted a little bit at the time," recalls Mick. "I had a great time and enjoyed some walks, but there was one thing missing – somebody to share my walking and weekend experience with.
"I came home and started Googling walking groups. I knew there'd be somebody else wanting to do the same thing as me. The first thing that came up was dating websites, but that wasn't what I wanted!
"I then found a walking holiday and that's what I did. It was absolutely fantastic, you can walk and talk to other people on the weekend, people that you don't know, it was a whole new experience."
While on the walk, Mick met a lady called Claire who he began planning another walking break with shortly after.
Since then, they've become very close and Mick recently moved in with her.
"It wasn't something either of us was looking for, we were both there for the walking, so it happened very naturally," says Mick. "It's a whole new life for me, which I think I needed.
"I never expected I'd become a beneficiary of the Charity, but you were there for me when I needed it most – and helped me move forward with my life now."
If you're struggling with your health and wellbeing, we may be able to help you. Call our Support Line on 0800 389 8820, make an enquiry online or visit the 'Access Support' tab in MyFFC.
You can also join our 'Share Your Story Group in MyFFC to chat to others who have received our support, or enquire about sharing your own story, as well as a group dedicated to our Living Well Groups here, where you can chat to other members, see our calendar of upcoming calls, and direct message our Communities Development Lead, Clare Hannaford, at @ClareHannaford.