A group of firefighters and charity supporters recently joined forces to climb Mt Toubkal in Morocco, as a way of giving back to us – a charity particular close to their hearts.
Each year we work with Tribal Tracks on this bespoke Mount Toubkal Challenge. It's the highest mountain in North Africa and helps to bond and cement supporters together, whilst raising money for us in the process.
One of the group to take part in 2022 was Karl Davidson, 24, an apprentice firefighter with Merseyside FRS.
He originally signed up in 2019, but the trek was put on hold due to Covid. However, he continued fundraising and raised an incredible £1,816.
Having experienced our support first-hand, he felt determined to say thank you for the help he's received.
"I'm one of the apprentice firefighters in Merseyside, after moving over from working as a firefighter in the airport for three and a half years," says Karl.
"About three years ago, someone at my old work was organising a sponsored walk in full BA sets and I got involved, raising money for you then. I've stayed involved ever since, doing a few Car Washes and things, and I've slowly learnt more about the work the Charity does, particularly with mental health and life-changing circumstances.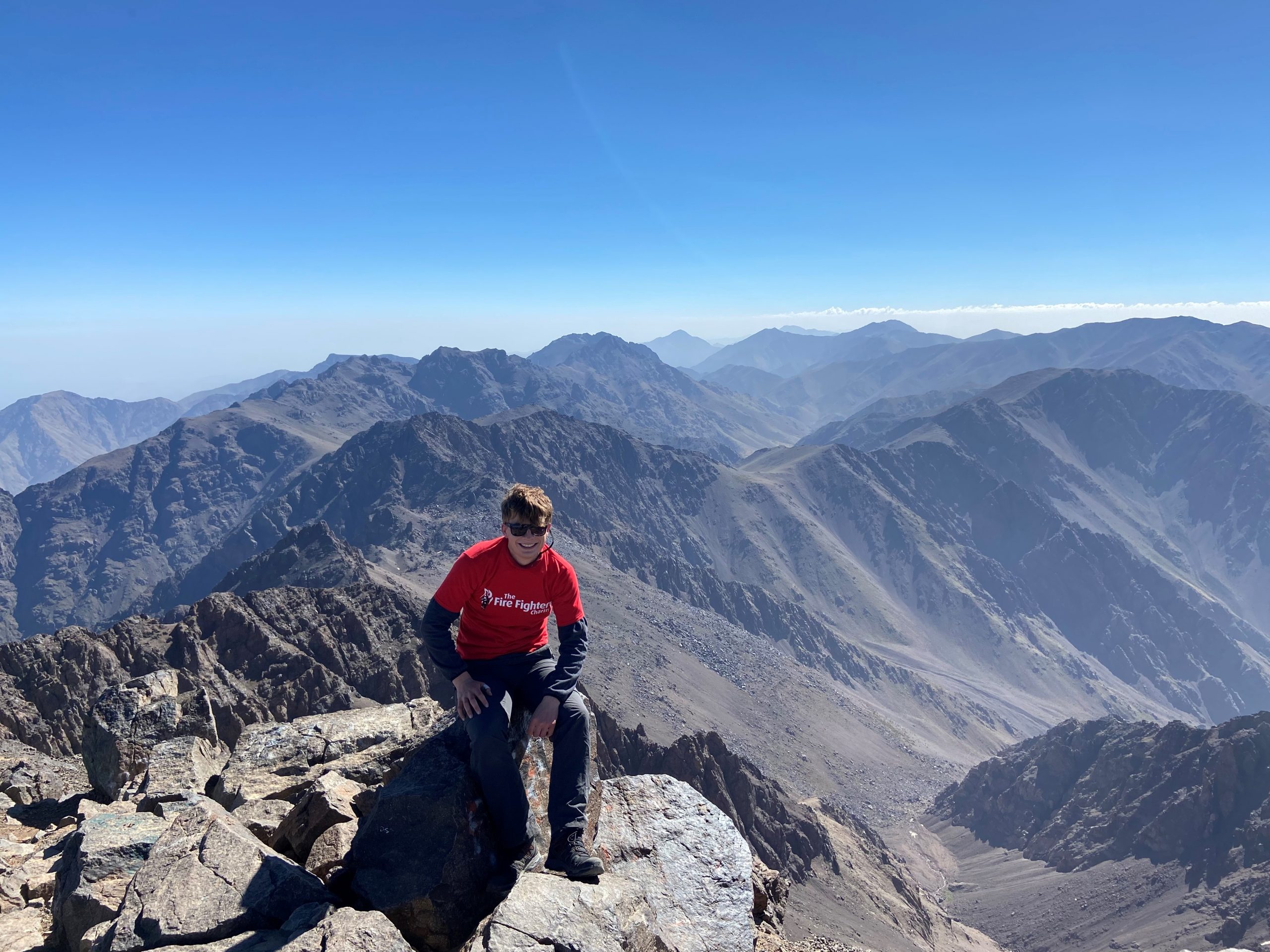 Support more people like Karl by donating now
"I was looking to do something out of my comfort zone and I saw this in 2019. I started fundraising straight away with collections at supermarkets and Car Washes and things, but then obviously Covid delayed it until this year."
Karl adds: "I've got a few friends that have used your facilities and they've really helped them. Then I actually was helped myself, just before going up the mountain, following an ankle injury.
"I visited Jubilee House in Cumbria and it was really good. It's such a great place to go and sort yourself out, but it's also good for your head.
"I'd encourage all new recruits like myself to look into what this Charity does"

Karl Davidson
"After seeing where the money goes first-hand, I'd encourage all new recruits like myself to look into what this Charity does. As apprentices, we do a lot of work for the Charity, and it's so worth getting involved right away. There are so many things you can do – like this – just jump on it.
"Paying in is almost like securing private healthcare, that's the best way to put it, it's such a great thing to have."
Karl was joined on the climb by Sam Daley, 29, who's now a full-time firefighter with Merseyside.
"I met Karl on my recruit course and he told me about the challenge," says Sam. "It meant I joined it fairly late on, with only a few weeks to fundraise, and I managed to raise £620 in that short time.
"I've never been supported personally, but I've really liked what I've seen. The centres are amazing and it's a really worthy cause, so for me, it's reassuring knowing I can turn to you in the future. After all, anything could happen with the job we do.
"The challenge itself was fantastic. We had a brilliant week from start to finish, we gelled really well together."
And joining them was father and son duo Richard and George Clark. While neither of them are in the fire service, they wanted to do their bit for us, having seen the work we do and subsequently meeting some of the people we've helped.
Richard, 56, who's an architect, says: "George and I went climbing together in 2018 and we decided then we wanted to do one for charity. This one immediately jumped out, as it's a charity neither of us knew much about but that's doing some fantastic work.
"My daughter works for the Air Ambulance, so we've supported them previously, and we were keen to support another blue light cause this time.
"The climb was great and we really enjoyed the company that we had with us."
The pair raised more than £2,300 and Richard adds: "Meeting firefighters on the trek was great, it was nice to see where the donations go."
If you fancy trying a similar trek, we have spaces available on a 100km challenge trek across the Sahara Desert, Morocco, in 2023.
This challenge takes place from Sunday 26 November to Saturday 2 December 2023. You will trek over 5 days, over varying desert terrain, experiencing dramatic changes in temperature, as well as desert camping. Find out more here.
Have you organised or taken part in a similar challenge? Let us know and share your photos/videos in one of our dedicated groups in MyFFC.