Walking arm in arm down a deserted country road, Nina Hudson and her retired firefighter husband Peter appear completely content – with little sign of the hell they've been through over the last few years.
We caught up with them in the stunning countryside outside of Matlock, where they're living in their RV as they focus on Nina's recovery following a devastating motorbike accident in 2018.
The pair were enjoying an active retirement together shortly after Peter left Nottinghamshire Fire and Rescue Service, touring Europe on their motorbike, when the accident happened during a ride out in Spain. Nina was left with a series of serious fractures and breaks to her knee, leaving her unable to walk for months on end.
It had a major impact on both of them, with Nina's mental health taking a huge knock as she came to terms with a completely different future. However, she says since contacting the Charity shortly after, they've both been supported ever since – and now finally feel excited about what's to come.
"We knew about the Charity through events that happened on station, but never really thought about what was behind it," says Nina. "Then we had the accident… a car hit us while we were on the motorbike and I took the brunt of the impact on my leg.
"I had an open compound femur fracture and 10 breaks in my knee – a serious accident and operation. I was in hospital in Spain for 10 days. I had no idea how serious the injury was at that point to be honest, I just assumed I may be better in around a year.
"For about three months I couldn't weight bear at all. I wasn't supposed to even put my foot to the floor it was in a half cast straight in front of me the whole time.
"Eventually, after returning to the UK, I found out the bone wasn't healing and I needed to have a bone graft. That was seven months after the accident. When I found out that it would be another operation, I was devastated. It was a huge shock, I thought I was getting better and then it was all starting again."
Suddenly faced with a much longer recovery than she was anticipating, Nina was told by a close friend to contact the Charity, before having the operation. They themselves had received support, so knew first-hand how we could help spouses and dependants of firefighters.
"I rang Jubilee House and they were so helpful, starting the process of evaluating me to see what I needed," says Nina. "I was eventually offered a five-day rehabilitation stay in December 2019.
"They worked out a program for me while I was there, including hydrotherapy and an Alter-G machine – which is like a treadmill that supports your body weight with a bag of air round you that you're zipped into.
"I was finally able to walk – it was the best piece of equipment you can image for someone with leg or knee injuries that can't weight bear. It helps you to get your gait back for walking… It was amazing to be able to walk without sticks, in a normal pattern and without being afraid."
It also proved a welcome break for the couple to take some time out and focus on their mental health, following a particularly difficult year.
"The whole accident and what happened was very traumatic," says Nina. "It had a tremendous effect on both of us, mentally as well as physically – but especially mentally.
"We suddenly weren't able to do the things we loved anymore, like walking. I was in a very, very low place, especially when I found out I needed the second operation. I couldn't get through a day without breaking down.
"I remember we went to the supermarket one day, I was on the two crutches and petrified of falling – knowing the operation was coming. A woman approached me while I was on the crutches and said, 'that looks painful'. I couldn't even answer her I just broke down in tears. This poor woman was stood looking at me, but that's what I was like most days – I couldn't get through the day without breaking down.
"Going to Jubilee House really was a turning point for me, mentally, they just looked after me – it was all going to be okay. I came away from there a different person, my husband commented on it. It was like a weight had been lifted.
"Everyone was so welcoming and friendly – you were totally at ease, it was like they just wrapped you in their arms and looked after you. I didn't have to worry about anything. It was wonderful. I still needed the operation, but I was mentally more prepared for it."
Thankfully the operation went well, but the initial months after it – when Nina was once again immobile – proved very hard, particularly as they coincided with when the pandemic hit.
"I was immobile and I didn't know what the future was going to hold. Was I going to be able to walk again, unaided? And would I be able to do the things I loved?" says Nina.
"I couldn't see past what had happened. I approached Jubilee House again to see if I could have some counselling. Because of Covid, the centres were temporarily closed, so it was done over the phone, in six sessions, and they were tremendously helpful. They got me to think about where I was, how far I'd come and that I would progress.
"They got me to look to the future and to make plans."
Nina has since been focusing on her recovery at home, with virtual support from the Charity and the constant support of Peter by her side.
"Over the last year I've built up weight bearing again, going to two crutches and now to one stick," says Nina. "I've done most of my physio exercises at home, with lots of walking round the local park day after day to build strength again.
"I can actually now manage round-the-home walking without a stick at all. I do still have quite a bit of pain, because there's a lot of stiffness, but where I am now is fantastic really.
"We've travelled a lot round Europe ever since my husband retired and when the accident happened I wasn't sure if we were going to be able to do that again. But recently I do feel differently. I can see that it can happen. We can't wait to get back to that way of life and exploring again."
Nina is now encouraging any other spouses or dependants of fire service personnel to reach out for support, whether it's with physical health, mental health or social wellbeing – having seen how helpful it can be.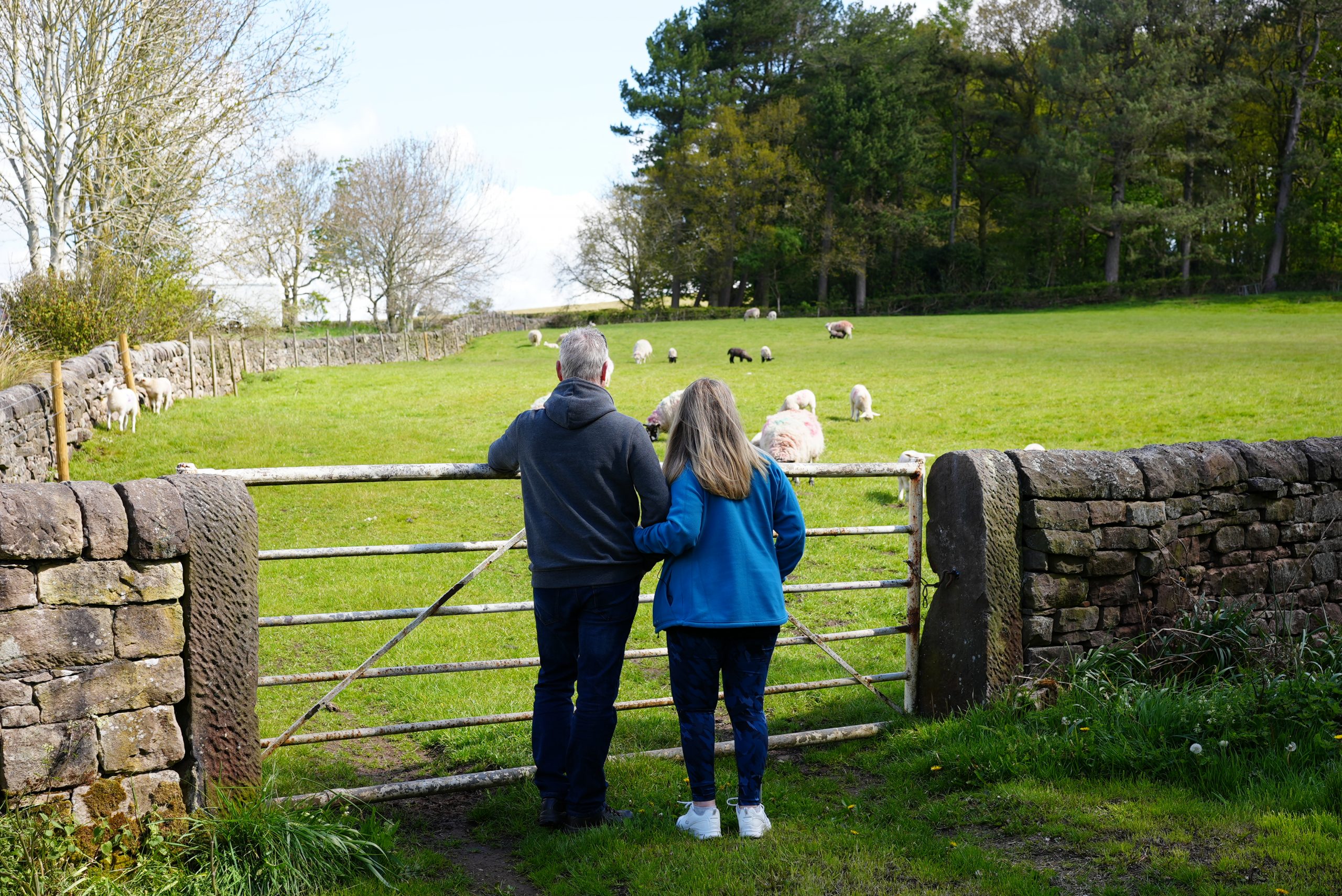 "I didn't think, even when our friend told us about it, that the Charity could benefit me – because it was my husband that worked for the fire service," says Nina.
"But when we enquired, we found out it's open to spouses as well. I would say to anybody, it doesn't have to be a serious injury – it can be lots of reasons – at least enquire, even if you don't think it's for you. You'd be surprised at what they offer.
"It's really important that people help to support the Charity going forwards. They do fantastic things for so many people.
"My friend that suggested I go to Jubilee, her nan had Alzheimer's and went to the Charity's centre in Devon for respite. It helps so many people and you don't just have to visit a centre – the telephone and video consultations are amazing.
"I'd encourage all fire service personnel to keep raising that money because one day, you never know, you or your wife or loved one might be in a position where they need some help.
If something is affecting your physical or mental health, let us help. Call our Support Line on 0800 389 8820 or make an enquiry online.