Having been a firefighter for ten years, Paul Weller never expected a football match to be the situation from which he would sustain a life changing injury.
Falling awkwardly during a game in 2012, Paul broke his leg in six places and ruptured his Achilles tendon. Having undergone a major operation to fix his foot, he was told he would never be able to run or play football again. On top of this, he was also coping with the loss of his two best friends, who had both died in separate accidents.
"It was a really difficult time for me," says Paul, who now works as a Terminal Manager at Gatwick Airport. "I bottled things up and everything got on top of me."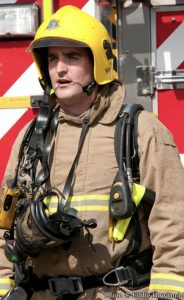 Nine months after his operation, Paul's old crew manager suggested contacting The Fire Fighters Charity to see how we could help. Having reached out for support he twice attended a residential programme of rehabilitation at our Penrith centre, but declined the offer of psychological support, a decision that he now admits was a mistake.
"I didn't like talking to people about my problems, and just thought I could cope," he explains. "I was there for my injury, so that's what I focused on. I didn't realise how much I was bottling things up."
His doctors agreed he needed a second operation, eventually having a full ankle replacement. It was then he was told he would have to leave the brigade and his role at Hayward's Heath station, West Sussex, where he had spent the best part of a decade. 
"That was probably the hardest part, and all I could focus on were the negatives," he says. "I was struggling with the last images I had of my friends who had died and I couldn't face going back to the station to see colleagues because being around the lads reminded me too much of what I was giving up. I also used to play football at quite a decent standard and losing that was a big thing. It felt like I was saying goodbye to a lot of things all at once."
Paul admits to having dark thoughts at this toughest of times, becoming aware of the need to open up about about how he was feeling and to ask for help. He consequently reached out to The Fire Fighters Charity.
Paul attended further sessions at Marine Court, our recovery centre in Littlehampton, where he started talking to a psychological therapist.
"I always thought talking about problems and being emotional was a weakness, but it's not," he says. "It shows strength of character. During my sessions with the counsellors, they explained how I was living with the impact of all these events– the injury, my friends' deaths, not being able to go back to work – and gave me ways to cope with the long-term management of these traumas."
"I didn't like talking to people about my problems, and just thought I could cope. I always thought being emotional was a weakness, but it's not. It shows strength of character."

Paul Weller
Once he started talking, Paul surprised himself with how easy he found it to talk to other beneficiaries, even though they were practically strangers: "I'd been missing being a firefighter so much, but during my stays at Jubilee House and Marine Court, I was part of the fire community again."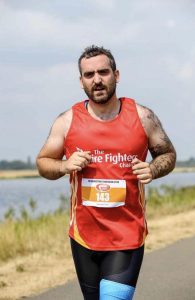 Paul also managed to defy the odds with his rehabilitation, and through the physical support he received, managed to not only learn to walk again, but earlier this year, he ran a half marathon as part of our My75Miles challenge.
"I can't speak highly enough of the people at The Fire Fighters Charity," he says. "I'd always given a regular donation in my salary when I was a firefighter, but they gave me so much, I felt I had to do more. Along with a friend and my partner, we've started our own events company for the blue light services, organising charity events to raise money, including for The Fire Fighters Charity." 
In April Paul will be setting off on a charity bike ride, visiting every station in West Sussex, again to raise money for the Charity. He also regularly speaks to firefighters and the public about his injury and time with the Charity.
"It means I still feel a part of the fire community and can encourage others to seek help if they need it," he says. "In the fire brigade environment, people are often worried how it looks to admit what they see as weaknesses. But with events like Grenfell and the attention on mental health, people are opening up a lot more. We need to do that. If I could go back in time and talk to myself back then, I would tell myself to ask for help sooner. Everyone is struggling, so we all have to admit when we need help. I'm so glad I did."