Having been a firefighter for ten years, Paul Weller never expected a football match to be the situation from which he would sustain a life changing injury.
Falling awkwardly during a game in 2012, Paul broke his leg in six places and ruptured his Achilles tendon. Having undergone a major operation to fix his foot, he was told he would never be able to run or play football again. On top of this, he was also coping with the loss of his two best friends, who had both died in separate accidents.
"It was a really difficult time for me," says Paul, who went on to work as a Terminal Manager at Gatwick Airport. "I bottled things up and everything got on top of me."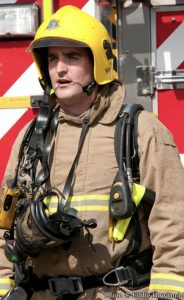 Nine months after his operation, Paul's old crew manager suggested contacting The Fire Fighters Charity to see how we could help. Having reached out for support he twice attended a residential programme of rehabilitation at our Penrith centre, but declined the offer of psychological support, a decision that he now admits was a mistake.
"I didn't like talking to people about my problems, and just thought I could cope," he explains. "I was there for my injury, so that's what I focused on. I didn't realise how much I was bottling things up."
His doctors agreed he needed a second operation, eventually having a full ankle replacement. It was then he was told he would have to leave the brigade and his role at Hayward's Heath station, West Sussex, where he had spent the best part of a decade. 
"That was probably the hardest part, and all I could focus on were the negatives," he says. "I was struggling with the last images I had of my friends who had died and I couldn't face going back to the station to see colleagues because being around the lads reminded me too much of what I was giving up. I also used to play football at quite a decent standard and losing that was a big thing. It felt like I was saying goodbye to a lot of things all at once."
Paul admits to having dark thoughts at this toughest of times, becoming aware of the need to open up about about how he was feeling and to ask for help. He consequently reached out to The Fire Fighters Charity.
Paul attended further sessions at Marine Court, our recovery centre in Littlehampton, where he started talking to a psychological therapist.
"I always thought talking about problems and being emotional was a weakness, but it's not," he says. "It shows strength of character. During my sessions with the counsellors, they explained how I was living with the impact of all these events– the injury, my friends' deaths, not being able to go back to work – and gave me ways to cope with the long-term management of these traumas."
"I didn't like talking to people about my problems, and just thought I could cope. I always thought being emotional was a weakness, but it's not. It shows strength of character."

Paul Weller
Once he started talking, Paul surprised himself with how easy he found it to talk to other beneficiaries, even though they were practically strangers: "I'd been missing being a firefighter so much, but during my stays at Jubilee House and Marine Court, I was part of the fire community again."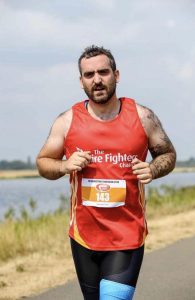 Paul also managed to defy the odds with his rehabilitation, and through the physical support he received, managed to not only learn to walk again, but also ran a half marathon as part of our My75Miles challenge in 2019
"I can't speak highly enough of the people at The Fire Fighters Charity," he says. "I'd always given a regular donation in my salary when I was a firefighter, but they gave me so much, I felt I had to do more. Along with a friend and my partner, we started our own events company for the blue light services, organising charity events to raise money, including for The Fire Fighters Charity."
Paul and his partner Roxie Carpenter, a serving police officer, renovated an old fire engine and opened it up as a mobile bar at the start of last year, just as the pandemic hit. It proved so popular, it even appeared on Channel 4 show George Clarke's Amazing Spaces.
Since being given residence in a barn of a farm in Horley, near Gatwick Airport, the Blue Light Bar has become a much-loved location for takeaway drinks ever since and a few months after their launch, they also renovated an old horse box to serve coffees too.
True to their word, support for the emergency services runs throughout their business. They sell firefighter-owned Frontline Coffee and have a pay-it-forward scheme for people to buy a hot drink for keyworkers. They also pledge 25% of the annual profits from the business to nominated emergency service charities, including The Fire Fighters Charity.
"On a daily basis, we have emergency service vehicles parked up," says Paul. "It's been absolutely manic. We get the Met Police's driving school come down once a week with 15 or 16 of them. Surrey Fire are bringing their driving school down here now too.
"Myself and my mate Rich are also TRiM Practitioners, so we offer support to people who have experienced a traumatic event – they come down and can sit and have a chat."
Paul says he struggled with his own mental health during the first lockdown, as he was unable to see his daughter for three months, but says running, cycling and speaking to his friends have proved a lifeline. It's this open conversation he now hopes to continue promoting with his customers and fellow beneficiaries.
"We've had some great feedback from customers and members of the emergency services. We've got one woman who's a paramedic and she's open about the fact that she comes down to have a chat with us – it gets her away from stuff," says Paul.
Denise May be a fire engine but we at The Blue Light Bar are committed to supporting all members of the emergency services as well as the armed forces and NHS.
We are run by ex and serving members, all with a passion to help those in times of need #support #denise pic.twitter.com/fy5p1caqUL

— The Blue Light Bar (@TheBlueLightBa1) July 27, 2020
"People come to us between jobs and they know that if they have a bad job, if myself or my partner are working, we can relate to what they're saying. We've had those bad jobs too. It's a nice place for them to come and talk, to feel safe and not judged."
Paul now regularly speaks to firefighters and the public about his injury and time with the Charity, to inspire others to speak out about their experiences.
"It means I still feel a part of the fire community and can encourage others to seek help if they need it," he says. "In the fire brigade environment, people are often worried how it looks to admit what they see as weaknesses. But with events like Grenfell and the attention on mental health, people are opening up a lot more. We need to do that. If I could go back in time and talk to myself back then, I would tell myself to ask for help sooner. Everyone is struggling, so we all have to admit when we need help. I'm so glad I did."
He adds: "Over the last year, we've done a few events for the Charity. We did a pumpkin event at Halloween, we did some bits over Christmas and more recently Brew With a Crew. I'm also running the London Marathon for the Charity in October so I've been training the whole way through – which has kept me occupied!
"I didn't realise how many connections I'd made to different parts of the country because of the Charity. I've got friends in different Brigades that I've never met that, over lockdown, got in touch. Now things have opened up we've all connected, we support them and they support us.
"The relationships I've built in the last 18 months because of the Charity have been really good."