Life can be unpredictable and throw a nasty curveball at you when you least expect it – and sadly Robert Cowie experienced a huge one in the middle of the pandemic.
The father-of-one, 36, who's always been fit and healthy throughout his career as a firefighter with Scottish Fire and Rescue Service, was forced to take months off work as he spent long stints in hospital from 2019 following a sudden Crohn's disease diagnosis.
However, thanks to your incredibly generous donations, he has since received our support – both face-to-face and at Jubilee House, our centre in Cumbria – and is finally back to the job he loves.
"It all started when I was taken in for emergency surgery in 2019, I had to have parts of my bowel removed. It was blocked and enlarged so it was emergency stuff," says Robert.
Donate to help more firefighters like Robert
"Then eight weeks later I was back in with other issues and complications and that's when they diagnosed me with Crohn's. It had gone completely unnoticed.
"It started this whole chain reaction. You're on steroids and then new drugs and then learning to deal with a chronic illness that you'll have for the rest of your life."
Robert was determined not to let the news stop his life in its tracks and, having heard about the support we offer, he got in touch – while focusing on getting back to work.
He began a series of remote video calls with one of our physiotherapists and was offered a stay at Jubilee House straight away, but unfortunately the pandemic hit before he was able to visit – temporarily closing our centres.
It also meant his planned return to operational work was put on hold…
"From then on I was shielding because the medication I was on meant I was vulnerable to Covid," says Robert. "It was August 2020 before I got back into the station, and I was on amended duties throughout that time.
"I was in the house the entire time which was hard. It happened to so many people, but I had a wee bit of a flare up during that time too which wasn't ideal."
Robert finally returned to the station from August to December 2020 and began slowly building his fitness back up, but as the next lockdown hit, he suffered another health setback.
"In February 2021 I ended up with a large abscess in my abdomen, connected to the Crohn's," says Robert.
"It was pressing up into the bottom of the big scar I had down my abdomen from my first surgery. It got so painful I had to go to A&E at that point.
"Unfortunately, about five weeks later it came back and they put me on a medication – this was the third drug they'd tried me on at this point.
"Luckily work had given me a laptop throughout this time and I did a lot of admin, becoming part of the training team, which meant I wasn't out of a job. Without that, I'd have been off sick that whole time and I'd have dropped from half to no wages at some point.
"In the August they cut out the inflamed part plus another two bits of small and large bowel and gave me a temporary stoma bag."
Around this time, Robert once again got in touch with us, as his health battle was not only impacting him physically, but mentally too.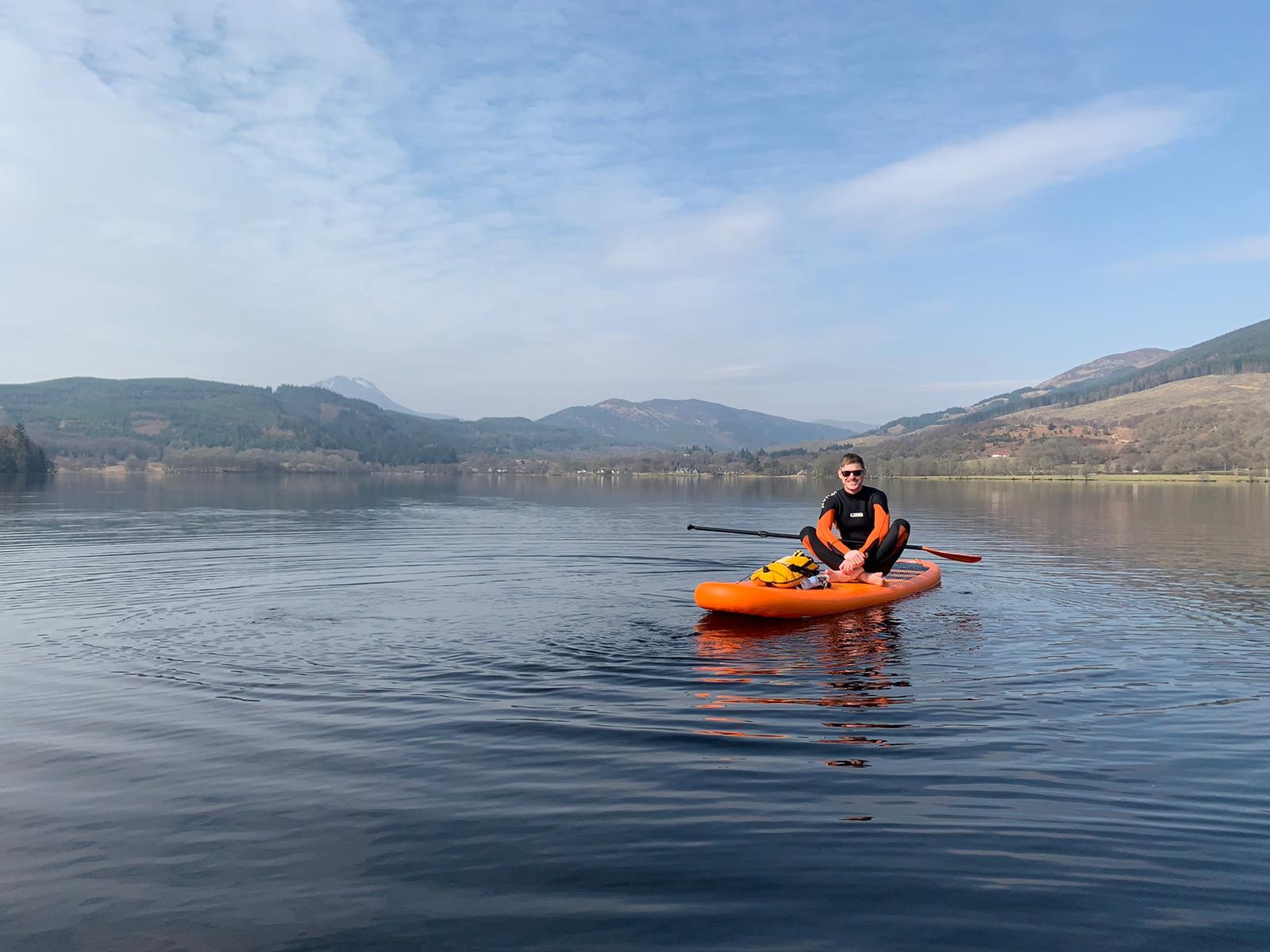 "Covid rules were pretty strict still then, but they started me on a path over video calls with remote exercises and sessions," says Robert.
"It was every few weeks and they'd send me some core exercises that I needed, particularly pelvic floor stuff, because I needed to build up that strength again.
"In between all the surgeries, you're in quarantine, so it's a lot of time quite isolated," he says. "The first and second operations, I was with my partner and we have a son. However, the relationship broke down last year so afterwards I was between friends and my sister. Now I've got my own place thankfully."
Robert was able to have his stoma bag removed at the start of 2022 and continued working with us remotely, until he got to a point he'd benefit from a stay at Jubilee House. He was invited for a week's stay and says it proved exactly what he needed at the time.
"I suddenly had all these professional Physiotherapists and Exercise Therapists around me, plus all the other workshops and sessions I could get involved in," says Robert.
"The group I had was amazing too, which really helped. There were a couple of male firefighters, a couple of retired male firefighters and a couple of women, one who was a partner of a firefighter and an ex-Chief. We all had a laugh together.
"I had struggled a lot with my mental health before, but I was able to access some sessions with a psychologist through the fire service luckily.
"It all works as part of a package then, with the support I had through the Charity. Getting on top of things and learning ways of making sense of things and dealing with things. Work will always be difficult at times, Crohn's will always flare up, so if you can learn to manage these things it definitely helps."
Robert says, while he was able to start his recovery from home, he found the centre stay helpful because he could push himself a bit more, knowing he was around professionals who could watch over what he was doing.
"It's making the jump from exercises at home, to testing yourself," says Robert. "By day three I had the fire kit on at the centre and I was rolling up a hose. Then by day four I had a BA set and I was crawling around. Two of us finished with a practical fire drill test, the big timed one.
"I just thought, that's the safest place I could try it, if it started to hurt you can stop and the trainers are watching you the whole time."
Following his success at Jubilee House, we sent a report to Robert's Occupational Health team and they got him back doing tests a week later on station, so he could eventually return to operational work.
"Without donations this Charity wouldn't work like it does. It's amazing," he says. "I'm feeling good to be on the front line again."
Feeling good to be front line again.
"I've donated from when I first started in the service but you don't realise how much you may need to depend on it one day. It's one of those things you hope to never need but when you do need it, it's knowing it's there.
"Even if in 30 years I never did need it, the thought of donating to a Charity that's helped someone out in the service, or the family member of somebody – because it could so easily be someone you know – then it's always worthwhile."
If you're struggling with your health and wellbeing, we may be able to help you. Call our Support Line on 0800 389 8820, make an enquiry online or visit the 'Access Support' tab in MyFFC.
You can also join our 'Share Your Story Group in MyFFC to chat to others who have received our support, or enquire about sharing your own story.