For Dave Shaw and his partner Shona, admitted they were struggling to cope was one of the hardest things they've had to do – but since speaking to the Charity, they say a huge weight has been lifted off their shoulders.
The couple lost their home in the Boxing Day floods in 2015, but determined to battle on without asking for help, they'd tried to go it alone.
However, in the months that followed, their six-year-old daughter Isla, who has complex health needs, spent several stints in hospital – putting a major strain on not only their time, but also their finances.
Dave, who's a firefighter with West Yorkshire Fire and Rescue Service, had been trying to work two jobs to support his family at the time – but it eventually led to him collapsing from exhaustion at work.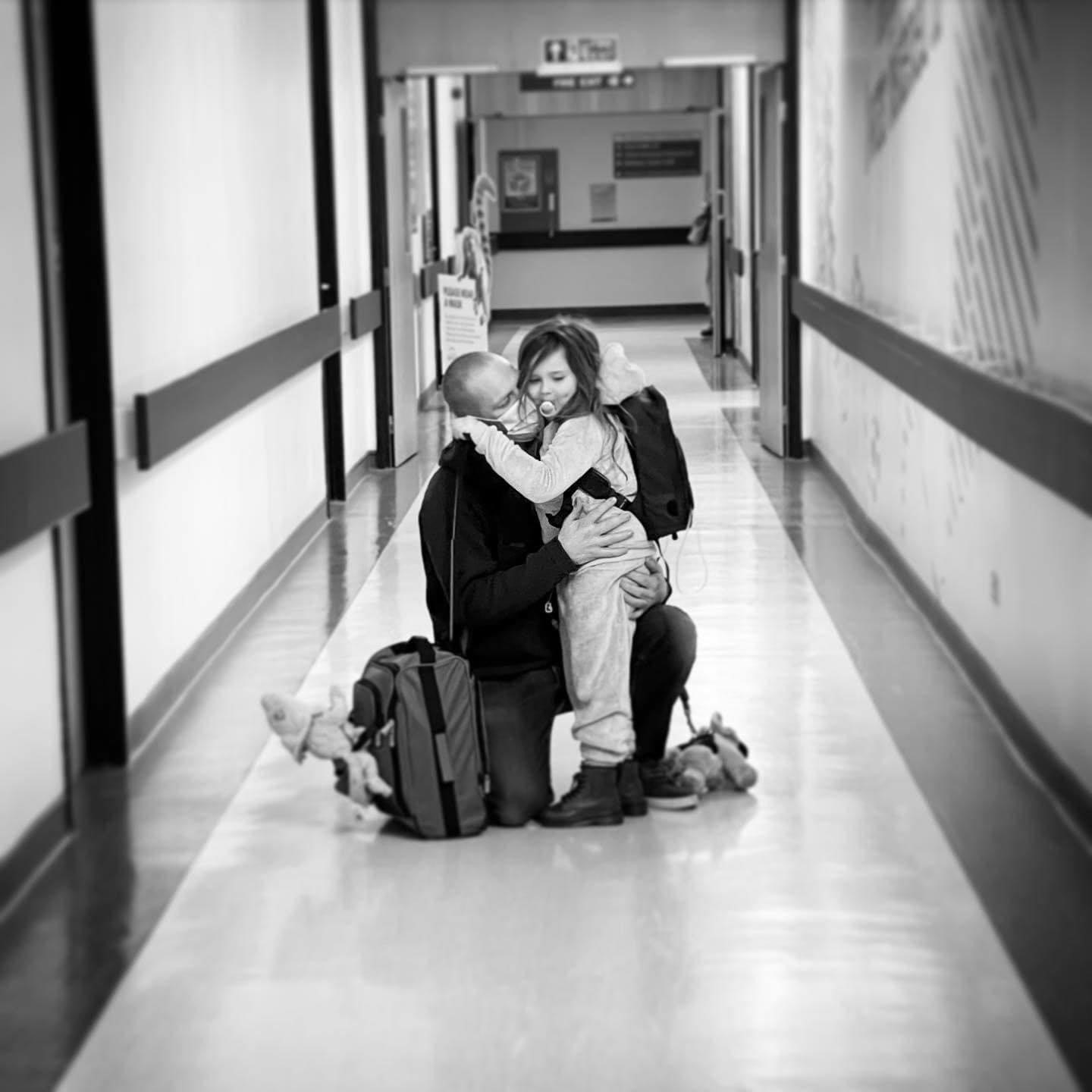 Since then they've been in touch with the Charity and not only received the support they needed to access a medical device that has changed Isla's (and their) life, but also enjoyed rare breaks at Harcombe House, our centre in Devon, which they otherwise wouldn't have been able to do.
Shona says they were first approached by the Charity following the floods, but they chose to turn down help at the time.
"Isla had a few issues when she was born but we thought they'd subside within a couple months," says Shona. "Unfortunately, they gradually got worse. She had a feeding tube placed in May 2015 but continued deteriorating and since then, it's been a downward spiral.
"When our house flooded, she was in hospital in a poor way, and losing our house was a breaking point for us. Still though, I didn't want to admit we weren't coping, it felt like a defeat – for both of us. Accepting help was me acknowledging Isla had significant problems… it was a bit too much of a wake-up call for me."
They continued on for the months that followed, but hit breaking point when Isla was rushed to hospital for some emergency surgery in 2016.
Dave says: "I got to the point when Isla was in hospital where I didn't give up, but I couldn't achieve supporting my family… I couldn't do everything for my family and it was heartbreaking."
Shona adds: "Isla came home from hospital in November and we initially thought we were managing. Dave was at work still and he wasn't getting any support. Then one evening I got a call saying he'd collapsed at work and he was out cold and they couldn't wake him.
"He'd gone to work fine and we'd had tea, everything was fine. No-one knew what was wrong and they'd called an ambulance. By the time I arrived there was flashing lights everywhere. It turned out it was severe exhaustion and he'd worked himself into the ground.
"That night I got a call from the Charity's rep again, who I was close with, and he said: 'I'm not going to take no for an answer'. Two days later, I'd had a phone call and he'd spoken to the welfare team and within a week, Welfare Services Lead Carrie Pearce had visited us at home.
"She was here for four hours and the minute she left, it was like we'd had this huge weight lifted off us. She broke everything down, every aspect, to work out what support she could offer. There were a few areas we needed help with in the end."
The Charity was able to help Dave and Shona access a Dexcom, which constantly monitors Isla's blood sugar. Shona had been trying to get hold of one for 18 months from their hospital, but because Isla's not a Type 1 diabetic, she wasn't eligible for one.
"It's been an absolute game changer, it's saved her life twice."

Shona Mellon
Isla can't store glucose, so her blood sugar can suddenly drop and put her in serious danger. Now, the family and her school teachers are able to keep on top of it, and get a warning if she's about to crash.
"It's been an absolute game changer, it's saved her life twice," says Shona. "At school, they don't have to finger prick her all the time, they can check. It's been a huge, huge thing for her. Her quality of life has gone through the roof since."
The family were also helped with supermarket vouchers when long stints in hospital had put added pressure on their finances, and the Charity even stepped in to organise for their garden – which was unsafe for Isla and her brother Oliver, 12, to use – was flattened and done up.
Isla was recently diagnosed with autism, so Shona and Dave have made the garden into a sensory space for her since.
"It's Isla's haven," says Shona. "She never wants to leave!"
The garden has also been a sanctuary for all of them over the last 18 months, as they've all had to isolate together to protect Isla amid the pandemic – meaning months off work for Dave, and home schooling for both children.
Meanwhile, in amongst the constant calls with the welfare team, Shona and Dave have also been offered three stays at Harcombe House, offering them some much-needed respite – and Isla her first ever holiday.
"The first stay was a lifesaver because Isla got Encephalitis two weeks after we got back," recalls Shona. "All she kept saying when she started to get better was how she wanted to go back on holiday – she remembered running around the grounds.
"It was the one thing we could do while she was in surgery, scrolling through the photos and reminding ourselves we'd had happy times… it hadn't all been hospital appointments all her life.
"It was a week just the four of us, no hospitals, it was a pure escape."
The family have also attended one of our Child and Family programmes at the centre, while remaining in touch with Carrie throughout the pandemic when centres had to temporarily close.
Shona adds: "The Charity is the safety net I've got in the background, just there at the end of the phone to listen as I cry or get angry or just want someone to talk to.
"If I could go back in time, I'd say to myself to accept help. It's okay not to be okay. I didn't want to admit we had problems or we were struggling, but if I could go back, we should have accepted help.
"I'd always presumed the Charity was just there for injured firefighters. But knowing I can always get in contact when our family needs help is a massive weight lifted."
As an incredible thank you for the support they've received, Shona organised a Charity ball in West Yorkshire to raise funds for the Charity. She organised the black tie event around numerous hospital visits for Isla. From the side of her daughter's hospital bed, she contacted local press, sponsors and businesses for raffle prizes, eventually raising thousands of pounds for the Charity.
If you need support with a welfare concern, or if something is affecting your physical or mental health, let us help. Call our Support Line on 0800 389 8820 or make an enquiry online.