The fire service has been a major part of Steve Bartlett's life from the moment he was born, as his father, Graham, and uncle, Dave, were both on-call firefighters for more than 25 years.
He's since followed in their footsteps – alongside his brother, David – and they now work at the same station in Hartley Wintney, within Hampshire and Isle of Wight FRS, as their relatives did.
It's meant Steve, 44, has always known about our Charity, and even received our support before he joined the service himself. Here, he shares how your donations have directly helped some of his family members during their most difficult times…
"I've actually been on station, in many ways, for 44 years! We've effectively grown up in the fire service, on-call firefighting really does run in our family," says Steve.
"It seems quite unusual for one family to all serve in the same station like we have – and we've all received the Queen's Long Service and Good Conduct medal for our work. My uncle is now sadly poorly with Parkinson's, but we managed to get a photo at my medal presentation – which had been delayed due to Covid.
"That was incredible for us, to get that, because unfortunately my uncle's health has deteriorated since."
Steve juggles his on-call work with his full-time job, working as a Station Manager at Gatwick Airport in its Fire and Rescue Service, but he says it's always been incredibly important to him to do both.
"At times it can be extremely difficult, I've got two young daughters, but it's so rewarding," he adds.
"There's a long history for us. I've been asked what I'd think if my daughters went into the fire service and I would absolutely support it. There are of course challenges, some of the things we've dealt with undoubtedly take their toll, but it's so rewarding."
Steve first experienced how we work to support beneficiaries when he was younger.
His eldest brother tragically passed away following a battle with cancer, in 1991, and we were able to offer the whole family a recuperation break at Harcombe House, our centre in Devon.
"I've been a couple of times throughout my career," says Steve. "When we lost my brother, we were offered a stay as a family shortly after that – that's 30 years ago now.
"That was also my first involvement with fundraising. We did a cycle ride round Heathrow Airport with the firefighters there, as my dad was working at Heathrow at the time. I'd have only been 12 years old then.
"I've been involved in fundraising ever since really. I've grown up with the Charity and supporting it, as well as being supported by it."
Since then, Steve has been back in touch with us, as one of his daughters has scoliosis.
"We are due to visit Harcombe House soon, with my daughter," adds Steve. "She had spinal surgery in January and although she's too young to receive physiotherapy, we're lucky enough to be considered for some rest and recuperation as a family."
Having seen how much support is on offer, Steve then spoke to his cousin, Colin, about his uncle receiving some help too, following his Parkinson's diagnosis.
"You've been in contact since which has been great," says Steve.
Donate now to help us to deliver more support like this to the whole family.
He's now hoping to encourage others to take part in fundraising activities in aid of us.
"By giving just a small amount of time for something like a collection, you can make a huge difference. We organised a local street collection the other day and raised £472, all by engaging with the local community for a couple of hours," adds Steve.
"Seeing where that money then goes is such a great reward for your time."
Colin, 52, who isn't a firefighter himself, has seen his cousins, father and uncle work hard in the service for years and is now taking part in a huge fundraising challenge, to thank us for the support we've offered them.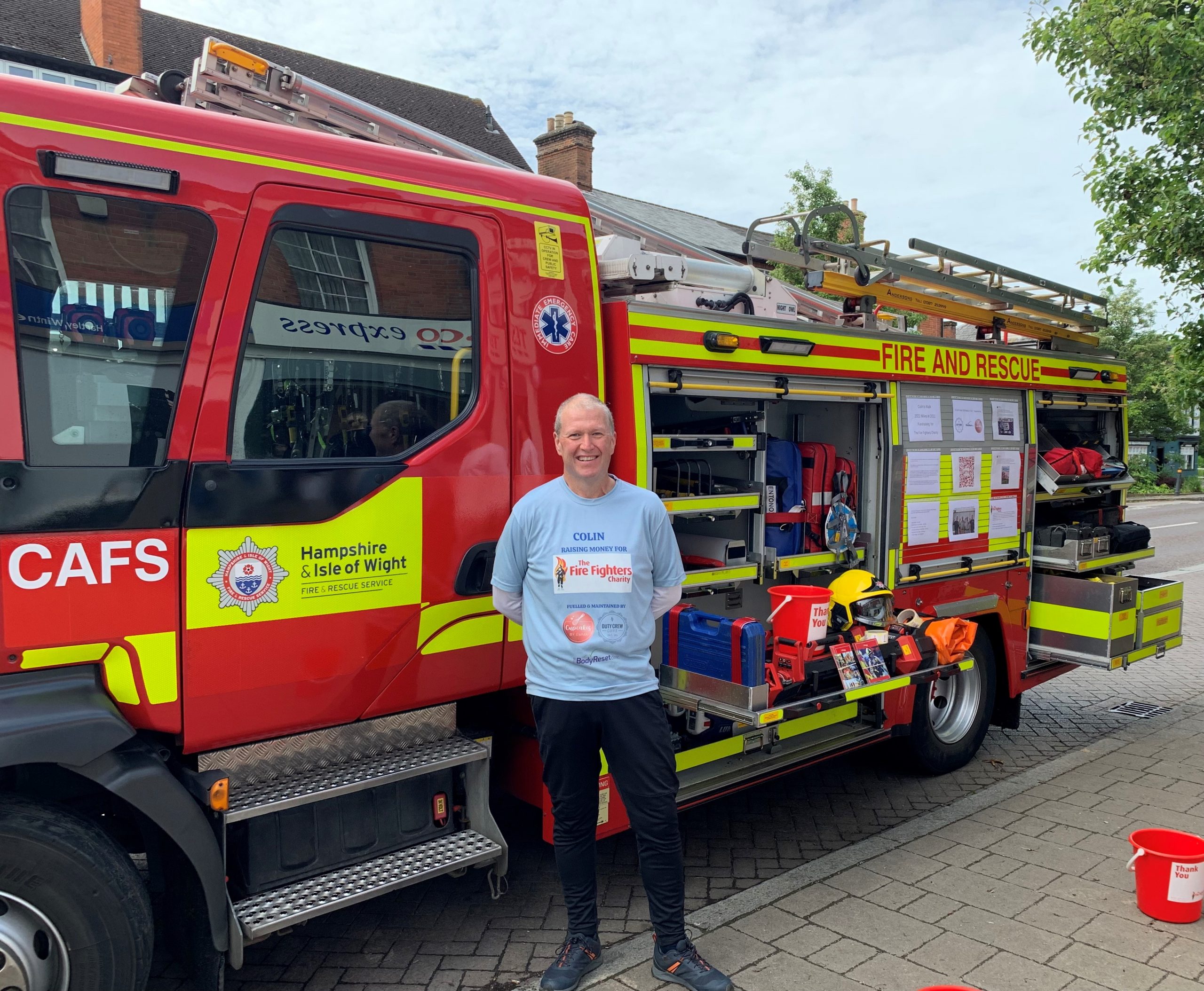 He's aiming to walk a total of 2,022 miles this year, with several 'Ultra Challenge events' thrown in to reach his target.
One of those individual challenges will see him walk 27 miles in a day round his local fire stations – starting in Hartley Wintney, then to Yateley, then to Fleet, on to Odiham and ending back at Hartley Wintney.
Colin says: "I enjoy walking and setting myself a challenge. Last year, I set out to do 1,000 miles and I did 1,500, so I thought I'd up it this year and do it to raise some money for a Charity that means something to me.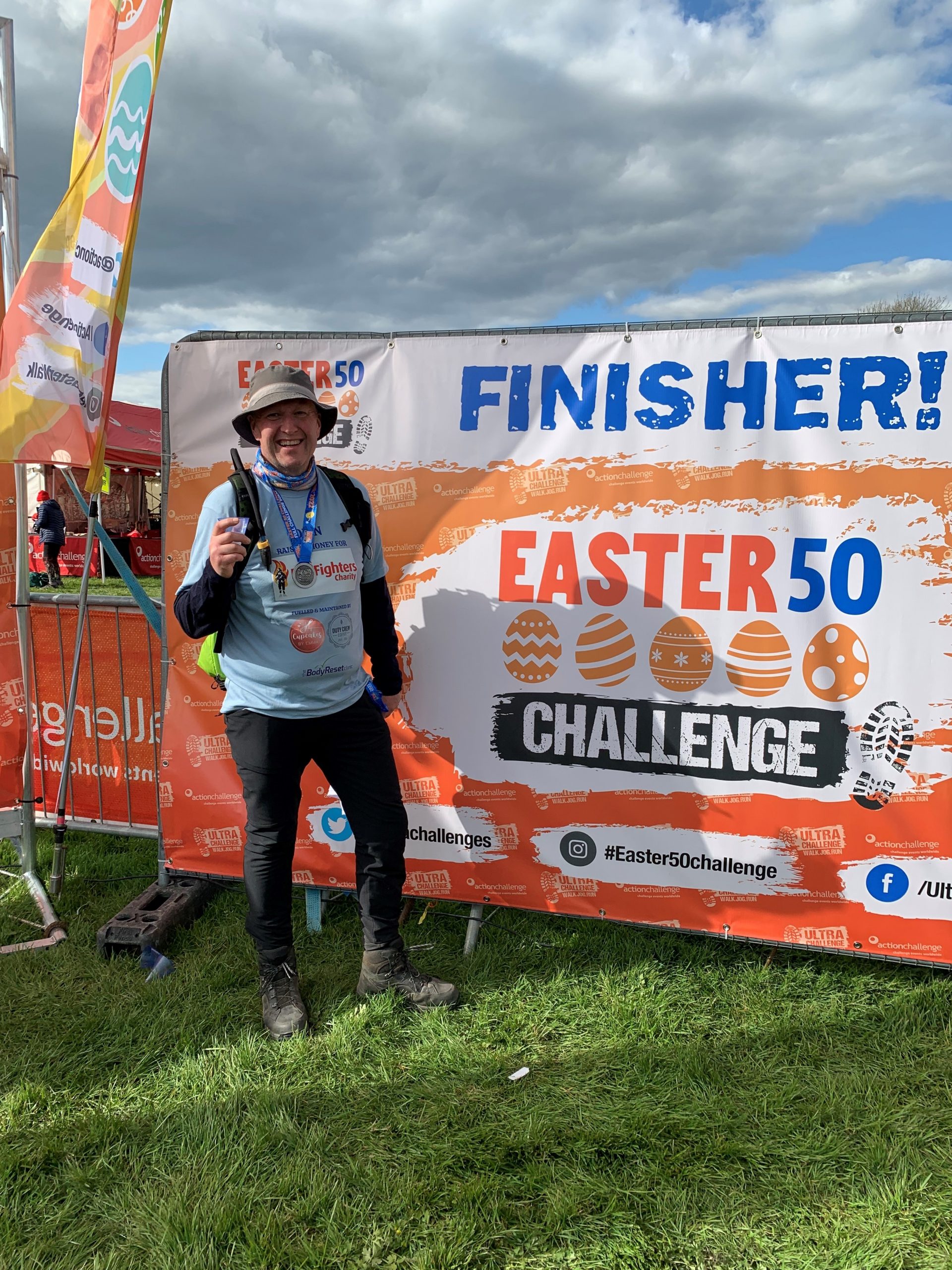 "The Fire Fighters Charity is always there… I spoke to them at the end of last year and I was so impressed. They offered a lot of advice of ways we could access support for my dad. That support is there, no matter when you retire, for your lifetime.
"Plus, for me, that link to the station has always been there, it's a part of our family as well as our community."
To support Colin's fundraiser, click here.
If you're struggling with your health and wellbeing, we may be able to help you. Call our Support Line on 0800 389 8820, make an enquiry online or visit the 'Access Support' tab in MyFFC.
You can also join our 'Share Your Story Group in MyFFC to chat to others who have received our support, or enquire about sharing your own story.