Turning 21 is a major milestone, but for Greg MacKay, it was also a huge celebration of how far he's come following years of health struggles.
Greg whose father, Scott, enjoyed a 30-year career with Scottish Fire and Rescue Service before retiring four years ago, was diagnosed with a brain tumour in 2009.
He sadly lost his sight at the time and went on to suffer two strokes mid-surgery in 2016, which had a huge impact of his mobility. However, he's kept his determination to succeed throughout and not only learnt to walk and speak again, but also has made it his mission to complete an epic challenge to mark his 21st birthday – and to raise money for the Charity that helped him.
Greg and his family, including his dad and mum, Tina, walked up to 21 miles on 3 October in aid of the Charity – raising more than £2,000 in the process. They were supported throughout by Altens Fire Station and Aberdeen Central Fire Station, with a fire engine even parked up for Greg to sit in and look round.
It marked a huge moment for the whole family, after a very difficult few years.
"We first discovered Greg had a brain tumour in 2009 when he was just nine," says Tina. "He had to have emergency surgery because it was pressing on the optic nerve and causing swelling on the brain.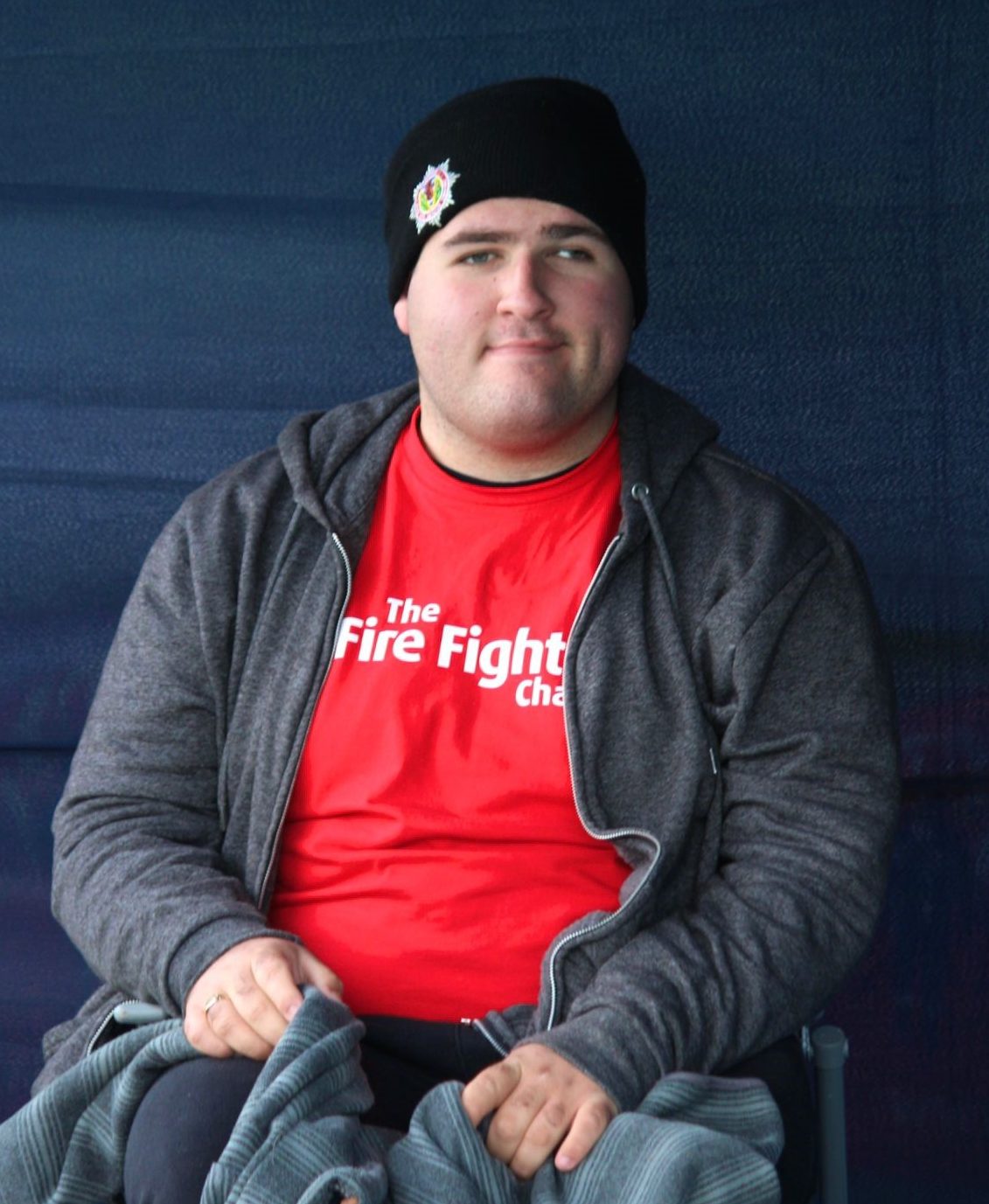 "He was losing his sight – that's one of the warning signs that alerted us to it. He'd been seen by the opticians and they noticed in one of the appointments. Unfortunately he never got his sight back, it was too late.
"Where the tumour is, it's very hard to get to so they were only able to take a bit off. He was scanned three months after that though and it had grown a lot. They then had to do more surgery and that was a full craniotomy, major surgery… They weren't able to remove a huge amount of it, but enough to stop it pressing on dangerous parts.
"Then we had a few years when everything was fine, he got on well and he was back at school."
Greg continued to live a normal life, attending school and enjoying time with friends and family – seemingly in good health – through to 2016. Sadly, however, scans then showed that there was a cyst growing and it was pressing down on his brain stem. He needed surgery immediately.
"He was an adult then, so he was in an adult hospital," says Tina. "They managed to remove 90% of the tumour this time, but he had two strokes during the surgery. What should have been a couple of weeks in hospital ended up being 12 weeks.
"He couldn't do anything, he couldn't speak or walk, he lost movement completely in his right side. He doesn't remember much because it was about two weeks before he was fully awake. He had eight weeks in hospital and another four in the rehabilitation unit. He did brilliantly and got back so much."
After hard work and intense physio, Greg was able to slowly regain some movement and speech – to the point he can now walk independently again – but he's been left with a slight weakness and gets tired quickly, to the point his speech can become slightly slurred.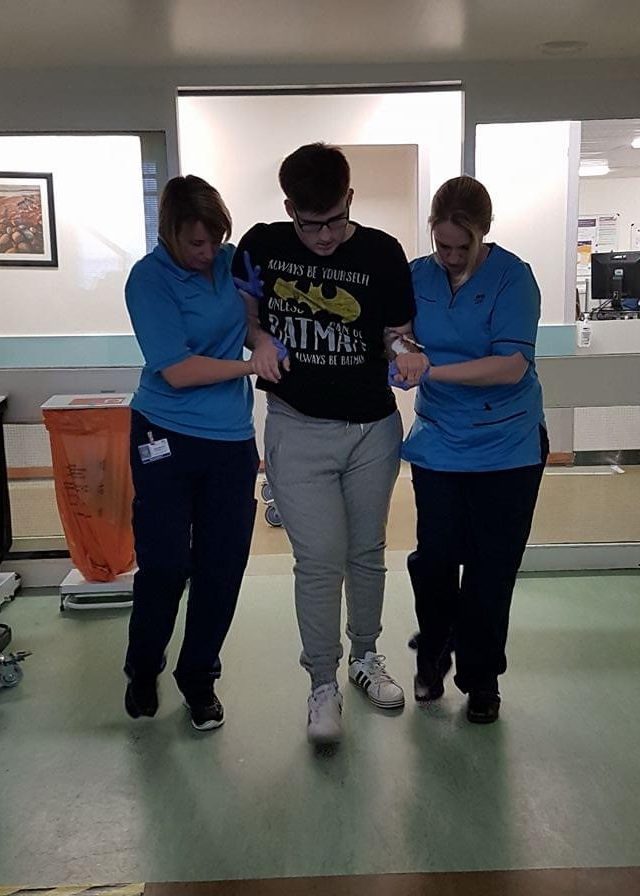 "He's also been left with a slight brain injury, so his memory's not very good and his ability to retain information is impaired," says Tina. "Everything needs to be repeated before it becomes a habit, so it just takes a little bit longer."
Greg's health struggles put a huge strain on the whole family, but Tina says they've supported each other throughout – and her daughter, in particular, has been a great help.
"It was very difficult as a family, looking back, because we have an older daughter who's 23 and she was sitting her exams at the time he had the stroke," she adds. "We had to pretend nothing had happened so she could go to her exam.
"After that she was brilliant and a massive support to us as well, and Greg."
The long stint in hospital and recovering has also meant Greg's education had to be put on hold and he's struggled to find work since – made worse by the pandemic.
"He's struggled ever since trying to find his place and has tried some employability courses but nothing's led to anything," says Tina. "He was struggling to find what he wanted to do and then Covid happened. People without a disability can't get a job so there's not hope for Greg just now."
While Tina knew about the Charity through her husband's work, she hadn't initially considered reaching out for support. It was only when someone Scott used to work with suggested they get in touch that she did. And it proved the helping hand they needed at the time.
"We got in touch last year, during Covid, and were eventually offered a place for Greg at Jubilee House when everything opened. He had video calls with the physiotherapy team before that, however, who gave him exercises to do at home," recalls Tina.
"Scott went with him to Jubilee and I had the house to myself, which was quite nice! They really enjoyed their time there and found the staff in particular were excellent. The nurses were really good and wouldn't let Scott have anything to do with anything, so he could relax there.
"Greg loved the hydro pool, he said it was like a big warm bath! And the gym was fantastic.
"He also really enjoyed talking to everyone there – he's a really sociable guy, so that was great for him. For him, the Charity walk will be great because he'll have all the fire crew supporters to chat to.
"I'd never thought about the Charity before… to be honest, we felt like we'd got stuck… we'd got so far and then it felt like there was nothing more here. It was really good to be able to reach out for that support."
Having seen the support on offer, and experiencing it himself, Greg wanted to show his appreciation and decided to do a Fire Family Challenge in aid of the Charity for his 21st birthday.
"We've done some fundraising before for brain tumour charities, so this time we wanted to thank The Fire Fighters Charity," says Tina, who was shocked to discover she's also a beneficiary of the Charity recently.
Greg and his parents, sister and friends, walked distances up to 21 miles – a huge challenge for him – and smashed their fundraising target, raising more than £2,500 for the Charity.
"The walk went really well," says Tina. "We had lots of support from friends, family and ex fire service colleagues of Scott's. We were very lucky with the weather and the park was busy so we got lots of donations on our bucket.
"It was very hard work for Greg, but he managed several laps with support. Scott and I then managed to finish the distance."
We couldn't be more grateful for supporters like Greg and his family – what an incredible achievement!
You can visit Greg's fundraising page here: https://www.facebook.com/donate/526923578398933/