Ever since she was a young girl, Uroosa Arshid has dreamed of making a real difference and that's exactly what she's doing now – as the UK's first hijab-wearing active firefighter.
Uroosa has been a wholetime firefighter with Nottinghamshire Fire and Rescue Service for almost three years, as well as volunteering as a Station Rep with the Charity over the last year.
Throughout her time in the job, she's spoken openly about her desire to push for more diversity in the Service – something she says has come on hugely in recent years and will hopefully continue to do so in the future.
"I remember when I was still in primary school, so quite young, a group of firefighters came to school and gave us a safety talk," says Uroosa. "I remember from then thinking it was something I'd like to be part of in some way. I just thought the work that they were doing was so incredible and from then it stayed in the back of my mind.
"I kept gravitating back to it through the years so when I was old enough and the opportunity came up, I just had to apply.
"Before joining I wasn't concerned about stereotypes or thinking about the fact that I'd be the first UK hijab-wearing firefighter, I just knew I wanted to do it, so I went for it regardless."
However, she says when she joined she soon recognised the need for more open discussion around diversity in the Service.
"A lot of progress has been made, and that's not to be overlooked, but there's a lot to be working towards," she adds.
"Now that I'm recognising the impact that my role is having, as being the first Hijabi firefighter in the UK, and how it's inspiring a lot of women and younger generations – especially people from a Muslim background – I'm realising I could have quite an impact on improving the diversity and helping to progress the fire service even further than it already is.
"Since my story has come out I've had so many people messaging me, calling me, telling me about their experiences. A lot of people that have faced similar struggles, from all across the world.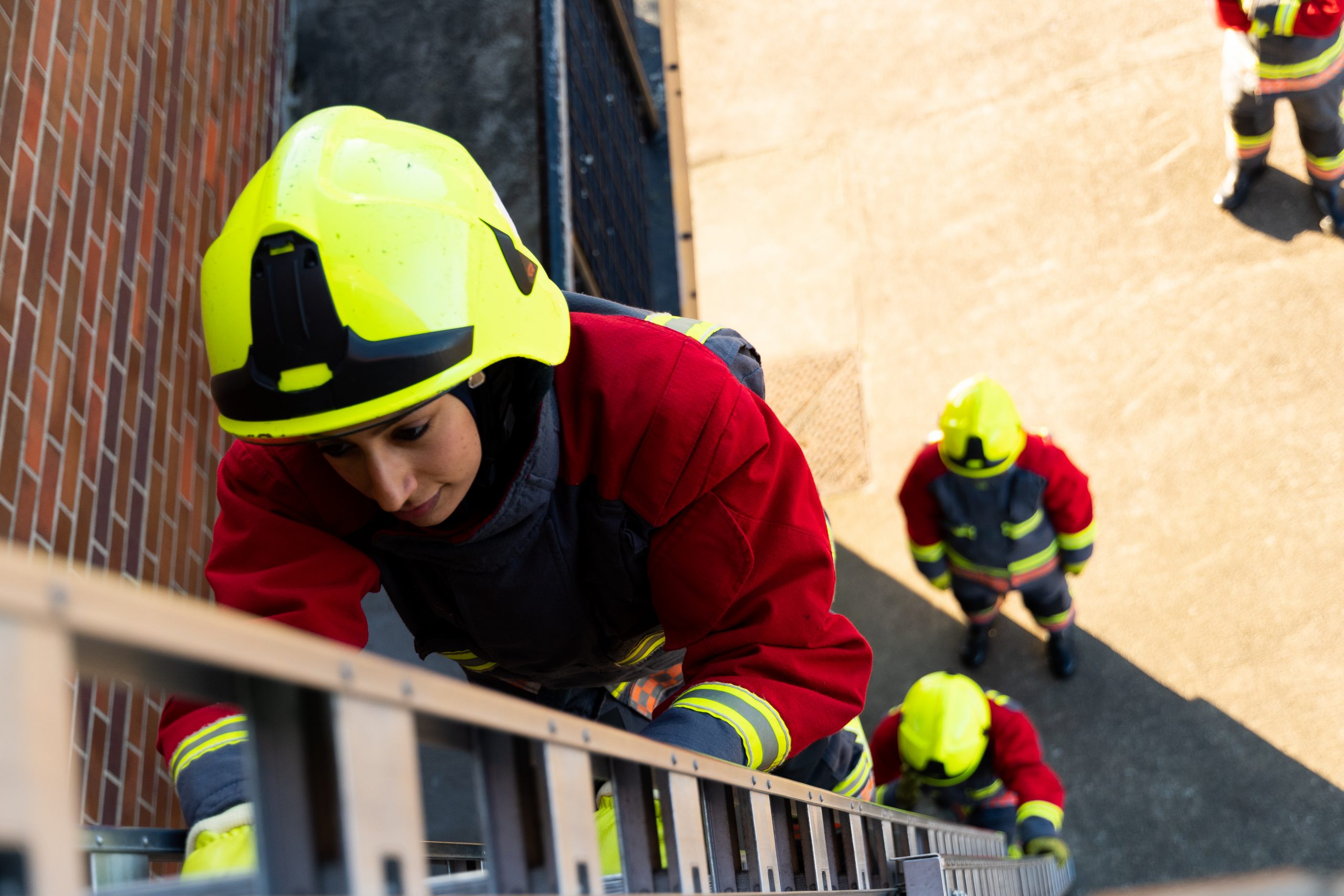 "I've also had a lot of parents contact me saying I'm having a great impact on their daughters and inspiring younger generations. There's been a lot of feedback, the majority really positive."
While Uroosa hasn't needed the support of the Charity's services herself, she knew about it through her colleagues from day one – and wanted to do her bit to help.
"A spokesperson came in to tell us about the Charity at training school," says Uroosa. "They explained all the services that the Charity provides and it was from there that I learned the basics of what it was.
"I became more and more interested as my role went on. I found out quite early on about being a Station Rep because I got to know the person in the position before me. I got an insight into what he did and what he was involved in."
The last 18 months have meant many of the Charity's traditional fundraising activities had to stop, but as they pick up again now, Uroosa has big plans to get her station involved in more in the future.
"I really enjoy organising fundraising events," says Uroosa. "One of the big things is the Car Washes, that will be really fun to organise and set up! I also heard about the Brew With a Crew campaign happening which I'm really interested in doing.
"Seeing all the services that the Charity has to offer is just incredible, and although I haven't personally had to utilise anything just yet, I know a good friend of mine has had a lot of experience with you guys and it's been quite an incredible journey for her and she can't speak more highly of you.
"It's good to know that all that is out there and is available to use. I still think there's a lot of people that don't know or fully understand what is available, I know I certainly didn't."
And, throughout, she will continue to spread her important message around diversity in the Service.
"I think it's really important to use this opportunity and this platform to spread that guidance about how we can become more diverse and inclusive as a Service," Uroosa adds.
"And it's important to touch on those things in different ways, not just going out physically to see people but also offering mental support. There's so many different variations of things we can do to improve that diversity and I think it's important to use this platform to do it.
"If you're considering being involved in some way you'll find it's so rewarding. It's not work when it's so much fun! It's just little bits of your time here and there that can offer so much to people."
Uroosa, like many more firefighters across the UK, has seen her role change massively through the pandemic. But she says, working as a team, they've come out as strong as ever.
"This year has been different and challenging for everyone, but there's a skill that firefighters tend to have which is to adapt and overcome change, working with whatever the situation is," she adds. "Although our role has changed slightly, we have adapted."
If you're interesting in volunteering for the Charity as a member of the public, you can click here to see our latest opportunities. If you're part of the fire and rescue service, you can call or email Kate Harrison: 01256 368 866 / 07880 725296 KHarrison@firefighterscharity.org.uk to find out more.