The Stables Café was completed as part of the recent refurbishment at Harcombe House. Set in a 100-year-old barn, within the 320 acres that Harcombe House occupies, the area offers space for up to 40 people inside and a further 20 on the veranda with its spectacular views across the valley.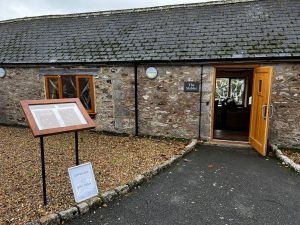 Where to find us
The Stables Café
Harcombe House
Chudleigh
Devon
TQ13 0DG
Opening hours
The Stables Café is open Monday to Friday, 10am to 5pm.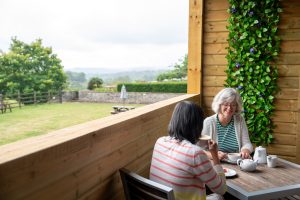 Our café has a delicious selection of cakes, sandwiches, cold drinks, teas and coffees sourced directly from local businesses in Devon. We also provide gluten-free options. Please take a look at our menu below for details.
Become a Café Volunteer
We are looking to recruit dedicated Café Volunteers.
Café Volunteers are integral members of our wider hospitality team. They will work alongside our Café Colleagues providing refreshments and food to our beneficiaries and customers.
Training will be provided to support you in the role, and you will have access to our facilities, including the swimming pool and gym.
Our shifts are normally 4 hours long and we ask that you commit to 1 shift per week if you can – but we are flexible, and welcome a conversation with you about what support you may be able to offer us.
How to Apply
If you would like to speak with us about volunteering in our café, please call Vikki Nicholls, Hospitality Team Leader, on 01626 853639 or email volunteers@firefighterscharity.org.uk
We would be very happy to welcome you to The Stables Café should you wish to visit us and have a look around.
Planning a special event?
Our café is the perfect location to celebrate with family and friends. For group bookings please call us on 01626 853639.
Gift Vouchers
Our vouchers make the perfect gift for someone special. Ask at the counter for details, or call us on 01626 853639.
Loyalty cards
Everyone loves a reward, so we've introduced a loyalty scheme for all our customers, which can be redeemed when purchasing any non-alcoholic drink in our café. When you next pop in to see us, pick one up at the counter.