Sticking to a healthy diet may feel difficult at times, with many 'classic' healthy foods not sounding all that appetising. But it doesn't need to be this way.
The Charity's Head Chef at Jubilee House, David Lancaster, has shared three of his top favourites to serve up to beneficiaries during their stay, ensuring they enjoy healthy and filling meals. So why not give them a try at home?
Enjoy!
Tuna nicoise
Serves 4
Ingredients:
Tuna steaks or a tin of tuna
200g green beans
1 handful of black olives
4 plum tomatoes, quartered
1 red pepper, sliced
12 new potatoes, halved
4 eggs
1 red onion, sliced
1 tbsp red wine vinegar
4 tbsp olive oil
Salt and pepper
Method:
Cook the beans in boiling water for 3 minutes in one pan, the new potatoes in boiling water for 12 minutes in another and hard boil the eggs in a third.
Add all of the ingredients except the tuna together and dress in the vinegar and olive oil.
If using the fresh tuna, season and cook it to how you like it in a frying pan.
Add the salad to a shallow bowl and top with either the fresh tuna or a tinned tuna.
Grilled mackerel, with couscous and salsa verde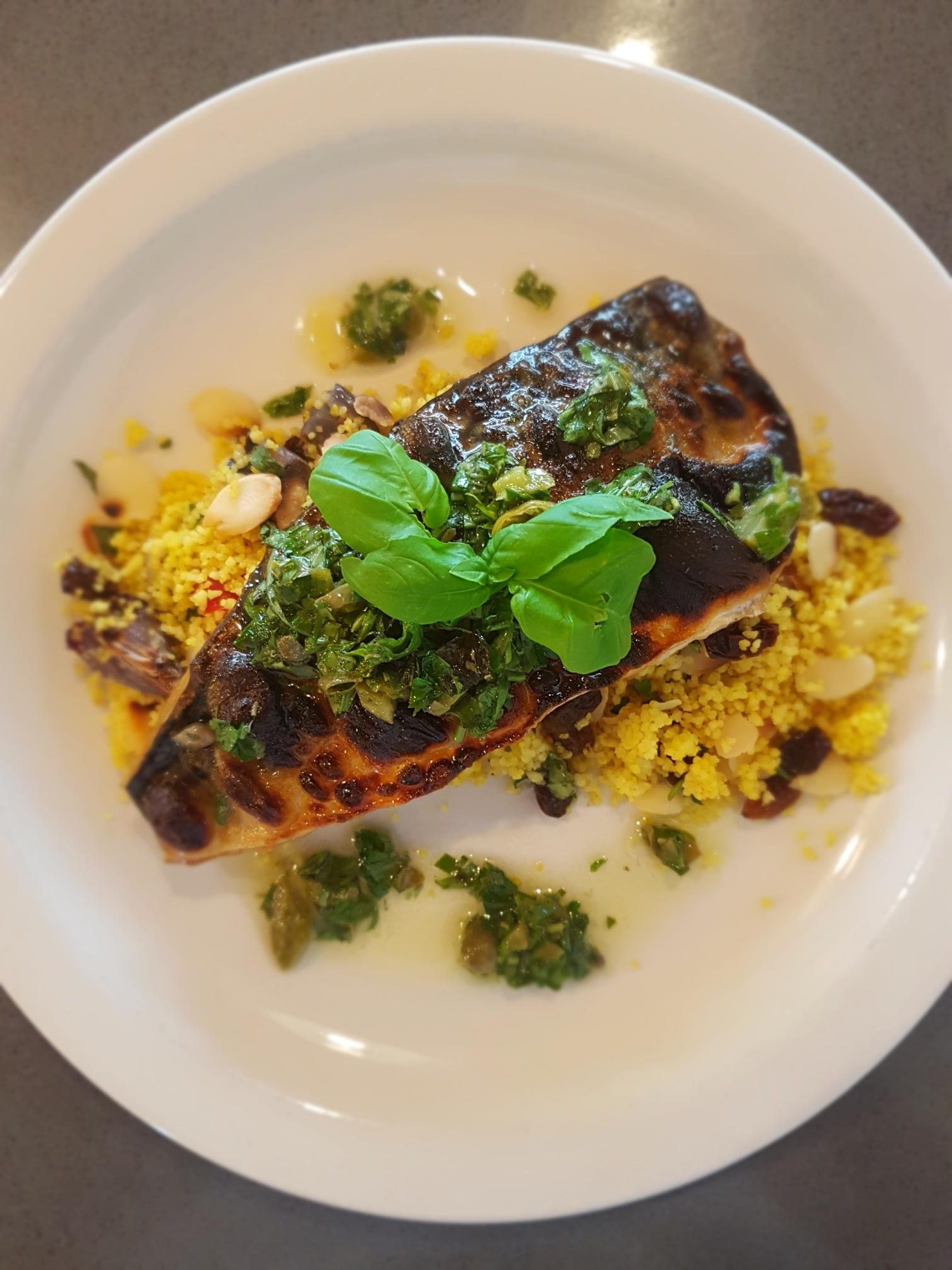 Serves: 4
Ingredients:
4 mackerel fillets, boned
100g couscous
1 tbsp gherkins
1tsp cumin
1tbsp capers
½ tsp turmeric
½ tsp mustard
½ tsp salt
1 clove of garlic
1 red onion, roughly chopped
1 tbsp red wine vinegar
1 red pepper, roughly chopped
4 tbsp olive oil
Chopped mint
Pinch of salt
Handful of parsley and basil
1 tbsp flaked almonds (optional)
2 tbsp sultanas (optional)
1 anchovy fillet, chopped (optional)
Method:
Roast the onion and red peppers at 180°C until the edges have slightly browned.
In a bowl, mix the couscous with the salt, cumin and turmeric then pour 100ml of boiling water over it and cover with cling film. Leave to stand for 20 minutes.
Once the couscous is soft, fluff it up with a fork and add it to the roasting tray with the onions and peppers. Mix in the mint, sultanas and almonds if you are using them.
For the salsa, finely chop the gherkins, capers, garlic and anchovy then mix them with the mustard, vinegar, and oil. Finely chop the herbs and add it all together, seasoning to taste.
Rub the mackerel fillet with a little oil and season with salt before grilling skin side up under a hot grill.
To plate, make a bed of couscous and top with the mackerel and salsa verde.
Spicy bean burger and sweet potato wedges
Serves 4
Ingredients:
200g green lentils
4 sesame seed buns
400g tinned mixed beans
1 red onion, sliced (to serve in bun)
1 clove of garlic, crushed
2 tomatoes, sliced
½ a red pepper, finely chopped
½ iceberg lettuce, shredded
1 white onion, finely chopped
Sweet chilli sauce
½ tsp chilli powder
1 tsp cumin
2 tbsp oil
1 tsp paprika
2 large sweet potatoes
1 tsp salt
1 tsp black pepper
Method:
First cook the lentils until soft in boiling water (roughly 10 minutes), then drain them.
Sweat off the white onions, pepper and garlic in a frying pan until soft.
Drain the tinned beans and add to the onions with all the spices, salt, pepper and the lentils.
Put the mixture into a food processor and blitz until it comes together.
Shape the mixture into burger patties and chill for a while. Meanwhile, peel and wedge the sweet potatoes and toss in the oil with a little salt.
Roast the potatoes in an oven at 180°C until they are soft and have crisped up a little.
Now fry the bean patties on both sides in a hot frying pan with a little oil.
Toast the buns, add the burger and top with the sweet chilli sauce, tomato and red onion slices, as well as the lettuce.