This year we mark our 80th anniversary – an incredible eight decades of growth, development and transformation.
But where exactly did it all begin? And who were the key players at the very start?
Our charity – then the Fire Service National Benevolent Fund – formed during the Second World War to support the bereaved families of firefighters who had died during the Blitz. And central to those early years was Ronnie Greene, our co-founder.
From his early time in the army, to training as a biochemist, working in nightclubs and then managing speedway racing, Ronnie enjoyed a varied career before became a firefighter in the Auxiliary Fire Service as the war began in 1939. It's in that role that Ronnie soon recognised the need for financial and welfare support for firefighters and their families.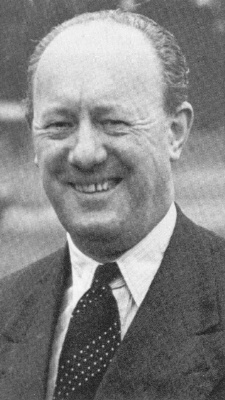 Here, author of Out Of The Flames, former Chief Fire Officer Neil Wallington, tells us of those early years:
"With his organisational experience, during the first week of the Blitz in September 1940, Ronnie was appointed to lead a small team to set up a London Fire Brigade Benevolent Fund. He progressively developed the Fund to a national fire service level in August 1943, then finally in 1948 to embrace all UK local authority fire brigades and their personnel.
"Ronnie's tireless work in setting up the Fund was honoured by the King in the 1941 New Year's Honours List with the award of an MBE. From then on, the provision of proper care and welfare facilities for his fellow firefighters was to be the main focus of the rest of Ronnie Greene's life."
Indeed, in 1945 alone, the Fund cared for almost 1,400 fire service orphans, supported by grants and allowances. See more key stats from that first decade here.
The opening of Marine Court
Recognising the continuing and growing need for support after the war, Ronnie – with his wife Maureen by his side – went on to open Marine Court, our centre in West Sussex, in 1965.
Here, Maureen's brother, Kenneth Warner, recalls how the centre was a tribute to Maureen herself:
"My sister used to work as a model for an advertising agency and as an extra in films. She first met Ronnie at West Ham Speedway Stadium. She had been elected Miss London Speedway Queen at the time," Kenneth says.
"The Littlehampton connection came about as Ronnie was a keen fisherman. He kept a seagoing boat moored there. Also, he had a caravan parked locally. The newly completed block of flats took his eye as a possible Convalescent Home.
"The young salesman asked him which flat interested him: 'The whole lot', was the response. He must have thought that his birthday and Christmas had come together!
"Ronnie wanted to call the block Maureen Court. She would not agree to that, but he always pronounced her name 'Mareen' so she agreed to 'Marine Court'. Her devotion to the Fund from then on up to her retirement is a matter of history."

In fact, Neil shares words from Maureen herself in Out Of The Flames, as she recalled Ronnie's decision to name the site after her. She's quoted as saying: "In 1964, the then-Chairman of the Fund, Don Bates, Chief Fire Officer of Glamorgan Fire Service, and the immediate past Chairman, John Fordham, Chief Fire Officer of Kent Fire Brigade, were in favour of renaming our half of the block of flats 'Greene Court' to recognise Ronnie's work for the Fund right back to the war years.
"But Ronnie was adamant and would have none of it. After some considerable discussion, he finally said, 'Call it after Maureen – after all, she has been involved with me in much the Fund has done over the past few years'.
"Well, the Chairman and the NEC accepted this view and finalised on a name based upon the way Ronnie always pronounced my name – Marine – hence Marine Court. For my part, I have always felt it would have been appropriate to call it 'Ronnie's Way'. After all, he did usually get his way in the end!"
Continuing Ronnie's legacy
Maureen continued working to develop Marine Court long after her husband's death.
Neil Wallington had the honour of meeting both Ronnie and Maureen and says: "I first met both 'the father of the Fund/Charity' – Ronnie – and his wife Maureen many years ago, when as a London Fire Brigade junior officer I visited an injured colleague in Marine Court at Littlehampton.
"Sadly, Ronnie died suddenly in harness at Marine Court in November 1978, after 38 years continuous service as the Fund Secretary. From then on, Maureen took 'command' at Marine Court for quite a few active years, presiding over its growing facilities.
"In the year 2000, I was commissioned to commemorate the Fund's forthcoming Diamond Jubilee in 2003 by writing a detailed history of its 60 years to mark its development and wide breadth of charitable activities.
"Over my many months of research and writing, Maureen, then in retirement and with an encyclopaedic memory, was a valuable source of facts and information regarding the early years of the Fund and its subsequent impressive growth. Thanks to Maureen, I also had access to Ronnie's extensive archives, many going back to the dramatic wartime days of the infant LFB Fund.
"However, when on the days I visited Maureen in her house adjacent to Marine Court to go through the book's draft pages, she kindly insisted on preparing a leisurely and substantial alcoholic lunch despite me being deep in my notes as the book manuscript slowly came to life against the looming printing deadline!
"The FSNBF book entitled Out Of The Flames was launched as part of the Fund's Diamond Jubilee celebrations and its success was in no small part due to Maureen Greene's support and enthusiastic assistance which I will always fondly remember."
We will be honouring Maureen with a plaque unveiling at Marine Court this month, to mark our 80th anniversary, with her family and members of the Fire & Rescue Service in attendance.