There was reason to celebrate in the household of two beneficiaries of the Charity last week, as Jamie Reeve and his partner Charlotte were determined not to let the coronavirus get in the way of becoming Mr and Mrs.
"With everything going on, the wedding was our little torch to hold up amongst the darkness, to find a bit of joy in this horrible situation," says Jamie, who is a firefighter with Royal Berkshire Fire and Rescue. "We were meant to be having our wedding on March 25th but obviously the virus had other ideas. So we just thought, let's just do it in our garden, even if it's just the two of us, and light a candle for those who can't be with us."
Jamie and Charlotte, as well as other members of their family, have been supported by our Welfare Services Team over the last few months, after Jamie's brother – who is a firefighter with Kent FRS – was badly hurt in an incident six months ago. He remains in a critical state in hospital.
"It's been a really crappy few months, and we'd thought about cancelling the wedding altogether, because it felt insensitive," says Jamie. "My brother was meant to be my best man, so I wasn't sure about going ahead with it, but everyone said we should. Then the coronavirus took hold so we couldn't go to visit him and then on top of that, we couldn't hold our wedding. It was like, come on, give me a break!
"So we just decided we needed to do this for ourselves. We told our neighbours we were going to get dressed up and just say our vows to each other in our back garden. They put on their finest clothes and came out to witness it as well, taking photos for us and throwing confetti over the fence (maintaining social distancing!) It was a lovely day, emotional at times, especially when I started saying my vows. I was trying to be cool, hard and amazing, and as soon as I started speaking I just started blubbing. It was just so nice to be able to celebrate our love for each other. In our minds, we're married now. When we get that piece of paper, it just means we'll have been married twice."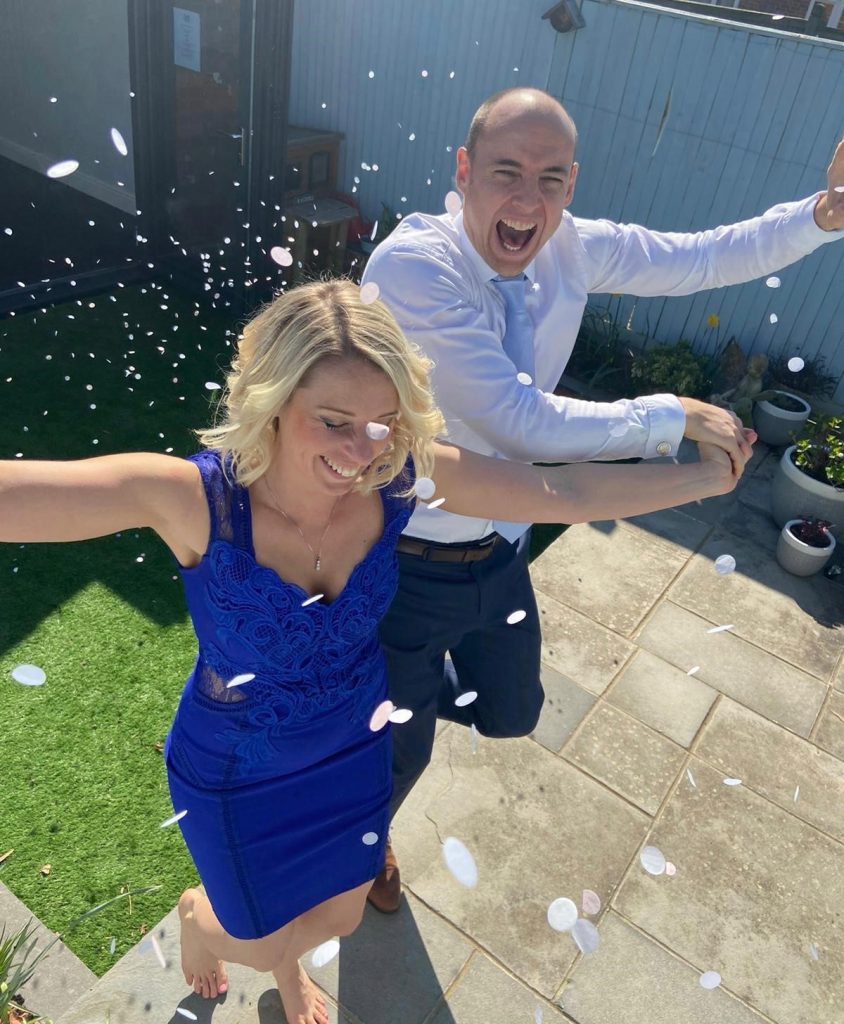 The day provided some much-needed positivity in what has been a difficult few months.
"My brother is my best friend, so not being able to talk to him since September has been really hard. We've always done everything together, even joining the fire service 20 years ago. His prognosis isn't good; his team say even if he does wake up, his brain has been significantly damaged. His wife has just had a baby eight weeks ago and he's got four-year-old twins who don't understand why daddy isn't coming home. It's just been a nightmare. And now the virus has meant we can't see him or each other. But we're just trying to take each day as it comes. I don't know what we'd have done without the support we've been given by The Fire Fighters Charity."
Welfare Services Lead Carrie Pearce has been a constant source of support and guidance for the family, helping to organise a financial contribution for travel costs to hospital. She's also become a trusted confidant for Jamie's family.
"Carrie has just been absolutely amazing from the start," says Jamie. "Right from the word go, she did everything she could to make sure my mum and dad could be with their son and took away some of the money worries that brought, covering train fares and stuff. Whenever I talk to her, she just says things with real optimism or in such a lovely, grounding way. She doesn't have to go to the lengths she does for us, but she does, helping us to process some of the less helpful feelings we're all experiencing. She's become like family, like this wise owl who says just the right things right when you need her to."
Jamie's friends, family and fire colleagues had planned on running in the London Vitality 10km race to raise funds for The Fire Fighters Charity to say thank you for this ongoing support, but plans have been put on hold during the coronavirus.
So instead, he says he wanted to tell us about his wedding in the hope it brought someone else a bit of happiness as well: "We made something truly special out of something that could have been horrible. We thought if we can give ourselves a little bit of joy, someone else might take a little bit of joy from it as well."