What better time of year to have a good sort out of your wardrobe than the start of a new one? This is the why the Bag it and Bank It campaign is returning this January, encouraging fire stations to collect as much shoes and clothing as they possibly can and raise much-needed funds for The Fire Fighters Charity.
Last January, all 755 fire stations within the UK with The Fire Fighters Charity textile recycling banks on their forecourts took part in the event. They raised a whopping £52,507 and kept a staggering 230 tonnes of clothing from going into landfill. That's the equivalent of over 40 elephants. Or to put it into language our fire and rescue service community might speak, it's around 19 fire engines worth of shirts, shoes and woolly jumpers collected in one month. But we want to do even better this year, with the target set for raising £60,000 during January.
"The support our fire and rescue services have demonstrated for textiles recycling has been superb  since day one," says Sales and Recycling Manager Kevin Biles. "If it wasn't for their help and enthusiasm, we simple wouldn't be where we are today. Textiles recycling is such an important revenue stream for the Charity; since we launched in 2009 fire stations have generated over £3 million worth of income that can go towards supporting our fire and rescue beneficiaries."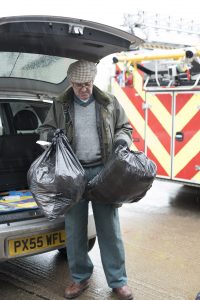 By reaching out to local schools, clubs, hospitals and businesses, stations and communities are once more being asked to come together to support the campaign. For each tonne of textiles that are donated to a bank on a fire station we receive on average £220 to help firefighters and fire and rescue personnel in their time of need.
One fire station who took up the call to arms in a big way during last year's campaign was Egremont. The Cumbrian fire station collected a huge 11 tonnes of clothing, shoes and textiles during January. To put this into perspective, the second biggest amount collected was in Oundle Fire Station in Northamptonshire, who collected over two tonnes of clothing and shoes.
Despite leading the charge, Egremont Crew Manager David McDowell says theirs was a team effort: "All that we do is achieved because we work together," he says. "We had some great ideas for helping, like Crew Manager Andrew Hinde, who suggested using social media to raise awareness, arranged local pick-ups from care homes so elderly residents could get involved, and approached the local hospital to give us their redundant textiles."
Meanwhile, firefighter Anthony Marshall arranged for additional Brownrigg support vehicles to collect textiles on two of their biggest collection dates, and local schools supported the station's mission.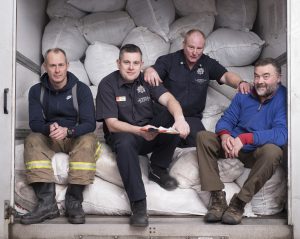 The crews of Egremont are up for the challenge of competing against the rest of the country for the coveted Rag Trophy, but they're just keen to see as much money raised for the Charity as possible.
"Whether a station collects 10kg or 10tonnes, it will all help to raise vital money for the Charity that can really make a difference to people," says David. "I'd like to think people could see us as an example of what's possible. If we can do it, anyone can."
Find more information on the recycling championship, as well as a marketing toolkit, online.