For the physiotherapists working within The Fire Fighters Charity, the demands of the job have changed hugely over the last 18 months amid the Coronavirus pandemic.
Here, the Charity's Physical Health Lead, Nicola Patton, and Michelle Duckett, Lead Practitioner and physiotherapist, share how they and their colleagues have adapted to the constantly changing times – not only by introducing a more blended approach to support, through digital and face-to-face interactions, but also by introducing a Covid Recovery Programme at Marine Court, our centre in West Sussex…
They say: "Whilst increased digital provision for our beneficiaries was always in the long-term plan for our services, this became our most delivered input for the 15 months after the start of the Covid-19 pandemic.
Our old 'normal' was centre-based services, which meant predominantly delivering face-to-face sessions at our three centres. Of course, due to the necessary restrictions, we were unable to run services in this way until May 2021 – and we quickly adapted to deliver our sessions digitally using our online platform.
We were able to successfully continue providing advice and exercises (using Salaso, a web based exercise library) for over 3,000 individuals – a significant increase on the previous 12 months online. We have, in turn, been able to completely meet some individuals' needs through online support alone.
Now that we are able to deliver centre-based services once again, we are working in a way that blends both our online and face-to-face service delivery, taking into account beneficiaries' individual needs, commitments and availability.
As health care practitioners, it is a real privilege to be able to work in this way and, so far, it has proven hugely successful. We also continue to work in a Covid-safe way at our centres, which includes the use of PPE, social distancing and reduced group sizes.
But the last 15 months have also presented new challenges for our team when it comes to beneficiary presentations – and we have met these with two new programmes.
The first is our Outpatients Programme. It is specifically designed for beneficiaries in the local area to access support through a series of short, two-hour sessions which can fit in around their work and family commitments.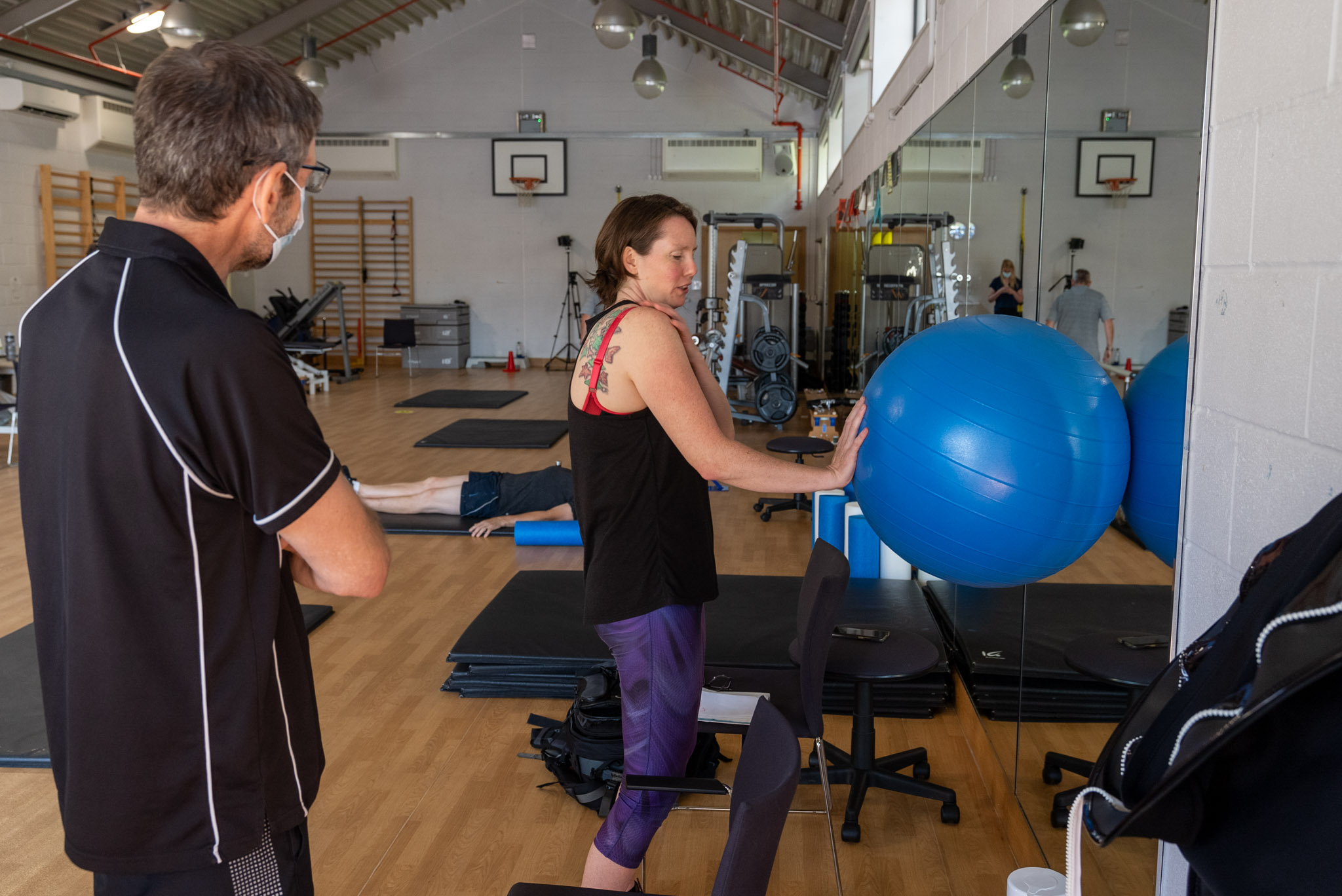 The second is the commencement of a Covid Recovery Programme, specifically for those individuals who are experiencing ongoing symptoms of Long Covid.
We have so far had three groups through who have provided us with invaluable insight and feedback to continue to develop this further. Being able to bring our existing knowledge and insight into the development of the programme has been reassuring and again a valuable position to be in when there is so much demand for managing these symptoms.
As with our other centre-based programmes, we have worked closely with other health professionals including psychological therapists, welfare caseworkers and exercise therapists throughout. We understand that many presenting conditions affect both your physical and mental health as well as social wellbeing and, with such a large crossover, it is important we provide input that addresses this across the board.
So, what does a typical day for us look like?
Before we have any contact with beneficiaries who are at the centre for a rehabilitation programme, there is a team meeting for all health professionals at the centre first thing, to plan the day. Cohesive co-ordination is vital when working with groups of indiviudals who are attending for many different reasons and consequently will have individual needs; we can then provide the most appropriate sessions and level of activity for everyone who is part of the group
From there, our day can include anything from delivering group sessions for those on the rehab programme, for example, specifics, hydro, core strength, relaxation or an educational session on areas commonly associated with MSK presentations (such as pain, mental health and exercise), as well as 1:1 input as required for these same individuals.
Physios have an online caseload alongside any centre-based service delivery too.
Although a physio will likely see thousands of knees and backs in their working life, it is highly unlikely any of these will be the same.
We recently worked with a beneficiary who had injured his back. We began by chatting over the phone, understanding his needs and starting the rehab process with some advice and exercises; then when it became clear he'd benefit from a centre stay, we welcomed him in.
We began by coming up with a specific, tailored plan for his week – combining 1:1 hands-on treatment, exercises and gym sessions with workshops and the chance for him to check-in with our psychological services team and welfare caseworkers for signposting, should he wish. We saw a huge improvement in his range of movement strength and confidence in his ability to perform higher level work required for his role.
We also recently spoke to an on-call firefighter who was experiencing Long Covid symptoms. We took the time to take her through why the programme could assist her, specifically in learning more about how to manage her symptoms. This included pacing of activities to allow for more meaningful activities to be carried out, as well as caring for her children – an area that obviously held great value for her.
Intervention at the right moment is very valuable. We can have the best service in the world, but people need to know they can access it and are appropriate to attend in order to experience it."
If something is affecting your physical health, let us help. Call our Support Line on 0800 389 8820 or make an enquiry online.